影片简介: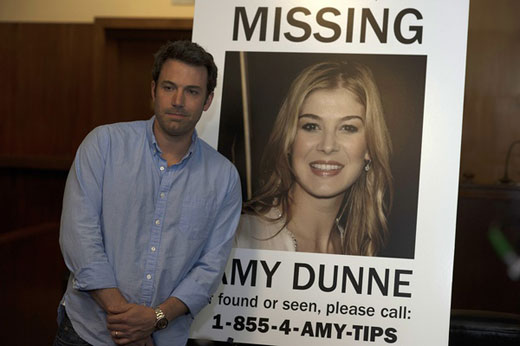 结婚五周年纪念日的早上,尼克·邓恩(本·阿弗莱克饰)来到妹妹玛戈的酒吧,咒骂抱怨那个曾经彼此恩爱缠绵的妻子艾米(罗莎蒙德·派克饰)以及全然看不见希望的婚姻。当他返回家中时,却发现客厅留下了暴行的痕迹,而妻子竟不见了踪影。女探员朗达·邦妮接到报案后赶来调查,而现场留下的种种蛛丝马迹似乎昭示着这并非是一件寻常的失踪案,其背后或许隐藏着裂变于夫妻之情的谋杀罪行。艾米的失踪通过媒体大肆渲染和妄加揣测很快闻名全国,品行不端的尼克被推上风口浪尖,至今不见踪影的爱人对他进行无情审判,你侬我侬的甜言蜜语早已化作以血洗血的复仇与折磨……
精彩词句学起来:
1. What type are you? Corn-fed, salt-of-the-earth Missouri guy.
   你是什么类型的人?朴实的密苏里州正派人。
2. Amy, you know what would make dad's night.
   艾米,你知道今晚怎么做会让父亲高兴。
3. Is she kind of standoffish?
   她是不是有点冷漠?
4. Sir, please don't take that tone with me.
   先生,请不要用那种语气和我说话。
5. My parents' publisher dropped them, and they're in debt up to their ears.
   我父母的出版商抛弃了他们,现在他俩债台高筑。
6. I would get knots in my stomach just coming home, knowing she would be sitting there dissatisfied, before I even walked in the fucking door.
   每当要回家,只要想到她会摆着那张臭脸,还没等我进门就对我心生不满,我心里就疙疙瘩瘩的。
7. I'm so sick of being picked apart by women.
   我烦透了女人对我吹毛求疵。
8. Why are you going so easy on him?
   为什么你对他这么宽大?
9. The whole thing looked staged.
   一切看起来像是有意安排的。
10.I was trying to put a good face on.
   我只是试着装出满不在乎的样子。
11.Let the punishment fit the crime.
   量刑判罪。
12.Invite pregnant idiot into your home and ply her with lemonade.
   请没脑子的孕妇到家中做客,然后一杯又一杯地灌她柠檬水。
13.She's framing me for her murder.
   她设计陷害我谋杀她。
14.She's still moping about her ex?
   她还是对前男友念念不忘吗?
15.You were never under my thumb.
   你从来不受我的控制。
16.And I've taken myself to the woodshed for the way that I've treated you.
   我为自己过去那样对你而惩罚了自己。
17.You know me in your marrow.
   你对我的了解已经深入骨髓。
18.Nick and I have been through some bad patches.
   尼克和我曾经有过一段困难的时光。
精彩对白欣赏:
1. Nick Dunne took my pride and my dignity and my hope and my money. He took and took from me until I no longer existed. That's murder. Let the punishment fit the crime.
2. Nick loved a girl I was pretending to be. "Cool girl." Men always use that as their defining compliment. "She's a cool girl." Cool girl is hot. Cool girl is game. Cool girl is fun. Cool girl never gets angry at her man.
3. My cute, charming, salt-of-the-earth, Missouri guy. He needed to learn. Grown-ups work for things. Grown-ups pay. Grown-ups suffer consequences.
精彩片段欣赏:
Sharon: Good evening, I'm Sharon schieber. Tonight, exclusively...
Margo: Hurry up.
Sharon: A husband breaks his silence, not just on his wife's disappearance, but on his infidelity, and all those shocking rumors. Nick Dunne, you're probably the most hated man in America right now.
Nick: I probably am. And I probably deserve it.
Amy: I bought that tie.
Sharon: Did you kill your wife, Nick?
Nick: I did not kill my wife. I am not a murderer.
Sharon: But you were unfaithful.
Nick: I was unfaithful. And I am deeply ashamed.
Sharon: And, on top of that, you allowed Amy's parents, her friends, all the people in your hometown believe you were a loving husband, desperate to find his missing wife.
Nick: Well, I am desperate to find my missing wife.
Sharon: You say that, but I'm wondering how you expect us to believe you, now that we know you're a liar.
Nick: I didn't come forward with my affair because I knew it would make me look really, really bad. But I don't care about that anymore. I just want to find my wife.
Sharon: I'm just trying to get clear...
Nick: Let me be clear. Just because I am not a murderer doesn't make me a good guy. I'm not a good guy. I was a bad husband to a great wife. I broke the vow that I made to her.
Sharon: Those are pretty words, Nick. But what does that really mean to you?
Nick: It basically means that I was a con artist. I met Amy elliott seven years ago. I was completely transfixed. Amy can do that to you. I was this average guy from an average place with mediocre aspirations. And I met a woman who dazzled me. And I wanted her to love me. So I pretended to be better than I was. When we got married, I promised to be that guy. That guy who works harder. That guy who, who lives and acts and loves with as much passion as she does. But I failed her. Instead of doing what was right, I did what was easy.
Sharon: You talk like a man who believes he can make amends to his wife, who believes his wife is still alive.
Nick: She is still alive.
Sharon: Will you look at that camera for me? Will you look in the lens and talk to your wife? If she is out there, able to hear and see you tonight, what would you like to say to her, Nick?
Nick: Amy, I love you. You're the best person I've ever known. And I've taken myself to the woodshed for the way that I've treated you. And if you come back, I promise I will spend every day making it up to you. I will be the man that I promised you I would be. I love you. Come home.
Desi: Here.
Margo: Regardless of what you thought...
Nick: What does it say?
Sharon: I think we can all agree...
Margo: Oh, my God. You fucking killed it.
Sharon: There's more to him than meets the eye.
Margo: They're going crazy for you.
Nick: They disliked me, they liked me, they hated me. And now they love me.
Sharon: A candor and an honesty that's worthy of respect. He's certainly earned mine.
Margo: What is it?
Sharon: I'm Sharon schieber. Good night.
(中国日报网英语点津 陈丹妮)