《中国的核应急》白皮书双语全文
新华网 2016-01-27 10:24
分享到微信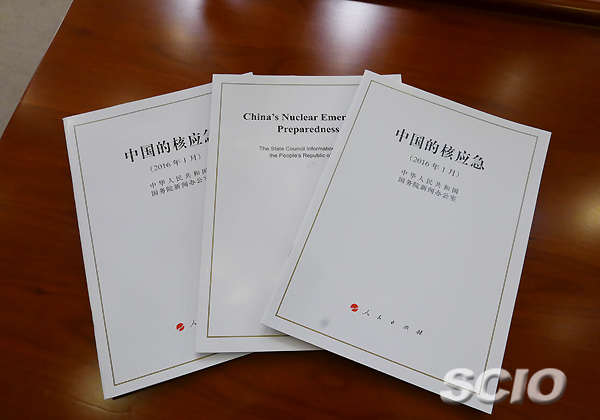 《中国的核应急》白皮书(刘健 摄)
国务院新闻办公室于2016年1月27日发表《中国的核应急》白皮书。
以下为《中国的核应急》白皮书双语全文:
中国的核应急
China's Nuclear Emergency Preparedness
(2016年1月)
中华人民共和国
国务院新闻办公室
The State Council Information Office of
the People's Republic of China
January 2016
目录
前言
一、核能发展与核应急基本形势
二、核应急方针政策
三、核应急"一案三制"建设
四、核应急能力建设与保持
五、核事故应对处置主要措施
六、核应急演习演练、培训与公众沟通
七、核应急科技创新
八、核应急国际合作与交流
结束语
Contents
Preface
I. Current Situation of Nuclear Energy Development and Nuclear Emergency Preparedness
II. Guidelines and Policies for Nuclear Emergency Preparedness
III. All-round Promotion of Nuclear Emergency Preparedness
IV. Building and Maintenance of Nuclear Emergency Capabilities
V. Main Measures to Cope with Nuclear Accidents
VI. Nuclear Emergency Preparedness Exercises, Drills, Training and Public Communication
VII. Scientific and Technological Innovations in Nuclear Emergency Preparedness
VIII. International Cooperation and Exchanges in the Field of Nuclear Emergency Preparedness
Conclusion
前言
Preface
原子的发现和核能的开发利用给人类社会发展带来新的动力,极大增强人类认识世界和改造世界的能力。核能发展伴随着核安全风险和挑战。人类要更好利用核能、实现更大发展,必须创新核技术、确保核安全、做好核应急。核安全是核能事业持续健康发展的生命线,核应急是核能事业持续健康发展的重要保障。
The discovery of the atom and the subsequent development and utilization of nuclear energy gave a new impetus to the progress of humanity and greatly enhanced mankind's ability to understand and shape the world. Yet, the development of nuclear energy has associated risks and challenges. For mankind to better utilize nuclear energy and achieve even greater progress, it is necessary to make innovations in nuclear technologies, ensure nuclear safety and do well in nuclear emergency preparedness. While nuclear safety constitutes a lifeline for the sustained and healthy development of nuclear energy, nuclear emergency preparedness serves as an important safeguard for its sustained and healthy development.
核应急是为了控制核事故、缓解核事故、减轻核事故后果而采取的不同于正常秩序和正常工作程序的紧急行为,是政府主导、企业配合、各方协同、统一开展的应急行动。核应急事关重大、涉及全局,对于保护公众、保护环境、保障社会稳定、维护国家安全具有重要意义。
Nuclear emergency preparedness denotes the emergency actions taken to control, contain and mitigate a nuclear accident, and to minimize the consequences of such accidents, which are different from the normal order and working procedure. They are emergency response actions guided by the government, assisted by the relevant enterprises, coordinated among all the involved parties and implemented in a unified manner. Nuclear emergency preparedness is of paramount importance and bears on the overall situation, and is therefore of critical significance to the protection of the general public, the environment and social stability as well as safeguarding national security.
中国始终把核安全放在和平利用核能事业首要位置,坚持总体国家安全观,倡导理性、协调、并进的核安全观,秉持为发展求安全、以安全促发展的理念,始终追求发展和安全两个目标有机融合。半个多世纪以来,中国人民奋发图强、历尽艰辛,创建发展核能事业并取得辉煌成就。同时,不断改进核安全技术,实施严格的核安全监管,加强核应急管理,核能事业始终保持良好安全记录。
China has consistently given top priority to nuclear safety in its peaceful use of nuclear energy, and has persisted in an overall national security concept by advocating a rational, coordinated and balanced nuclear safety outlook. China has followed the approach of enhancing safety for the sake of development and promoting development by upholding safety in an unrelenting effort to bring the dual goals of development and safety in alignment with each other. In the past six decades or so, the Chinese people have been working with stamina and diligence in the pursuit of nuclear energy utilization, with splendid achievements. At the same time, the Chinese people have been sparing no effort to improve nuclear safety techniques, enforce rigorous nuclear safety supervision, strengthen nuclear emergency management and ensure that nuclear energy has always maintained a sound safety record.
核事故影响无国界,核应急管理无小事。总结三哩岛核事故、切尔诺贝利核事故、福岛核事故的教训,中国更加深刻认识到核应急的极端重要性,持续加强和改进核应急准备与响应工作,不断提升中国核安全保障水平。中国在核应急法律法规标准建设、体制机制建设、基础能力建设、专业人才培养、演习演练、公众沟通、国际合作与交流等方面取得巨大进步,既为自身核能事业发展提供坚强保障,也为推动建立公平、开放、合作、共赢的国际核安全应急体系,促进人类共享核能发展成果作出积极贡献。
Nuclear accidents know no national boundaries, and everything related to nuclear emergency management is too important to be taken lightly. Drawing on the lessons learned from the Three Mile Island, Chernobyl and Fukushima nuclear accidents, China has come to a profound understanding of the utmost importance of nuclear emergencies, and the need to continuously strengthen and improve nuclear emergency preparedness and responses with a view to constantly enhancing the nuclear safety safeguard level. China has made great strides in a full range of nuclear emergency-related activities, including the enactment of regulations, codes and standards, the establishment of institutional and regulatory regimes, the building-up of basic capabilities, the fostering of professional personnel, related exercises and drills, public communication, and international cooperation and exchanges. This has not only provided a robust safeguard for China's own nuclear energy development, but also contributed actively to the promotion of a fair, open, collaborative and mutually beneficial international nuclear safety emergency framework and mankind's sharing of nuclear energy development achievements.
一、核能发展与核应急基本形势
I. Current Situation of Nuclear Energy Development and Nuclear Emergency Preparedness
20世纪50年代中期,中国创建核工业。60多年来,中国致力于和平利用核能事业,发展推动核技术在工业、农业、医学、环境、能源等领域广泛应用。特别是改革开放以来,中国核能事业得到更大发展。
It was in the mid-1950s that China embarked on its nuclear industry. Over the past more than six decades China has made constant endeavors in the peaceful use of nuclear energy by promoting the extensive application of nuclear technologies to such areas as industry, agriculture, medicine, the environment and energy. In particular, since the introduction of the reform and opening-up policies in late 1978 China's nuclear energy sector has seen particularly rapid development.
发展核电是中国核能事业的重要组成部分。核电是一种清洁、高效、优质的现代能源。中国坚持发展与安全并重原则,执行安全高效发展核电政策,采用最先进的技术、最严格的标准发展核电。1985年3月,中国大陆第一座核电站——秦山核电站破土动工。截至2015年10月底,中国大陆运行核电机组27台,总装机容量2550万千瓦;在建核电机组25台,总装机容量2751万千瓦。中国开发出具有自主知识产权的大型先进压水堆、高温气冷堆核电技术。"华龙一号"核电技术示范工程投入建设。中国实验快堆实现满功率稳定运行72小时,标志着已经掌握快堆关键技术。
The development of nuclear power constitutes an important component of China's nuclear energy sector. Nuclear power is a clean, efficient and quality modern energy source. China has consistently adhered to the principle of placing equal emphasis on development and safety, and implemented the policy of developing nuclear power in a safe and efficient manner by adopting the most advanced technology and most stringent standards. In March 1985 construction started on the Qinshan Nuclear Power Station, the first of its kind in the mainland of China. As of the end of October 2015, in the mainland of China 27 nuclear generating units had been in operation, with a total installed capacity of 25.50 GWe, and another 25 nuclear generating units with a total installed capacity of 27.51 GWe had been under construction. China has already developed its large-sized advanced Pressurized Water Reactor (PWR) and High Temperature Gas-cooled Reactor (HTGR) technologies with proprietary intellectual property rights. Construction of the HPR1000 technology pilot project has already commenced. The China Experimental Fast Reactor (CEFR) has achieved full power operation over 72 hours, signifying that China has already mastered the core technology associated with fast reactors.
伴随着核能事业的发展,核安全与核应急同步得到加强。中国的核设施、核活动始终保持安全稳定状态,特别是核电安全水平不断提高。中国大陆所有运行核电机组未发生过国际核与辐射事件分级表二级以上事件和事故,气态和液态流出物排放远低于国家标准限值。在建核电机组质量保证、安全监管、应急准备体系完整。
With the development of the nuclear energy sector, nuclear safety and nuclear emergency work have seen steady synchronous reinforcement. China's nuclear facilities and nuclear activities have all along been in safe and stable state and, in particular, the safety level of nuclear power stations has witnessed constant improvement. None of the nuclear power generating units in China's mainland has suffered events or accidents rated above Level 2 under the International Nuclear and Radiological Event Scale (INES), with the release of gaseous and liquid effluents kept far below the national regulatory limits. All of the under-construction nuclear power generating units have intact quality assurance, safety supervision and emergency preparedness systems.
中国高度重视核应急,始终以对人民安全和社会安全高度负责的态度强化核应急管理。早在作出发展核电决策之时就同步部署安排核应急工作。切尔诺贝利核事故发生后,中国明确表示发展核电方针不变,强调必须做好核应急准备,1986年即开展国家核应急工作。1991年,成立国家核事故应急委员会,统筹协调全国核事故应急准备和救援工作。1993年,发布《核电厂核事故应急管理条例》,对核应急作出基本规范。1997年,发布第一部《国家核应急计划(预案)》,对核应急准备与响应作出部署,之后,为适应核能发展需要,多次进行修订形成《国家核应急预案》。目前,中国核应急管理与准备工作的体系化、专业化、规范化、科学化水平全面提升。
China has always attached great importance to nuclear emergency work by taking a highly responsible attitude toward the safety of the people and society as a whole in enforcing nuclear emergency management. Arrangements have been made for nuclear emergency work in tandem with the decision taken to proceed with nuclear power development. In the wake of the Chernobyl accident, China made it clear that there would be no change in its nuclear power development policy, while stressing that a good job would be done on nuclear emergency preparedness ― with the result that national nuclear emergency work got off the ground in 1986. In 1991 the National Nuclear Accident Emergency Committee was inaugurated and commissioned to make overall planning and coordinate nuclear accident emergency preparations and rescue work nationwide. In 1993 China promulgated the Regulations on Emergency Measures for Nuclear Accidents at Nuclear Power Plants to formalize nuclear emergency by regulatory means. In 1997 the first National Nuclear Emergency Plan (Scenario) was issued to lay out arrangements for nuclear emergency preparations and response in the form of a governmental decision. To cater to the needs of nuclear power development, multiple revisions have since been made to the original Plan and the latest version of National Nuclear Emergency Plan has been enacted. At present, China's nuclear emergency management and preparations have seen comprehensive upgrades in terms of system, specialization, standards and scientific rigor.
按照中国核电中长期发展规划目标,到2020年,中国大陆运行核电装机容量将达到5800万千瓦,在建3000万千瓦左右;到2030年,力争形成能够体现世界核电发展方向的科技研发体系和配套工业体系,核电技术装备在国际市场占据相当份额,全面实现建设核电强国目标。面对核能事业发展新形势新挑战,中国核应急在技术、装备、人才、能力、标准等方面还存在一定不足,这也是其他国家在开发利用核能进程中面临的共同课题。中国将通过理念创新、科技创新、管理创新,不断强化国家核应急管理,把核应急提高到新水平。
Under China's medium- and long-term development objectives, by 2020 the in-operation nuclear power installed capacity will reach 58 GWe in the mainland of China plus an additional 30 GWe approximately under construction. By 2030 endeavors will have been made to put into place science and technology R&D systems along with their associated industrial systems representing the global development trends of nuclear power, and to ensure that nuclear power technologies and equipment will take up a substantial share in the international market, thereby meeting the target of building a strong nuclear power country. Faced with the new situation, new challenges and new requirements, China is still confronted with shortfalls in nuclear emergency work in terms of technology, equipment, needed professionals, capacity and standards, which are the same problems encountered by other countries in developing nuclear energy. China will seek to reinforce national nuclear emergency management and raise its nuclear emergency work to a new level through idea innovation, scientific and technological innovation, and management innovation.
二、核应急方针政策
II. Guidelines and Policies for Nuclear Emergency Preparedness
中国是发展中大国,在发展核能进程中,通过制定法律、行政法规和发布政令等方式,确定核应急基本方针政策。
As a large developing country, China has laid down basic guidelines and policies applicable to nuclear emergency preparedness through enactment of laws, administrative regulations and issuance of government decrees in the course of nuclear energy development.
中国核应急基本目标是:依法科学统一、及时有效应对处置核事故,最大程度控制、缓解或消除事故,减轻事故造成的人员伤亡和财产损失,保护公众,保护环境,维护社会秩序,保障人民安全和国家安全。
The basic objectives of nuclear emergency preparedness in China are: scientific coordination according to law, timely and effectively coping with nuclear accidents, maximally controlling/mitigating or eliminating accidents, minimizing human casualties/fatalities and property damages, protecting the public and the environment, maintaining social order and safeguarding the people's safety and national security.
中国核应急基本方针是:常备不懈、积极兼容,统一指挥、大力协同,保护公众、保护环境。
The basic policy of nuclear emergency management in China is: constant vigilance, versatile compatibility, unified command, active coordination, public safeguard and environmental protection.
——常备不懈、积极兼容。各级核应急组织以"养兵千日,用兵一时"的态度,充分准备,随时应对可能发生的核事故。建立健全专兼配合、资源整合、平战结合、军民融合的核应急准备与响应体系。核应急与其他工作统筹规划、统筹部署、兼容实施。
― Constant vigilance, versatile compatibility. Nuclear emergency organizations at all levels should stay alert and vigilant at all times in readiness to respond to possible nuclear accidents at any time. A nuclear emergency preparation and response system featuring coordination of dedicated and standby systems, rational deployment of resources, combination of routine exercises and actual emergency response, and integration of civilian and military resources is to be established and perfected. Nuclear emergency work must be planned and deployed in an overall manner together with other activities and implemented compatibly with them.
——统一指挥、大力协同。核设施营运单位统一协调指挥场内核事故应急响应行动,各级政府统一协调指挥本级管辖区域内核事故应急响应行动。在政府统一组织指挥下,核应急组织、相关部门、相关企业、专业力量、社会组织以及军队救援力量等协同配合,共同完成核事故应急响应行动。
― Unified command, active coordination. Operators of nuclear installations shall coordinate and direct on-site nuclear accident emergency response actions in a unified manner, and governments at all levels shall coordinate and direct nuclear accident emergency response actions within their respective jurisdictions in a unified manner. Under the unified organization and direction of the government, nuclear emergency organizations, relevant departments, relevant enterprises, professional teams, social organizations and military rescue units shall work in coordination with one another in a joint effort to complete nuclear accident emergency response actions.
——保护公众、保护环境。把保护公众作为核应急的根本宗旨,以一切为了人民的态度和行动应对处置核事故。把保护环境作为核应急的根本要求,尽可能把核事故造成的放射性物质释放降到最小,最大程度控制、减轻或消除对环境的危害。
― Public safeguard and environmental protection. Public safeguard constitutes the fundamental objective of nuclear emergency preparedness, and it is incumbent upon us to take the attitude and actions that everything is for the people in coping with nuclear accidents. Environmental protection should be viewed as the fundamental requirement of nuclear emergency preparedness in such a way that every effort is made to minimize the release of radioactive substances and do our best to control, mitigate and eliminate damages to the environment.
中国核应急基本原则是:统一领导、分级负责,条块结合、军地协同,快速反应、科学处置。
The basic principles underlying nuclear emergency preparedness in China are: unified leadership, different levels of responsibility, tiered arrangements, coordination between the locality and the military, quick response, and scientific handling.
——统一领导、分级负责。在中央政府统一领导下,中国建立分级负责的核应急管理体系。核设施营运单位是核事故场内应急工作责任主体。省级人民政府是本行政区域核事故场外应急工作责任主体。
― Unified leadership, different levels of responsibility. Under the unified leadership of the central government, China has established a nuclear emergency management system featuring assignment of responsibility to different levels. The operator of the relevant nuclear installation is the major body of accountability for on-site emergency work. The people's government at the provincial level is the major body of accountability for off-site emergency activities in its jurisdiction.
——条块结合、军地协同。核应急涉及中央与地方、军队与政府、场内与场外、专业技术与社会管理等方面,必须坚持统筹兼顾、相互配合、大力协同、综合施救。
― Tiered arrangements, coordination between the locality and the military. Nuclear emergency involves the central and the local, the military and the government, on-site and off-site, specialized techniques and social administration. Therefore, it is necessary to uphold the principles of uniform deployment and centralized planning, mutual support, mutual coordination, and comprehensive rescue at all times.
——快速反应、科学处置。核事故发生后,各级核应急组织及早介入,迅速控制缓解事故,减轻对公众和环境的影响。遵循应对处置核事故特点规律,组织开展分析研判,科学决策,有效实施辐射监测、工程抢险、去污洗消、辐射防护、医学救援等响应行动。
― Quick response, scientific handling. When a nuclear accident occurs, all levels of nuclear emergency organizations shall be mobilized at the earliest possible time to rapidly control and mitigate the accident to minimize any impact on the public and the environment. Every effort shall be made to take into account the characteristics and rules applicable to nuclear accidents as the basis for organizing studies and evaluations to enable scientific decision-making, and enforce a full range of response actions in an effective manner, including radiation monitoring, worksite rescue, decontamination and cleansing, radiation protection and medical treatment, and so forth.
中国日报网英语点津版权说明:凡注明来源为"中国日报网英语点津:XXX(署名)"的原创作品,除与中国日报网签署英语点津内容授权协议的网站外,其他任何网站或单位未经允许不得非法盗链、转载和使用,违者必究。如需使用,请与010-84883561联系;凡本网注明"来源:XXX(非英语点津)"的作品,均转载自其它媒体,目的在于传播更多信息,其他媒体如需转载,请与稿件来源方联系,如产生任何问题与本网无关;本网所发布的歌曲、电影片段,版权归原作者所有,仅供学习与研究,如果侵权,请提供版权证明,以便尽快删除。