Few and far between 彼此相距很远
中国日报网 2018-08-14 11:08
Reader question:
Please explain this sentence, "few and far between" in particular: Brief periods of sunshine provided a welcome respite from the cold temperatures, but they were few and far between and the shifting winds were ornery.

My comments:
People don't see the sun a lot, in a nutshell. The sun does make an occasional brief appearance now and then, but those times are few and they happen at great intervals.
"At great intervals" means every once in a long while, that the time you have to wait to see the next period of sunshine is great.
In other words, if you see the sun today, perhaps you'll have to wait for another week to see it again. That's what "far between" means.
Few and far between, in short, means that the total number is few and that they are scattered about instead of being clustered together.
Let's use the lack of sunny days in our example for further examination.
Say throughout the month of July up to now, there've been only six or seven sunny days altogether. That's few, for sure.
Say throughout the month of July up to now, there've been only six or seven sunny days altogether but they all seem to have happened between late July and now, i.e. within the last two weeks. In this case, that's few but that's not far between.
Say throughout the month of July up to now, there've been only six or seven sunny days altogether and we never seem to have strung two sunny days together. Now, that's few and far between.
It means, once again, that the sun's appearances are few and the distances between those appearances are great.
That's few and far between, in a nutshell.
That's perhaps taking it too literally. Sometimes, colloquially, when people say things or events are few and far between, it feels like they only mean to say that they are just few – or rare and scarce.
Here are a few media examples:

1. In the last few years, leadership programs have sprung up in remarkable numbers at colleges and universities across the country. Institutions as diverse as Creighton University, Arizona State University, and Highland Community College, in Illinois, now offer leadership training and opportunities to their students. Some universities and colleges, like Gonzaga and the City University of Seattle, have developed degree programs in leadership, and many more such programs are being planned. It seems that every university Web page and presidential message now highlights leadership opportunities for students at both the undergraduate and graduate levels.
The idea is that leadership—like scientific disciplines, for example—consists of a set of skills, methodologies, and ideas that can be taught. The difference is that unlike, say, biology, leadership should inform all aspects of life. Leadership programs teach important life skills, such as introspection, cultural sensitivity, moral acuity, people skills, and decision-making acumen.
When leadership programs were first developed and introduced on campuses 20 years ago, they were at best marginal to the college or university's mission. They were situated in centers led by charismatic personalities, often retired public figures. Some programs, such as the James MacGregor Burns Academy of Leadership, then housed at the University of Maryland, tried to carve out an academic home and to make a discipline out of leadership. But they were not taken seriously by the academic community, and many faded from view. Thousands of books, scholarly journals, and conferences aimed to professionalize the field, but still, leadership was not considered a serious discipline by others in higher education.
Part of the problem was its name; "leadership" is an amorphous term. Books on leadership, even serious ones, still get shelved with self-help books in many bookstores. Truth be told, most leadership books—or what are called leadership books—are nothing more than ego exercises for the author. It was and remains easy to dismiss a field that seems to include every chief executive, politician, motivational speaker, and baseball manager who ever wrote a book. And then there is the notion that true leaders are born, not made, and therefore leadership isn't worthy of academic study. Others worry that such programs offer a false promise to students—after all, not everyone can become a leader.
Nevertheless we are witnessing a growth in, and a new respect for, what we now call leadership studies. This is occurring in part because of the perception, at least, that America is suffering a crisis of leadership. In the weeks leading up to November's midterm elections, pundits bemoaned the loss of political visionaries. Recent articles in The Wall Street Journal, Bloomberg Businessweek, and The Harvard Business Review ask, Where have all the business leaders gone? Many business schools have incorporated leadership training into their programs, or even created stand-alone business-leadership programs. Some undergraduate colleges have embraced the trend by starting leadership programs, which function much like honors programs, or by changing honors programs into leadership programs. Most colleges and universities have incorporated civic engagement or service learning, which is enveloped in a language of leadership development.
...
In short, they will need to be equipped to make their own opportunities. They need the skills, knowledge, and qualities that leadership programs cultivate: self-reliance, social and cultural capital, appreciation for lifelong learning, creativity, conflict-resolution and team-building skills, ethics, understanding of economics, and more. Leadership programs recognize that the career ladder of old is broken. In the past, companies could be counted on to develop leaders by ushering bright employees into management-training programs. Today such programs are few and far between. Colleges and universities must do the job.
- Today's Students Need Leadership Training Like Never Before, Chronicle.com, December 5, 2010.

2. It was 5:30 p.m. ET on a Saturday in mid-June. Some people were just returning home from a long day at the beach, trying to decide what they wanted for dinner. Others were rummaging through their closets in search of something to wear for an imminent night of bar-hopping. In The Hamptons, the penultimate day of the 2018 U.S. Open was underway. And across the pond in London, Beyoncé and Jay-Z were wrapping up one of their On the Run II tour dates. All around, it was a pretty typical afternoon. That is, until the first couple of music ended their concert with a special onscreen message: "Album out now."
Beyoncé, 36, and Jay-Z, 48, suddenly dropped their long-rumored joint record, Everything Is Love, on the rapper's streaming service, Tidal, on Saturday, June 16. Traditionally, new music comes out on Fridays at midnight. But the Carters (as they are billed on the project) once again broke the rules. The surprise came more than 40 hours after the scheduled releases of Christina Aguilera's Liberation and Nas' Nasir, among other works.
It's clear from the very first listen that Beyoncé outshines her husband on much of the record, which really should have been marketed as "Beyoncé featuring Jay-Z" rather than "Beyoncé and Jay-Z" (or "The Carters," in this case). His verses are few and far between in comparison to hers, but it still somehow feels like a balanced body of work from two of the greatest artists of our time. (That said, it's no Beyoncé, Lemonade or even 4:44.) The "Formation" singer sums it up best in the final line: "We came and we conquered / Now we're happy in love."
3 stars (out of 4)
- Beyonce and Jay-Z Find Their Happily Ever After on Joint Album 'Everything Is Love': Review, USMagazine.com, June 17, 2018.

3. Triple major winner Brooks Koepka has fans, but they were few and far between in the final round at the PGA Championship on Sunday.
A charge by Tiger Woods, playing two groups ahead, had sucked the oxygen out of the atmosphere surrounding the final pairing of Koepka and Adam Scott, who played in almost funereal silence by comparison at Bellerive.
"Tiger's coming," yelled one of the few spectators who bothered hanging around to watch Koepka and Scott after the 14-times major champion had been through.
The fan was not exactly wrong, but it hardly fazed the under-appreciated Koepka.
Despite one of the most powerful swings in the game, an unflappable temperament and now three major titles, one less than Rory McIlroy, the same as Jordan Spieth and two more than world number one Dustin Johnson, he is rarely mentioned among the game's A-listers.
Whether Sunday's two-stroke victory over Tiger Woods changes the way the 28-year-old is perceived is an open question.
"I try to acknowledge all the fans as much as I can but there's always going to be people that hate you, but you've just got to move on and use that as motivation," said the American.
"The people around me, they know who I am, and that's really all I care about."
Few people actually dislike Koepka, but apathy is a more appropriate description of how most golf fans view him.
No matter what, it was difficult not to be impressed with the way he responded to the challenges of Woods and third-placed Scott with birdies at the 15th and 16th holes that proved the difference in the end.
"I have a lot of self belief," said Koepka, struggling to recall having ever been rattled on the course.
"Even today, I knew when everyone was making that charge that if I just hung in there I was going to have a chance to separate myself a little bit."
Koepka has only one non-major PGA Tour title on his resume, but Australia's Scott said that was not the worst thing in the world.
"I've heard some frustration that he hasn't won a lot of other tournaments, but he's won three majors now, so he's definitely winning the right ones," said Scott.
"If I was him, I wouldn't change much at the moment. I'd just keep doing what he's doing because he's showing up at the right moments in the biggest events.
"I can see he's got that mindset. There's something inside his brain that makes him believe that that's what he's destined to do."
- Koepka Shrugs off Fan Apathy After Yet Another Major, USNews.com, August 12, 2018.
本文仅代表作者本人观点,与本网立场无关。欢迎大家讨论学术问题,尊重他人,禁止人身攻击和发布一切违反国家现行法律法规的内容。
About the author: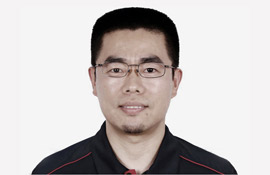 Zhang Xin is Trainer at chinadaily.com.cn. He has been with China Daily since 1988, when he graduated from Beijing Foreign Studies University. Write him at: zhangxin@chinadaily.com.cn, or raise a question for potential use in a future column.
(作者:张欣 编辑:丹妮)
中国日报网英语点津版权说明:凡注明来源为"中国日报网英语点津:XXX(署名)"的原创作品,除与中国日报网签署英语点津内容授权协议的网站外,其他任何网站或单位未经允许不得非法盗链、转载和使用,违者必究。如需使用,请与010-84883561联系;凡本网注明"来源:XXX(非英语点津)"的作品,均转载自其它媒体,目的在于传播更多信息,其他媒体如需转载,请与稿件来源方联系,如产生任何问题与本网无关;本网所发布的歌曲、电影片段,版权归原作者所有,仅供学习与研究,如果侵权,请提供版权证明,以便尽快删除。