Sure fire? 必定成功
中国日报网 2018-08-31 13:43
Reader question:
Please explain "sure fire" in this sentence: He is a sure fire Oscar nominee and has a real shot at winning.

My comments:
Here, an actor is likened to a sharpshooting rifle, a long-barreled gun good for long-distance shooting.
Sure fire or surefire or sure-fire is a combination of "sure", as in sure and certain and fire, as in fire a shot.
Surefire, hence, means literally a good shot, a shot that is certain to hit the target.
In our example, he the actor is considered sure fire or certain to be an Oscar nominee for his performance in a film and is thought to have a real chance of winning the Oscar Award, film industry's highest honour.
Anyways, surefire is an American expression originally referring to sure-fire rifles. Merriam-Webster.com dates its first known use at 1846. EtymOnline.com says it had been popular by 1864. Both dates seem reasonable, as rifles enjoyed their heyday before, during and after colonial times.
In due course, rifles have fallen by the wayside, giving way to more powerful and more accurate weapons, but sure-fire, as an adjective, has lived on. Indeed, it seems to be quite alive and well today, especially in America.
And here are a few sure-fire examples in recent American media:

1. Here's some news that will make you want to go dutch. The cost of a date is on the rise, and Maryland is among the top 10 states where it's the priciest, according to 24/7 Wall St.
An August report by the Delaware-based financial news and opinion company has ranked Maryland the seventh most expensive state to go on a date, averaging at $209.33 per outing. New York came in at No. 1, with an average date costing around $300, followed by New Jersey at $259.60 and Hawaii at around $240, respectively.
The list was compiled by calculating the average price of: a liter of wine in June 2018, per the Bureau of Labor Statistics; two movie tickets in 2017, per the National Association of Theatre Owners; and the average cost of two restaurant dinners in 2016, according to Zagat. The index also considered the cost of goods, services, dining out, transportation and commute times, alcohol and taxes for each state.
Luckily, there are some outings that aren't as expensive. For a date in Maryland, the website suggested taking a stroll along the Ocean City boardwalk, which can be as expensive as you want to make it. But if you're looking for a sure-fire cheaper option, you can always jump ship and start dating in another state entirely.
In Nebraska, the cost of a dates averages $48.91, according to 24/7 Wall St. North Dakota follows behind with roughly $42 per date, and South Dakota comes in at the lowest, at around $38 a date.
- Love does cost a thing: The price of average date in Maryland is $200, study says, BaltimoreSun.com, August 22, 2018.

2. The nearly simultaneous, split-screen convictions of President Donald Trump's former personal lawyer and one-time campaign chairman on Tuesday seemed designed to give the Democratic Party a powerful message heading into the 2018 elections, the same one Trump successfully deployed in 2016: "Drain the swamp."
The narrative builds itself: The number of close Trump associates linked to criminal wrongdoing is growing, the first two members of Congress to endorse him are both under indictment, his cabinet has already seen two members resign over corruption allegations and Trump has never separated himself from his businesses, turning Mar-a-Lago into an invitation for bribery. And for armies of armchair campaign strategists, railing against the Trump administration's corruption is a message Democrats can ride to victory in 2018 and 2020.
But Democratic campaigns in competitive general elections have been slow to embrace the messaging. National party strategists believe the Trump administration's corruption – constantly covered in both the national and local news media – is the "mood music" for the midterms, and voters don't need paid advertising to remind them of it. When Democrats do talk about corruption, it likely won't be in the form of broad-scale attacks on the Trump administration, but in promising to clean up Washington with good-government reforms.
House Minority Leader Nancy Pelosi and other Democrats have eagerly talked up reviving the party's 2006 messaging about a culture of corruption on Capitol Hill, believing it will help the party create a similar wave 12 years later after it first helped them reclaim the House. But direct attacks on the Trump administration have been few and far between in Democratic television ads, according to data from Kantar Media/CMAG.
Just 12 percent of all ads aired by Democratic House and Senate candidates in 2018 deal with corruption, according to the data. By comparison, about 13 percent of all ads aired by Republicans in 2018 have dealt with corruption. And most of the ads have dealt with localized scandals ― for both Democrats and Republicans, the race with the most ads focused on corruption has been Missouri's Senate contest.
In that race, Democrats haven't touched on former EPA Administrator Scott Pruitt's scandals or Cohen's campaign finance shenanigans. Instead, a Democratic super PAC controlled by allies of Senate Minority Leader Chuck Schumer has seized on state Republican Attorney General Josh Hawley's ties to the state's disgraced former governor, Eric Greitens, and to various wealthy donors. Meanwhile, Republicans have attacked Democratic Sen. Claire McCaskill for growing wealthier while in office.
Democrats plan to hammer local scandals in other races. In Virginia's 2nd Congressional District, Democrats are ready to center the fall campaign around Rep. Scott Taylor's wrongdoing in helping a third-party candidate make the ballot. While GOP Rep. Vern Buchanan's decision to buy a yacht the same day the House passed the GOP's tax law is a sure-fire issue in Florida's 16th Congressional District.
- Trump's Corrupt Inner Circle Won't Be Democrats' New Midterm Focus, HuffingtonPost.com, August 22, 2018.

3. San Antonio Spurs legend Manu Ginobili has only been retired a day, but there's already a billboard up in San Antonio thanking the future Hall of Famer for his 16 years of contributions.
...
Ginobili decided to call it quits Monday afternoon after an illustrious career that spanned both the NBA and international hoops. The 41-year-old began his career way back in 1995 in Argentina, and he played in his native country and then Italy before finally joining the Spurs in 2002, though he was drafted in the second round of the 1999 NBA Draft.
Ginobili won his first of four NBA championships as a rookie in 2003. The following year, Ginobili and Argentina shocked the world by winning the gold medal at the 2004 Olympics in Athens, marking the first time in 16 years Team USA didn't take home gold. He's one of just two players in basketball history to win an NBA title, EuroLeague title and Olympic gold medal.
From there, Ginobili continued to play a key role for the Spurs for the rest of his career, mostly as a dynamic bench player in support of longtime stars Tim Duncan and Tony Parker. Ginobili won Sixth Man of the Year in 2008 and won championships in 2005, 2008 and 2014. He was selected to two All-Star Games and was named to the All-NBA third team twice.
For his career, Ginobili averaged 13.3 points, 3.8 assists and 3.5 rebounds in 25.4 minutes per game during the regular season. Those numbers jumped to 14.0 points, 4.0 rebounds and 3.8 assists in 27.9 minutes per game in the playoffs.
While those numbers aren't mind-blowing, Ginobili is a sure-fire Hall of Famer for a variety of reasons, and Spurs fans will never forget his contributions.
- Billboard thanking Manu Ginobili goes up on San Antonio highway, ClutchPoints.com, August 28, 2018.
本文仅代表作者本人观点,与本网立场无关。欢迎大家讨论学术问题,尊重他人,禁止人身攻击和发布一切违反国家现行法律法规的内容。
About the author: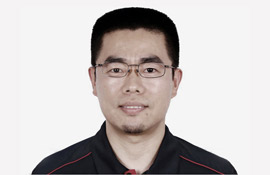 Zhang Xin is Trainer at chinadaily.com.cn. He has been with China Daily since 1988, when he graduated from Beijing Foreign Studies University. Write him at: zhangxin@chinadaily.com.cn, or raise a question for potential use in a future column.
(作者:张欣 编辑:丹妮)
中国日报网英语点津版权说明:凡注明来源为"中国日报网英语点津:XXX(署名)"的原创作品,除与中国日报网签署英语点津内容授权协议的网站外,其他任何网站或单位未经允许不得非法盗链、转载和使用,违者必究。如需使用,请与010-84883561联系;凡本网注明"来源:XXX(非英语点津)"的作品,均转载自其它媒体,目的在于传播更多信息,其他媒体如需转载,请与稿件来源方联系,如产生任何问题与本网无关;本网所发布的歌曲、电影片段,版权归原作者所有,仅供学习与研究,如果侵权,请提供版权证明,以便尽快删除。