Shell shocked? 吓呆了
中国日报网 2018-09-14 13:35
Reader question:
Please explain "shell shocked" in this sentence: Residents of Vancouver are shell-shocked by recent record-setting gas prices.

My comments:
Residents of Vancouver have never seen such high gas prices and they're in disbelief. When they first heard the news, it must have been as if someone had lit a firecracker near their ears and thus given them a great shock.
Only getting shell-shocked feels a great deal worse.
Shell, you see, refers to bomb shell of the battle field. "Shell shocked" is originally descriptive of soldiers hearing a bomb going off, especially unexpectedly.
If you think the sound of an unexpected firecracker is intolerable, you can imagine how World War I soldiers felt then, when artillery shells were first fired en masse, especially when they had to endure the explosions day after day, night after night, ceaselessly and non-stop.
Some of these soldiers developed what was to be known as "shell shock", generally known today as PTSD or Posttraumatic Stress Disorder. Some shell-shocked veterans begin to have incessant nightmares during the night and are permanently damaged emotionally and psychologically. Many go gone mad and are never the same again.
Hence, no doubt, when residents Vancouver are likened to soldiers getting shell-shocked in the battlefield, we understand that they're stunned and hurt – stunned and hurt pretty bad.
Devastatingly, as a matter of fact.
All right, here are more media examples, all recent, of people getting shell shocked by this and that:

1. Every action has a reaction, but every reaction has a chain reaction. America's liberal globalists are shell-shocked over the US Supreme Court upholding President Donald Trump's travel ban on Muslims—an outrage that has found echoes in other countries, including India. Yet even the US judiciary feels Trump has a valid point.
Maybe he does, going by the European and British experience. The dictum of Islamophobes that all Muslims are not terrorists but all terrorists are Muslims, is not true. But most terrorists today are Muslims. This fear propelled Trump into 1600 Pennsylvania Avenue. But more than fear is the genuine alarm that the American way of life is being disrupted through an Islamic cultural invasion. The wave of immigrants from Asia and the Middle East who brought their religious and social values to Europe and Britain cauterised their culture from Westernisation while enjoying the economic opportunities in their new countries.
Unlike Hindus, Jews and Sikhs, Islam is a vehemently proselytising religion, with conversion at the core of its faith, like its elder sibling Christianity. German Chancellor Angela Merkel called for her countrymen to embrace Muslims because it was Germany's Islam. She was speaking from the post-1945 European perception of an inclusive society, a mistake the British made until it became too late as Mohammed became the most common name in the UK. And there is no Brexit for Mohammed.
The Christian population is decreasing in Europe where the average Muslim woman has 2.6 children, more than 1.6 by the average non-Muslim woman. Senior British politician Nigel Farage hit the nail on the head when he said, "The problem with multiculturalism is that it leads to divided communities. It's quite different to multi-racialism." According to a UK think-tank, the number of sharia courts in London have increased, with over 100 of them officially functioning in the city.
This fear of multiculturalism is echoed by a growing number of Americans. The perception that Hillary Clinton was a crook helped Trump win, but his jingoism could help him win a second term. According to a Pew Research Center poll, the share of American adults converting to Islam is 23 percent of the US Muslim population, while only six percent of Christians are new converts. Over the recent decades, the American Muslim population has been growing at around 1,00,000 a year. The exception that begs the question is the exclusion of Pakistan from Trump's ban list while most of the Muslims who denounced Islam after migration to the US are Iranians (22 percent) since the majority had sought political refuge from the Ayatollah regime.
Immigration is the controversial narrative polarising the world; and the US the most. The economic advantage of immigration is being outweighed by the fear of cultural corruption. Trump is criticised for negating the Statue of Liberty's cardinal principle of America as a shelter for outsiders. But that America was racist, where Barack Obama could never have become President. It will be impossible for Donald Trump to return his country to those dark centuries. But he is doing right by his country, strengthening the industry, military and creating more jobs for Americans. Trump's America is black and white—for the Americans, by the Americans, of the Americans. But their colour is white more than black.
- Multiculturalism loses to the national way of life, NewIndiaExpress, July 1, 2018.

2. A devastating first-half blitz from Brighton secured a memorable 3-2 victory over Manchester United on Renault Super Sunday.
There was sheer jubilation inside the Amex Stadium as two goals in two minutes from Glenn Murray and Shane Duffy put Brighton two up inside 27 minutes.
Romelu Lukaku halved the deficit on 34 minutes with a close-range header but there was no respite for the beleaguered United defence as Pascal Gross won and converted a penalty on the stroke of half-time to put Brighton in control.
Paul Pogba scored a penalty in stoppage-time but it came too late to inspire a comeback as Jose Mourinho, in the week in which he accused Manchester City of lacking class, was left to reflect on a gulf in class on the field.
Brighton lost captain Lewis Dunk to injury after an even opening 21 minutes, but rather than handing United the opportunity to expose any defensive weaknesses, the Seagulls went on the attack to devastating effect.
After Anthony Knockaert dragged a shot wide, Solly March drilled a cross into the United area where Murray nipped ahead of his marker to deftly chip his first goal of the season beyond David de Gea.
Brighton celebrations turned to pandemonium two minutes later as United failed to clear their lines from a corner on no more than three occasions, allowing Duffy time to rifle a quick-fire second.
United were shell-shocked and bereft of ideas until a cross under pressure from Luke Shaw found Lukaku in space in between the advancing Brighton centre-backs, and the Belgium international nodded home from close range.
- Brighton 3-2 Manchester United: First-half blitz leaves United shell-shocked, SkySports.com, August 20, 2018.

3. One spring day in 1958, I went to a concert at Brooklyn's Washington Temple Church of God in Christ and witnessed Aretha Franklin's first known performance in New York. The audience was audibly excited, there to hear Rev. C.L. Franklin, the king of the Baptist church who, thanks to the dozens of sermons he had recorded, was at the time the most popular pastor on wax. But the reason I, a 16-year-old Jewish boy from Queens, had come to Brooklyn was Franklin's 15-year-old daughter, Aretha, billed as making her New York debut.
By that point, I was a devoted gospel fan. Thanks to my tolerant parents, I had traveled from Forest Hills to Harlem's cynosure, the Apollo Theater, to hear the great gospel groups: The Famous Ward Singers, led by Clara Ward and Marion Williams, and The Famous Davis Sisters, led by Ruth Davis and Jackie Verdell. Williams and Verdell had told me to have an ear open for "a child named Aretha," as Clara's mother, Madame Gertrude Ward, called her. "She's Rev. Franklin's daughter; don't speak much, but don't start her to singing!"
On that day at the Washington Temple, the Davis Sisters opened the bill and rocked the church. A little person named Miss Sammie Bryant sang a rendition of "I've Got a Home Eternal in Heaven," a powerful 16-bar Baptist blues, that had women and teenage boys collapsing all over the building. The church, however, did not go berserk when Rev. Franklin's daughter performed. She sat at the piano, playing chords she had learned from her father's minister of music, James Cleveland, her eyes stabbed shut, making — in the gospel vernacular — "ugly faces." She only rose from the bench to begin the holy dance, famously known in black and white Pentecostal churches as "the shout," after having elicited hollers and moans from her listeners.
Chess had just released Aretha's live recording of an early-20th-century hymn, "Never Grow Old." Her focus and intensity on that record epitomized gospel at its deepest, signifying that a teenager had absorbed everything that Ward, Verdell and Williams would have to teach her. Thus Aretha stepped out into the gospel world — an adolescent carrying the emotional history and vocal power of the century's greatest singers.
Two years later, I was invited to a party held by the prominent publicist Al Duckett. Duckett had already ghostwritten Jackie Robinson's first memoir. He was also Mahalia Jackson's publicist, and a co-author of Dr. Martin Luther King Jr.'s first speeches.
At this particular event, he played — for the first time publicly — Aretha's audition tape for Columbia Records. At Washington Temple, teenage nerves seemed to overwhelm her, but here she was in perfect voice — and equally perfect spirit. "Today I Sing the Blues" shines on her debut album, but the audition tape remains superior in my memory. As any traditional gospel singer will tell you, the spirit rarely shows up twice.
All through the 1950s, former gospel singers had made great records but enjoyed only modest success. So, too, Aretha's years at Columbia Records produced many masterpieces but few hits. Only with her move to Atlantic did she become Lady Soul, and her producer Jerry Wexler famously declared that the key had been "taking her back to church." Yet his and Aretha's ideas of gospel were not always the same. He often recalled her isolating herself in the studio, sitting apart from the musicians, focused on something within — as gospel singers would say, "Looking to the hills from which cometh my strength."
That's because the rockers could not give her the particular attention she was used to in church. For most of the early Atlantic sessions, her piano had to set the tone and summon the spirit. It's also why she was happiest in a studio when a church-trained musician like Billy Preston could give her the chords and harmonies she craved, exactly when she needed them. Any good studio musician could mimic the style, but the timing had to be, as she put it, "anointed."
Her return to the church would produce her best-selling 1972 album, Amazing Grace. The atmosphere could not have been friendlier, as is evident in Sydney Pollack's famously still-unreleased film of the concert. There were a few white faces (including Mick Jagger, clapping conspicuously off-time). But Wexler intended it to be a platonic ideal of church. Sure enough, there is Aretha's father, slapping palms with his neighbors whenever she executes a particularly inspired lick. There is the tiny yet imperious Madame Gertrude Ward. Most of all, there is Clara Ward, staring at her musical daughter with something between pride and melancholy. Oddly enough, the least engaged is Lady Soul herself. When Rev. Franklin sings his daughter's praises — "Aretha is just a stone singer" — she looks half stunned, a fawn caught in fearsome headlights.
For me, the great visual representation of young Aretha had been filmed three-and-a-half years earlier. Right after the assassination of Dr. King, she stands singing next to Coretta Scott King and the four King children. They are shell-shocked with grief; no one hollers, no one shouts. But Aretha is in perfect voice, singing the early-gospel song "God Shall Wipe All Tears Away." None of her early idols — Clara, Jackie or Marion — had recorded the track, and so there is no prior version she must re-create or reinvent. Instead it's all her, looking her most generous and, to me, authentic.
- What it was like to be at Aretha Franklin's first NYC Performance, by Root, August 23, 2018.
本文仅代表作者本人观点,与本网立场无关。欢迎大家讨论学术问题,尊重他人,禁止人身攻击和发布一切违反国家现行法律法规的内容。
About the author: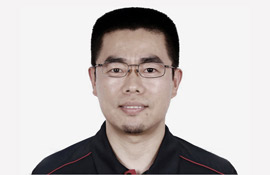 Zhang Xin is Trainer at chinadaily.com.cn. He has been with China Daily since 1988, when he graduated from Beijing Foreign Studies University. Write him at: zhangxin@chinadaily.com.cn, or raise a question for potential use in a future column.
(作者:张欣 编辑:丹妮)
中国日报网英语点津版权说明:凡注明来源为"中国日报网英语点津:XXX(署名)"的原创作品,除与中国日报网签署英语点津内容授权协议的网站外,其他任何网站或单位未经允许不得非法盗链、转载和使用,违者必究。如需使用,请与010-84883561联系;凡本网注明"来源:XXX(非英语点津)"的作品,均转载自其它媒体,目的在于传播更多信息,其他媒体如需转载,请与稿件来源方联系,如产生任何问题与本网无关;本网所发布的歌曲、电影片段,版权归原作者所有,仅供学习与研究,如果侵权,请提供版权证明,以便尽快删除。