Rattled someone's cage 让人恼火
中国日报网 2018-09-28 11:43
Reader question:
Please explain this sentence: "Here's a list of books I've prepared for you, books that rattled my cage when I was younger." Rattled my cage?

My comments:
Here the speaker, a teacher or mentor or advisor, gives a list of books that have had some profound influence on him/her.
That's what "rattled my cage" means.
Literally, to rattle someone's cage is to disturb and annoy someone, but here, in our example, the speaker was stirred up in a good way. Apparently all the books proved to be edifying, thought-provoking and stimulating, inspiring.
Originally, cage rattling refer to making rattling noises by shaking or repeatedly knocking on the cage of animals, say, in the zoo. Imagine a tiger, lion or wolf lying in the corners of each of their cages, fast asleep or just dozing off after getting tired of walking round their cage or in fact getting tired of all the visitors to the zoo.
But the visitors are still keen and fascinated and don't want to see the animals lie down and fall asleep yet. So some children – and adults, too, those who haven't fully grown up – start rattling the bars of the cages, startling the animals. The beasts spring up or make other sudden movements to see what's going on, to see if some kind of danger is imminent.
Then they see it's just the visitors making noises. They lie down and close their eyes again. But the rattling noises keep coming. So you can imagine how the animals feel after a while.
Yes, they're distracted, unsettled, upset, angry and are, to a degree, driven mad.
If we humans were rattled in a similar way, we'd all feel disturbed and get upset. We'd all, to a degree, be driven nuts.
That's the idea. Only in our example, those books in question disturbed and unsettled the speaker in a good way, making him/her hooked to literature and perhaps making them think about and understand life better as a whole.
All right, no more ado, here are media examples of people getting their cage rattled, mostly in an annoyingly provoking way:

1. Mariah Carey has had more boyfriends than we've had hot dinners – but she always seems to be unlucky in love and is heading for heartbreak hotel once again.
The You're Mine singer is rumoured to be ending her second marriage to America's Got Talent host Nick Cannon after six years together.
And just when she'd settled down, had children with the star and thought she'd finally found her happy ever after.
Nick and Mariah seemed so in love when they had their twins Moroccan and Monroe in 2010 and even renewed their wedding vows every year, once shutting down Disneyland for the annual romantic ceremony.
But it all started to fall apart earlier this year and Nick admitted this week there is "trouble in paradise" as the pair have been living in separate homes for a few months.
We can only imagine another divorce would crush Mariah, especially now she has two young children to think about.
It's not just a case of moving on to the next chapter, like the singer has done with men in the past, including her first husband, music executive Tommy Mottola.
Ever since their divorce she has endured one doomed relationship after another and has been linked to everyone from American record producer Mark Sudack to badboy rapper Eminem.
Nick, 33, seemed like a safe option, despite their 10 year age gap they were madly in love. But he soon rattled her cage when he began talking openly about their sex life in the press and discussed how many famous women in Los Angeles he'd slept with, including Kim Kardashian.
We hope the couple work through their issues, although we are hearing the divorce is pretty much a "done deal". So while we hear for confirmation, here's a look at Mariah's ex-files...
- Mariah Carey's doomed love life: From her hell with record exec to her crumbling marriage to Nick Cannon, Mirror.co.uk, August 22, 2014.

2. Go in with your eyes open. Have courage. Persevere. Stay true to what you believe in.
Those were the lessons shared by Somerset's first — and only — selectwoman, Eleanor Gagnon, who served two stints and 12 years on the three-member board through 2007.
"I was outspoken. I spoke my mind. No one was going to bully or sway me," Gagnon said when contacted by The Herald News in the early stages of the 2016 town election process.
Backing up her outspoken approach to describe being a woman on a male-dominated board, Gagnon said, "I was a threat because I didn't go along with the backroom deals or the good-ole boy network.
"I enjoyed it. I worked hard. I was always prepared. I really rattled their cage a little too much," said Gagnon, who served with some of the best-known selectmen and with town administrators the late Chick Marchand, John McAuliffe and Dennis Luttrell.
She also lost twice for re-election in close races after her first (1993-95) and last (1999-2007) terms, and served three years on the School Committee, one year jointly as a selectwoman.
"As far as I know, according to all the records we have ... according to Chick Marchand ... I was the first woman in Somerset to be elected."
- Ex-Somerset Selectwoman Gagnon reflects on her career, has advice for female candidate, HeraldNews.com, January 22, 2016.

3. Donald Trump's dislike of the New York Times is one of his longest-standing feuds in his ascension to presidency.
On Friday, they really rattled his cage when the published a story with the title: 'Michael Cohen said he would take a bullet for Trump. Maybe not anymore.'
The story, which covers the uncertain relationship between Trump and his personal attorney Cohen, clearly struck a nerve with the president, who fired out a series of tweets just a few hours ago in which he targeted Maggie Haberman, one of the main journalists who worked on the feature.
The New York Times and a third rate reporter named Maggie Haberman, known as a Crooked H flunkie who I don't speak to and have nothing to do with, are going out of their way to destroy Michael Cohen and his relationship with me in the hope that he will "flip." They use....
— Donald J. Trump (@realDonaldTrump) April 21, 2018
....non-existent "sources" and a drunk/drugged up loser who hates Michael, a fine person with a wonderful family. Michael is a businessman for his own account/lawyer who I have always liked & respected. Most people will flip if the Government lets them out of trouble, even if....
— Donald J. Trump (@realDonaldTrump) April 21, 2018
....it means lying or making up stories. Sorry, I don't see Michael doing that despite the horrible Witch Hunt and the dishonest media!
— Donald J. Trump (@realDonaldTrump) April 21, 2018
As you can see, all the typical Trump buzzwords are in there - such as "dishonest media" and "witch hunt" and "crooked H flunkie". However, he might regret calling Haberman a "third-rate reporter".
Earlier this month, Haberman - along with her fellow reporters at the New York Times - was awarded the Pulitzer Prize, the highest honour that can be bestowed on any journalist for their work.
- The woman Donald Trump called a 'third rate reporter' is a Pulitzer Prize winner, Indy100.com, April 21, 2018.
本文仅代表作者本人观点,与本网立场无关。欢迎大家讨论学术问题,尊重他人,禁止人身攻击和发布一切违反国家现行法律法规的内容。
About the author: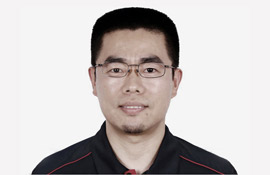 Zhang Xin is Trainer at chinadaily.com.cn. He has been with China Daily since 1988, when he graduated from Beijing Foreign Studies University. Write him at: zhangxin@chinadaily.com.cn, or raise a question for potential use in a future column.
(作者:张欣 编辑:丹妮)
中国日报网英语点津版权说明:凡注明来源为"中国日报网英语点津:XXX(署名)"的原创作品,除与中国日报网签署英语点津内容授权协议的网站外,其他任何网站或单位未经允许不得非法盗链、转载和使用,违者必究。如需使用,请与010-84883561联系;凡本网注明"来源:XXX(非英语点津)"的作品,均转载自其它媒体,目的在于传播更多信息,其他媒体如需转载,请与稿件来源方联系,如产生任何问题与本网无关;本网所发布的歌曲、电影片段,版权归原作者所有,仅供学习与研究,如果侵权,请提供版权证明,以便尽快删除。