Flying in the face of…chili lovers 挑衅噬辣者
中国日报网 2018-11-06 14:01
分享到微信 Reader question:
Please explain "flies in the face" in this sentence: "In Texas, for example, beans in chili are typically considered taboo, which flies in the face of most chili lovers pretty much everywhere else."

My comments:
The speaker says people in Texas don't cook beans with chili. Even chili lovers don't think it a good idea to put beans in chili. They think beans in chili taste, like, awful.
That goes against what other chili lovers elsewhere do. Everywhere else in the United States and perhaps beyond, chili lovers don't mind adding chili peppers to beans.
Hence, chili lovers in Texas are described as flying in the face of all chili lovers elsewhere. It means in this particular instance, Texans are different. Texans are peculiar. Texans are unconventional. Very much so.
So much so that it sounds unbelievable. Chili with everything but not beans? Seriously?
Anyways, "flying in the face" originally refers to a dog attacking a man, literally flying in (springing at) the face of the man. This explanation, from Grammarist.com:
The term fly in the face of seems to come from a phrase used in the mid-fourteenth century, to fly in a person's face, which referred to a dog attacking a human being in a literal sense. The phrase came to mean a figurative or verbal attack on someone who did not agree with your opinion.
Clearly, in this expression, "fly" means "attack", as in "the two dogs fly at each other's throats."
Dogs are not known to be attackers. Their barks are louder than their bite, as the saying goes. Domestic dogs especially are not known to be attackers, unless they're set onto someone by their owner. So a dog springing at a man is a rare occurrence, which leads to the sense of disbelief in the metaphorical use of the phrase.
When, for example, Donald Trump's claim that the media are producers of "fake news" and "enemy of the people", you wonder if you hear right. It flies in the face of free press. For someone prominent to say things like that, in this day and age, in America of all places, I mean, seriously?
Yeah, seriously, the world is perhaps really going to the dogs in many ways.
Alright, no more ado, let's get a better feel of something flying in the face of something else (meaning one thing contradicting, defying and opposing to another in a blatant way) via real examples in the media:

1. President Trump on Thursday accused Democrats, without evidence, of inflating the 3,000-person death count from last year's hurricanes in Puerto Rico in order "to make me look bad."
The stunning accusation is Trump's latest attempt to defend his handling of natural disasters as Hurricane Florence bears down on the southeastern U.S.
In a series of tweets, Trump disputed an independent report commissioned by Puerto Rico's government that raised the death toll from Hurricane Maria to 2,975.
"3000 people did not die in the two hurricanes that hit Puerto Rico. When I left the Island, AFTER the storm had hit, they had anywhere from 6 to 18 deaths," Trump tweeted. "As time went by it did not go up by much. Then, a long time later, they started to report really large numbers, like 3000."
The president said the number was manufactured "by the Democrats in order to make me look as bad as possible when I was successfully raising Billions of Dollars to help rebuild Puerto Rico."
"If a person died for any reason, like old age, just add them onto the list. Bad politics. I love Puerto Rico!" he added.
Trump's latest comments drew an instant rebuke from San Juan Mayor Carmen Yulín Cruz, who accused the president of minimizing the plight of Puerto Rico.
"This is what denial following neglect looks like: Mr Pres in the real world people died on your watch. YOUR LACK OF RESPECT IS APPALLING!" she tweeted.
...
A Washington Post-Kaiser Family Foundation study showed 80 percent of island resident disapprove of his response.
Trump's claims fly in the face of a George Washington University study commissioned by Puerto Rico's governor examining the effects of Maria in the six months following landfall in Sept. 2017.
- Trump says Puerto Rico death toll inflated by Democrats: '3000 people did not die', MSN.com, September 14, 2018.

2. A Fish and Game commissioner in Idaho who came under fire for circulating images of he and his wife posing with dead animals during a hunt in Africa resigned on Monday, saying he had made "poor judgments."
In a letter to Idaho Gov. C.L. "Butch" Otter, the commissioner, Blake Fischer, said those judgments "resulted in sharing photos of a hunt in which I did not display an appropriate level of sportsmanship and respect for the animals I harvested."
While claiming the photos were out of character, Fischer apologized and said he hoped the photos would "not harm the integrity and ethic" of the Idaho Fish and Game Department.
Fischer was criticized by former commissioners for sending the photos to them and others in a Sept. 17 email. In the note, which was obtained through a public records request, Fischer said the hunt occurred after he and his wife traveled to Namibia for a couple of weeks — a trip that was his third to Africa and her first.
"First day she wanted to watch me, and 'get a feel' of Africa," he wrote. "So I shot a whole family of baboons. I think she got the idea quick."
The images showed Fischer and his wife smiling above the bodies of various animals, including several monkeys.
…
In an interview with NBC News, another former commissioner, Keith Stonebraker, said he found the email "nauseating" and said the images "flew in the face" of the ethical hunting standards that commissioners seek to uphold.
"It would be the same as going out and killing fawns," he said, adding: "I thought, 'Why in the world would anybody want to kill a family of baboons?' It just made no sense at all."
- Idaho commissioner who circulated 'nauseating' hunting photos resigns, NBCNews.com, October 16, 2018.

3. For the blink of a tweet, President Donald Trump gave subtle credence to the notion that bombs mailed to Democrats were actually a ploy to hurt Republicans in the election. That flew in the face of known facts in the episode, just one example of reality being twisted in the house of mirrors otherwise known as the final stretch of the election campaign.
A look at some of the rhetoric of the past week:
POLITICAL VIOLENCE
TRUMP: "Republicans are doing so well in early voting, and at the polls, and now this 'Bomb' stuff happens and the momentum greatly slows - news not talking politics. Very unfortunate, what is going on. Republicans, go out and vote!" — tweet Friday.
THE FACTS: His use of "bomb" in quotation marks lent weight to conspiracy theories that Democrats and CNN were targeted as part of a liberal plot to drum up voter anger at Trump and fellow Republicans. There's no evidence of that. Trump's tweet bemoaned the diversion of attention away from the campaign by news organizations that shifted priority to the attack. Given Trump's vow that no effort would be spared to bring the perpetrator or perpetrators to justice, it's questionable whether the president actually believed the theory he seemed to be subscribing to in the tweet.
Later Friday, police arrested a Florida man who is a fervent Trump supporter and accused him of sending more than a dozen mail bombs. Trump hailed law enforcement for acting so swiftly against "terrorizing acts" he called "despicable."
___
TRUMP, on the discovery of pipe bombs targeting prominent Democratic politicians and CNN: "Those engaged in the political arena must stop treating political opponents as being morally defective." — Wisconsin rally Wednesday.
THE FACTS: Trump specifically calls out opponents as being morally defective. He called Democrats and other opponents of Justice Brett Kavanaugh "very evil people." He has routinely described Democratic Rep. Maxine Waters as "low IQ." She was among those targeted by pipe bombs in the mail, as was CNN, prime among the news organizations he calls "fake" and an "enemy of the people" in his stump speech.
For much of his political career, Trump has often embraced deeply personal attacks against his opponents. During the 2016 campaign, for instance, he repeatedly encouraged supporters to physically attack liberal protesters, offering to pay for their legal bills.
His recent rhetoric has sometimes turned darker.
"The Democrats are willing to do anything, to hurt anyone, to get the power they so desperately crave," Trump declared at a Minnesota rally this month. "They want to destroy."
He also praised a Republican congressman from Montana for body slamming a reporter.
- AP FACT CHECK: Did Trump think mail bombs were liberal plot? APNews.com, October 27, 2018.
本文仅代表作者本人观点,与本网立场无关。欢迎大家讨论学术问题,尊重他人,禁止人身攻击和发布一切违反国家现行法律法规的内容。
About the author: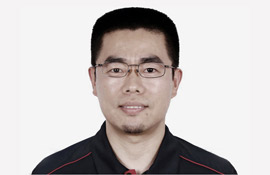 Zhang Xin is Trainer at chinadaily.com.cn. He has been with China Daily since 1988, when he graduated from Beijing Foreign Studies University. Write him at: zhangxin@chinadaily.com.cn, or raise a question for potential use in a future column.
(作者:张欣 编辑:丹妮)
中国日报网英语点津版权说明:凡注明来源为"中国日报网英语点津:XXX(署名)"的原创作品,除与中国日报网签署英语点津内容授权协议的网站外,其他任何网站或单位未经允许不得非法盗链、转载和使用,违者必究。如需使用,请与010-84883561联系;凡本网注明"来源:XXX(非英语点津)"的作品,均转载自其它媒体,目的在于传播更多信息,其他媒体如需转载,请与稿件来源方联系,如产生任何问题与本网无关;本网所发布的歌曲、电影片段,版权归原作者所有,仅供学习与研究,如果侵权,请提供版权证明,以便尽快删除。