Broad brush 粗线条
中国日报网 2018-11-16 11:41
分享到微信 Reader question:
Please explain "broad-brush": "a broad-brush characterization as restrictive and unexciting."

My comments:
As adjective, broad-brush means general, rough and unrefined. Here. We are talking about something that's been described as restrictive and unexciting in a generally-speaking manner or approach.
Generally speaking, as in by and large, more or less, if you know what I mean, etc., and not to put too fine a point on it.
Definitely not. And that's the spirit of the broad-brush approach. In other words, there might just be something unrestrictive and exciting about our subject matter if we examine it closely, looking into details.
Anyways, broad brush refers to the big painting brush painters used to paint, say, scenes of mountains, lakes, skies and clouds. Painting these scenes, the artist uses big, sweeping, cross-the-broad strokes intending to convey a general mood or atmosphere rather than recreating minute details.
Details, such as tiny flowers or human faces and eye lashes. For those, a much thinner brush extremely fine at the tip is deployed.
Hence and therefore, the analogy, that if someone describes something using the broad brush approach, they talk about its main parts rather than fine details, using broad characterizations that are lacking in details or specifications.
Yes, broadly speaking, by and large, more or less and in the main, that's the main picture. And, without further ado, let's examine a few media examples of "broad brush", either as a noun or an adjective:

1. Home buyers and sellers in the Washington area face a new challenge: Most of the region has been tagged a "declining market" by the powerful loan underwriters who review mortgage applications.
That means appraisals are receiving an extra dose of scrutiny, and lenders are asking some buyers to come up with more down-payment cash.
Such a broad-brush treatment of the diverse Washington market risks weakening prices in neighborhoods that, so far at least, have been holding their own.
In November, a "declining market" flag was enough to scuttle a $510,000 home purchase planned by Tony and Sarah Pierson, both Army captains. They were only days away from closing on a brick Cape Cod near the historic district in Leesburg. But the deal fell apart when their lender, USAA First Mortgage Origination, notified them that, because of that flag, USAA would no longer honor its preapproval commitment for a package of first and second mortgages covering 100 percent of the price.
Even though the appraisal showed a value higher than the Piersons had agreed to pay for the home, USAA told them it would approve the deal only if the couple came up with a 5 percent down payment. "Five percent of half a million dollars is $25,000," Tony noted. They had that in savings, but had been planning to use it to renovate the house. They didn't close the mortgage.
The Cape Cod sold within days to another buyer, and the sellers refunded the Piersons' earnest-money deposit. USAA reimbursed the Piersons $750 for the loan application fees and appraisal. But the couple still had to scramble for a place to live, having already given up their rental. They incurred moving expenses. The Piersons feel frustrated about the experience. "They're cutting well-qualified buyers," Tony said.
This is just the latest repercussion from the breakdown in the machine that turns ordinary home mortgages into complicated mortgage-backed securities that are sold to investors. During the real estate boom, that machine turned a lot of bad loans into bad bonds. Losses from those investments have led to the current credit crisis.
Today, everyone from highflying bond investors to rank-and-file loan officers wants more assurance that new loans won't add to the junk heap. Everyone is trying to protect against tomorrow's decline in home values, whether or not such declines actually occur. Because they're afraid to lend money today, they could be engineering the very price declines they fear.
- More Cash Down In These 'Declining Markets', WashingtonPost.com, January 13, 2008.

2. It's been said that journalism today is no longer the same as it was just a few decades ago. Taking a closer look and dissecting the various reports from so-called journalists may very well support that claim. The home care industry, as a whole, has been lambasted, ridiculed, mocked and belittled, and while the intentions of some of these reporters has been to shed light on a serious problem, it can create an even bigger issue for seniors and disabled adults who may feel they have no other choice than to just struggle on their own.
In far too many cases recently, news agencies have been painting the entire industry with a broad brush, making it appear as though neglect, abuse, and other serious criminal behavior infects and affects every single agency and caregiver who is out there trying to help those in need. Some of these reports also make it sound as though owners of home care agencies are greedy cantankerous curmudgeons who have no intention or desire to pay the aides who work directly with clients a "fair wage."
It's important for agencies and other home care organizations to respond directly to unflattering or broad-brush reporting. In this day and age, can this type of reporting even be considered journalism? That is a topic for another debate, but in response to a WBUR audio segment with a Boston Globe reporter that discussed the tepid state of home health care throughout the region, directly questioning the integrity of organizations like Mass Health Care and the Home Care Aide Council, these organizations responded with a statement, published by WBUR in a short blog, Growing Fast, But Largely Unregulated: The State Of Home Health Care:
"Mass. Home Care and Home Care Aide Council released a statement in response to the Globe's stories on Friday, saying the stories "painted the entire industry with a broad brush, casting an extremely confusing and frightening picture of both the industry and the close to 100,000 home care aides providing care to individuals each and every day.""
Mass. Home Care and Home Care Aide Council took steps in an effort to combat biased reporting and help the general public understand what they offer, what they are attempting to do, and see at least a different perspective than they may be presented otherwise (which is what true journalism should be doing in the first place, otherwise it's merely opinion pieces).
Other home care agencies may need to ramp up their own efforts to help the general public realize this truly is the best option available, but that doesn't mean they have to just throw caution to the wind; helping people understand there are good agencies, dedicated caregivers, and men and women who are truly compassionate and care about their best interest are messages that can counter the broad brush mentality of some modern 'journalism.'
- A Broad Brush: How Some Home Care Services Can Be Tainted by Biased Reporting, HomeCareDaily.com, October 2, 2018.

3. Twice-failed presidential candidate Hillary Clinton joked during a Q&A session with Recode's Kara Swisher on Friday evening that African-Americans, such as Sen. Cory Booker (D-NJ) and former Attorney General Eric Holder, "all look alike."
"The Democratic Party is a much more diverse political party, attracting people who are African-American, Latino, LGBT, whatever the reason why people feel more comfortable where they are taken in, where they are included as part of a political movement or party," Clinton told Swisher about the difference between the Democrat and Republican Party.
"And I don't think it's politically correct to say we value that. And I don't want to go around insulting people," the former secretary of state continued before the Recode Decode conference-goers at New York City's 92nd Street Y. "I don't want to paint with a broad brush every immigrant is this, every African-American is that, every, you know, other person with different religious beliefs or whatever. That's childish."
Swisher asked Clinton for her thoughts on Holder's call for Democrats to be more combative towards Republicans, but misattributed the former Obama official's remarks to Booker.
"What do you think of Cory Booker saying 'kick them in the shins,' essentially" asked Swisher.
"Well, that was Eric Holder," Clinton replied.
"Yeah, I know they all look alike," joked Clinton, who was met with roaring laughter from the crowd.
"No they don't," Swisher shot back, adding sarcastically, "Oh, well done."
- Watch–Hillary Clinton Makes Quip After Booker/Holder Mix-up: 'They All Look Alike', Breitbart.com, October 29, 2018.
本文仅代表作者本人观点,与本网立场无关。欢迎大家讨论学术问题,尊重他人,禁止人身攻击和发布一切违反国家现行法律法规的内容。
About the author: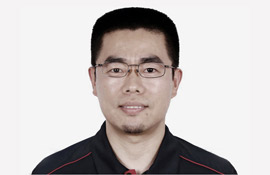 Zhang Xin is Trainer at chinadaily.com.cn. He has been with China Daily since 1988, when he graduated from Beijing Foreign Studies University. Write him at: zhangxin@chinadaily.com.cn, or raise a question for potential use in a future column.
(作者:张欣 编辑:丹妮)
中国日报网英语点津版权说明:凡注明来源为"中国日报网英语点津:XXX(署名)"的原创作品,除与中国日报网签署英语点津内容授权协议的网站外,其他任何网站或单位未经允许不得非法盗链、转载和使用,违者必究。如需使用,请与010-84883561联系;凡本网注明"来源:XXX(非英语点津)"的作品,均转载自其它媒体,目的在于传播更多信息,其他媒体如需转载,请与稿件来源方联系,如产生任何问题与本网无关;本网所发布的歌曲、电影片段,版权归原作者所有,仅供学习与研究,如果侵权,请提供版权证明,以便尽快删除。