Ring a bell? 耳熟
中国日报网 2018-11-20 13:20
分享到微信 Reader question:
Please explain "ringing a bell" in this sentence: "Benson is a name that won't stop ringing a bell in my ears."

My comments:
Here, it means Benson is probably someone the speaker knows or knew or knew of. Perhaps, they lived in the same area as children. Perhaps, they went to the same school. Else, perhaps, Benson is one of a neighbor's boys who went abroad in the 1980s and have never returned. Or else, Benson may be a name the speaker heard recently on the radio.
Whatever it is, Benson is a name that sounds remotely familiar. The speaker cannot recall exactly what it is that connects the two of them but feels definite that they know something about Benson.
Benson.
Benson.
Oh, perhaps George Benson, the Jazz guitar master.
That's my suggestion. Hope it helps.
Actually "ring a bell" the phrase reminds most people of Ivan Pavlov, the Russian physiologist who used a bell to experiment with dogs. Every time he feeds the dogs, he rings a bell; before long, the dogs begin to develop a conditioned reflex – they salivate whenever they hear the bell ringing. To the dogs, known as Pavlov's dogs, the bell ringing is a reminder for mealtime.
Hence and by extension, figuratively speaking, if something rings a bell, it reminds people of something; it brings back memories.
In our example, the name Benson reminds the speaker of someone he must have met somewhere or heard of in a conversation.
Even though the speaker cannot recall exactly what it is, he or she is sure and certain, positive that they're linked to this particular Benson in some way.
Pavlov, by the way, may not be the one who coined the phrase, since people have been using bells as a signal for, like, always but Pavlov can certainly be given credit for popularizing the phrase in the metaphorical sense. More on this point, from Phrases.org.uk:
'That rings a bell' originated in the first half of the 20th century. It is tempting to assume that it originated as a reference to the experiments of Ivan Pavlov, the Russian physiologist who showed that dogs can be prompted to salivate at the sound of a bell, even if the food that the animal anticipates being given is withheld. This 'conditioned reflex' was established in Pavlov's experiments in 1901, so fit nicely with the timing of the use of the phrase 'rings a bell'. Sadly, there's nothing to link Pavlov's work to the expression.
'That rings a bell' is more likely to be a reference to a more general allusion to some stimulus that prompts us to 'have an inkling' of a thought. Indeed, the similarity of 'inkling' and 'tinkling' may have brought about the idea of a faint bell in our mind when we recall some faint memory.
Most early references in print to 'rings a bell' relate to actual bells used in safety devices or to summon servants. One of the earliest that refers to ringing a bell in the sense of awakening a memory is found in the US writer Lee Thayer's novel Counterfeit, 1933:
Wait a second, Ray... Why does that name ring a bell with you?
All right, here are media examples of "ring a bell" in its metaphorical sense:
1. For wine connoisseurs, the name Lafite Rothschild rings many bells as the most established and prominent producer of distinguished French wine. In a similar fashion, The Antique Wine Company is the premier company when it comes to wine trade for both industry professionals and private collectors. The London-based business services avid collectors by acquiring vintages more than 150 years old, as well as contemporary wines of the utmost quality.
The two fantastic names in wine have combined forces, as The Antique Wine Company is now proud to offer one of the most prized wine collections: an antique selection of Château Lafite Rothschild.
This is one of the most extensive offerings of vintage Lafite Rothschild on the market. This amassment was the result of the ongoing efforts from master oenologist of Château Lafite Rothschild, Charles Chevallier, and members of the Rothschild family. The group gathered bottles over the course of two years from restaurants, hotels, and private cellars around the globe. Their efforts have resulted in a superior Lafite Rothschild collection that includes wine from four centuries, the oldest bottle dating to 1787. Additionally, the collection includes all the top vintages of the 20th Century produced in giant six-liter imperials.
If anyone is questioning the heritage of the bottles, they can be rest assured these are the real deal. "Whilst old wine is hard to find in good condition, let's not forget the great châteaux produce tens of thousands of bottles every year," explains Steven Williams, CEO of The Antique Wine Company. "This collection of Château Lafite Rothschild is an exceptional assemblage of the world's greatest red wine. As leaders in our field, we are especially interested to use every possibility to check and confirm the authenticity of the wines we provide to our clients."
The Antique Wine Company is using scientific methods to prove the valued origins of the wine by working with scientists and experts in the Universities of Bordeaux and Manchester to certify the authenticity of the vintages, which will be proven by both the age of the bottles and analyses of the wine. Nuclear isotope analysis, gamma radiation, and proton beam tests will confirm the age of each bottle, while a sample of the wine will be extracted with a hypodermic needle carefully pierced through the cork for extensive molecular and chemical analysis.
- Vintage Vintages by The Antique Wine Company, HauteLiving.com, June 21, 2007.
2. For many Americans, the sexual assault allegations facing a Supreme Court nominee are ringing a bell.
Christine Blasey Ford, a professor in California, is accusing Supreme Court nominee Judge Brett M. Kavanaugh of physically assaulting her when they were teenagers. The Washington Post's Emma Brown reported that "one summer in the early 1980s, Kavanaugh and a friend — both stumbling drunk,' Ford alleges — corralled her into a bedroom during a gathering of teenagers at a house in Montgomery County."
While his friend watched, she said, Kavanaugh pinned her to a bed on her back and groped her over her clothes, grinding his body against hers and clumsily attempting to pull off her one-piece bathing suit and the clothing she wore over it. When she tried to scream, she said, he put his hand over her mouth.
"I thought he might inadvertently kill me," said Ford, now a 51-year-old research psychologist in northern California. "He was trying to attack me and remove my clothing."
More than 25 years ago, professor Anita Hill accused Justice Clarence Thomas, then President George H.W. Bush's nominee to the Supreme Court, of sexual harassment. Hill said that Thomas, her boss from 1981 to 1983 at the Office for Civil Rights in the Department of Education and then at the Equal Employment Opportunity Commission, had repeatedly sexually harassed her, including attempting to discuss pornographic films with her and his own sexual prowess.
Kavanaugh has denied the allegations, as Thomas did back then. Hill testified before a Senate Judiciary Committee, a group of mostly white, male lawmakers. Now Ford has also expressed a willingness to testify.
"She's willing to do whatever it takes to get her story forth," Ford's attorney, Debra Katz, said Monday on NBC's "Today" show.
- Revisiting Anita Hill in the wake of the Kavanaugh allegations, WashingtonPost.com, September 17, 2018.

3. Do you ever get discouraged on your exercise journey? Do aches and pains get you down? If you are over 50, the answer is probably, yes!
Does that automatically become your reason for not exercising?
I have heard so many excuses for why people cannot exercise, I could write a book. No kidding.
But a good percentage of those excuses are not that great. Yes, they may be great reasons to the person who has the excuse, but I have seen many other people with very valid reasons not to exercise who still find a way. They alter their exercise path and keep plugging along.
For instance, a YMCA member who broke her arm was back the next day exercising with modifications that protected her arm — AND she was over 70 years young! She 100 percent had a valid reason not to exercise, but she did not use that excuse.
I personally have had just about every injury associated with exercise: plantar fasciitis, heel spurs, shin splints, ACL tear R and L, meniscus tears, low back pain, bunions and a few more. It just goes with the territory, and women who exercise a lot are prone to some of these problems.
As of late, I am feeling my age more as my body starts to signal me to slow down or modify some of my exercises, which I am trying to learn to listen to. But I refuse to stop because my knee hurts or my foot hurts. Not going to happen.
I have learned that my classes and the other activities I do outside the YMCA make my joints and body feel better, 100 percent of the time. Not to mention how awesome exercise makes you feel mentally.
I recently was listening to a podcast in which someone said that your body is like an answering machine; it gets messages all the time that we delete or never listen to for some reason.
That really hit home with me. I know I have been guilty of not listening to these messages, and I suspect you have too. I am starting to understand how important it is to listen.
But I am not saying stop exercising. Not at all. I have been preaching modification for 35 years. At some point in life, every athlete must modify.
If your shoulder is injured, do your legs stop working too? Can you walk around the block, or ride a stationary bike?
If you have a knee problem, do your arms quit working? Can you lift weights with your upper body?
You can change your focus — but first you must want to do that. I know some people are just more motivated by exercise than others. Maybe it is how they were raised, or maybe they just figured out that exercise is the key to their physical health. But many folks pile on excuse after excuse as to why they cannot exercise.
Age-related aches and pains should just direct us to do things a little differently. As we age, we will discover that naturally our bodies slow down, and our performance is affected. Those changes can also be on the cellular level. Changes in sleep patterns or weight gain can also slow us down. All these are valid reasons to use a different approach.
If this rings a bell for you, take time to ask an expert how you can remain active while working around your issues.
- Tell us again about your excuse for not exercising, by Ann Angell, AnnistonStar.com, October 21, 2018.
本文仅代表作者本人观点,与本网立场无关。欢迎大家讨论学术问题,尊重他人,禁止人身攻击和发布一切违反国家现行法律法规的内容。
About the author: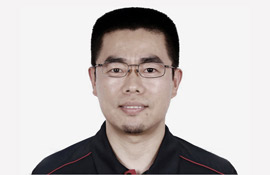 Zhang Xin is Trainer at chinadaily.com.cn. He has been with China Daily since 1988, when he graduated from Beijing Foreign Studies University. Write him at: zhangxin@chinadaily.com.cn, or raise a question for potential use in a future column.
(作者:张欣 编辑:丹妮)
中国日报网英语点津版权说明:凡注明来源为"中国日报网英语点津:XXX(署名)"的原创作品,除与中国日报网签署英语点津内容授权协议的网站外,其他任何网站或单位未经允许不得非法盗链、转载和使用,违者必究。如需使用,请与010-84883561联系;凡本网注明"来源:XXX(非英语点津)"的作品,均转载自其它媒体,目的在于传播更多信息,其他媒体如需转载,请与稿件来源方联系,如产生任何问题与本网无关;本网所发布的歌曲、电影片段,版权归原作者所有,仅供学习与研究,如果侵权,请提供版权证明,以便尽快删除。