Team to beat? 最优秀的团队
中国日报网 2018-12-11 15:00
分享到微信 Reader question:
Please explain "team to beat" as in: "We are the team to beat."

My comments:
It's simply another way of saying: "We are the best."
"The team to beat" is a cliché in sports circles describing a team that is favored to win a match or a tournament.
You can understand the expression this way. Using our above example, "we're the team to beat" really means "we are the (toughest) TEAM TO BEAT (defeat)" or "we are the TEAM all other teams aim TO BEAT" or "we are the TEAM everybody has TO BEAT if they want to win the championship."
In other words, the title or championship goes through us.
Non-native speakers may have a hard time figuring it out when they hear this expression for the first time but luckily this is one of those expressions that one grasps automatically after hearing it a few times. Also, happily, this is a common expression that comes up again and again in sports report and commentary and it means the same thing every single time. Whatever the context or situation, "team to beat" means the same thing, that the team in question is the best.
In other words, there's no way you can misinterpret it. There's no way you can get it wrong.
Likewise, the best player is often described as "the player to beat".
Here, without any further ado, are media examples of the best or favorite player or team being talked about as the player or man or team to beat:

1. Novak Djokovic's domination of 2016 is not as inevitable as it might appear, former British No 1 Tim Henman has said, even if the other members of the "Big Four" will have to raise their game and hope the Serbian falters.
Djokovic, who will be in the UAE later this month bidding for his fifth Dubai Duty Free Tennis Championships title, won 11 titles including three of the four majors last year and has a 12-0 record this season, having thrashed Rafael Nadal, Roger Federer and Andy Murray to win Qatar Open in Doha, and a record-equalling sixth Australian Open crown.
During a remarkable 2015, Djokovic reached the final of every tournament he played in barring Doha, and collected an 11-4 final win-loss record in the process. One of the four finals he did lose was in Dubai, to Roger Federer, although the Swiss's absence from the 2016 event makes Djokovic the overwhelming favourite, particularly given his start to the season.
So impressive was the 28-year-old at Melbourne Park that many pundits believe a first calendar year grand slam in the men's game since Rod Laver in 1969 is on the cards.
Henman, while conceding there is now a gap between Djokovic and the other top players, does not think it has become a gulf.
"They can definitely challenge. Murray is at highest ranking in his career, he's No 2 in the world. He's playing great tennis," Henman, 41, told Reuters in an interview.
"But obviously Djokovic is playing a little bit better at the moment.
"Roger was in the final of US Open last year and he was in the final of the Wimbledon last year. Djokovic stopped him in his quest to win more grand slams.
"They are still very, very close."
Henman also said Federer, who won the last of his 17 major titles in 2012, and Murray look most likely to prevent a Djokovic grand slam sweep this year as Stan Wawrinka did at the French Open last year.
Nadal, who was knocked out of Australian Open in the first round, may not be the same player that won nine French Open titles but can still pose a serious threat on the clay courts at Roland Garros.
"The challenge for all those other players is to try to raise their levels and probably hope that Djokovic doesn't play quite as consistently," the former world No 4 and four-time Wimbledon semi-finalist said.
"There's no doubt right now that Djokovic is the player to beat."
- Dubai-bound Djokovic 'the player to beat' but Federer, Murray and Nadal 'very, very close,TheNational.ae, February 10, 2016.
2. We have passed the final international break of the year, the season is a third of the way through, the Premier League table is taking some shape and trends are starting to emerge. With that in mind, we decided to analyse when each team in the league has scored their goals and where they need to improve.
We divided matches into three 30-minute intervals and then worked out which teams were scoring their goals early, which sides were peaking midway through games and which sides were scoring late. A lot of the results are unsurprising but some teams are significantly better in different periods of games – and one team is remarkably consistent.
We begin with the teams that are slow out of the blocks. Perhaps the obvious club that springs to mind in this instance is Manchester United, who have a dismal record within the first 30 minutes of league matches this season. Their goal difference in the first third of matches is -4, which is the same as Huddersfield's and only better than Wolves, Southampton and Fulham. In fact, Fulham are the only team in the league to have conceded more early goals (Fulham have conceded nine goals in the first 30 minutes compared to Manchester United's eight).
There was a period when José Mourinho's team seemed to be stringing together a few comebacks, but their record after the half-hour mark is hardly inspiring. They rank sixth in the league for goal difference in the middle third of matches and just ninth for the final third of games. They did come from behind to beat Newcastle and Bournemouth, but we are not exactly witnessing the rebirth of Fergie Time.
Chelsea have grown into games more than United. Maurizio Sarri's men have finished matches superbly this season, scoring late against United among many others. Their total of 14 goals in the last 30 minutes of games is the highest in the Premier League – and twice as many goals as Liverpool and Tottenham have scored in the final half-hour.
Leicester have shown the most steady improvement as matches have worn on, starting poorly (ranking 14th for goal difference), settling into the action in the middle third of matches (ninth) and finishing strongly, with a +4 goal difference in the final 30 minutes enough to rank fifth of the 20 teams in the league.
...
The teams that finish matches poorly correlate very closely with the standings in the league table. Not one of the top 11 teams in the table has a negative goal difference in the final 30 minutes of matches, whereas all of the bottom nine sides do. Moreover, the severity of each team's goal difference is almost exactly in line with their place in the table: from Brighton and West Ham (who are 12th and 13th in the league and have a goal difference of -2 for the last 30 minutes), down to Fulham (who are bottom of the table with a goal difference of -11 for the last 30 minutes). There is not much encouragement here for Claudio Ranieri. Fulham are both the league's slowest starters (-7) and worst finishers (-11); they have conceded more goals in the last half-hour of games than they have scored in the whole campaign.
Crystal Palace, who started the season by beating Fulham but have not won in their last seven matches, are also declining within matches – which is quite remarkable given that they have not scored a single goal within the first half-hour of any of their games this season. They have also kept it tight at the start of matches, with a goal difference of -1 in the first third of games declining to -3 and then -5 as games have gone on.
Liverpool are an interesting case too, though their struggle to finish matches as strongly as they start them has been apparent for some time. Their goal difference of +3 in the final 30 minutes is not bad by any stretch, but it's a big drop off from the +9 they boast in the middle third of games – and a long way from how Chelsea and Manchester City are finishing games. Jürgen Klopp will need to find a way to bridge this gap if Liverpool are to have any chance of a title tilt. But, in truth, Pep Guardiola's side are a class apart.
The champions are a picture of relentless consistency, having scored 12 goals in each of the 30-minute brackets assessed, ranking first in the league across all three. They have scored twice as many goals as all but one of the teams in the division in the first 30 minutes and, astonishingly, are yet to concede a goal after the hour-mark. For all of their breathtaking attacking football, City's defensive resilience when it comes to closing out matches has been a real highlight this season and it is one of the main reasons they are the team to beat once more.
- When do Premier League teams score their goals and what does it mean? TheGuardian.com, November 22, 2018.
3. Ronnie O'Sullivan claimed a record seventh UK Championship title by outclassing Mark Allen 10-6 in York.
O'Sullivan defended his title to move to 19 World, UK and Masters trophies – surpassing Stephen Hendry's record in the 'Triple Crown' events.
A run of six frames in a row allowed the Englishman to dominate the final.
Northern Ireland's Allen rallied to trail 9-6, but O'Sullivan closed out the match to collect the trophy and the £170,000 top prize.
Five-time world champion O'Sullivan sat out the 2015 event, but has dominated at the Barbican in recent years, claiming three titles since 2014.
He has now won a remarkable 27 out of his 28 matches since 2014, the only blemish being the 2016 final loss against Mark Selby.
He was tied with Steve Davis on six tournament victories but this win – which came 25 years after his first triumph – takes him past his fellow Englishman.
'The Rocket' celebrated by tipping a bottle of water over his head and jumped into the crowd after being presented with the trophy.
"History is fantastic," O'Sullivan told BBC Sport. "It's amazing, I can't believe it.
"I played very well today, but I still had to convince myself because that is how hard it felt. It's great to create history, great to beat Steve Davis' record.
"It's amazing to beat my hero, Stephen Hendry's record. He was the ultimate player. I've still got eight world titles to get, so I'm chasing that one."
...
Former world champion John Parrott: "Every time he looked like being challenged he pulled away again. He's a snooker player for all ages.
"I never thought we'd be seeing him like this when he was 17 years old winning his first UK Championship, but here he is 25 years later and still the man to beat."
- UK Championship: Ronnie O'Sullivan beats Mark Allen to win record seventh title, WorldNewsHill.com, December 9, 2018.
本文仅代表作者本人观点,与本网立场无关。欢迎大家讨论学术问题,尊重他人,禁止人身攻击和发布一切违反国家现行法律法规的内容。
About the author: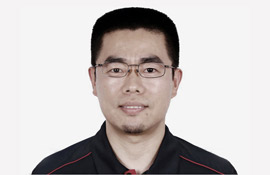 Zhang Xin is Trainer at chinadaily.com.cn. He has been with China Daily since 1988, when he graduated from Beijing Foreign Studies University. Write him at: zhangxin@chinadaily.com.cn, or raise a question for potential use in a future column.
(作者:张欣 编辑:丹妮)
中国日报网英语点津版权说明:凡注明来源为"中国日报网英语点津:XXX(署名)"的原创作品,除与中国日报网签署英语点津内容授权协议的网站外,其他任何网站或单位未经允许不得非法盗链、转载和使用,违者必究。如需使用,请与010-84883561联系;凡本网注明"来源:XXX(非英语点津)"的作品,均转载自其它媒体,目的在于传播更多信息,其他媒体如需转载,请与稿件来源方联系,如产生任何问题与本网无关;本网所发布的歌曲、电影片段,版权归原作者所有,仅供学习与研究,如果侵权,请提供版权证明,以便尽快删除。