What is a non-starter? 成功无望
中国日报网 2019-01-22 11:27
分享到微信 Reader question:
What is a non-starter? Please explain "a non-starter" in this passage:
"Telling people to shut up is a non-starter. You shut up. See how harsh that sounds? What we should do is ask them to listen, and then listen to them."

My comments:
First, to paraphrase the speaker, the idea that you can engage people in effective and fruitful conversation by telling them to shut up is, well, not going to work. What's helpful is actually the other way around. As the speaker says: "What we should do is ask them to listen, and then listen to them."
Now, literally, a non-starter is someone who is registered to enter a race but fails to show up at the starting line. Someone who registers to run the Beijing Marathon, for example, but fails to show up at the starting time is called a non-starter.
He's automatically disqualified, I must add – just so you understand right here that the non-starter is not the most honorable person around.
Originally, though, "non-starter" originates in horse racing.
Yes, you guess it. A non-starter originally refers to a racing horse. This horse is registered to run the race, but at the starting line at the starting time, the horse is absent. Perhaps the horse gets ill or perhaps the horse's owner or rider doesn't feel good about its chances of winning or whatever.
Whatever, but the upshot is, this horse does not start, hence the moniker non-starter.
Obviously, the horse that does not start a race does not finish a race.
Hence and therefore, a non-starter is a failure, a failure from the beginning.
In other words, he's a dud, a dunce, a damp squib, a dead duck.
He's a flop, a no-hoper, a total loser or what have you.
Utterly worthless, in sum.
All right. Enough is enough. No more negative words or further explanation or any other ado necessary.
Except for real media examples of "non-starter" to drive the point home, and so let's read a few:

1. Mexican officials have flatly rejected the Trump administration's plan to deport to Mexico migrants caught illegally crossing the U.S. southern border, regardless of nationality.
On the eve of a high-level meeting between the two countries, Mexican officials said Mexico will never accept the return of Guatemalans, Salvadorans, Hondurans and others who traveled through the country on their way to the United States, most often to ask for asylum here.
"It's a non-starter," a Mexican official familiar with the situation said, switching to English for emphasis. The rest of the conversation took place in Spanish. "I don't see a scenario in which Mexico accepts this solely because an executive order from the United States says so."
The idea of deporting non-Mexicans to Mexico as long as they entered the U.S. from that country is a never-implemented provision in American immigration law. A pair of memos signed by John Kelly, the secretary of homeland security, said the Trump administration plans to use the law. Multiple immigration lawyers said they either had never heard of the provision being used, or they had only seen it used with citizens of Mexico.
- Mexican Official: Trump's Plan To Deport Non-Mexicans To Mexico Is A 'Non-Starter', MintPressNews.com, February 24th, 2017.

2. During a news conference after the U.S. Department of Justice filed suit to block AT&T's acquisition of Time Warner, company CEO Randall Stephenson sought to address the "elephant in the room": the notion that President Donald Trump's rancor at CNN had threatened the deal.
"Frankly, I don't know" if the reports are true, he said. "But nobody should be surprised that it keeps coming up." As to any potential settlement that lets AT&T keep CNN but implements any controls on the news network, he said, "Any agreement that results in us losing control [of CNN], either directly or indirectly is a non-starter."
Appearing alongside lead outside attorney Daniel Petrocelli and AT&T general counsel David McAtee, Stephenson predicted a speedy resolution to the case and repeatedly expressed confidence that the $85 billion merger would close. Petrocelli said the company would be ready to begin a trial in as few as 60 days and predicted it would not "last months and months and months."
In its lawsuit, filed late this afternoon, the DOJ's antitrust division cited AT&T and DirecTV documents to make the argument that a combined company could "operate (its) pay-TV business as a 'cash cow' while slowly pivoting to new models."
Stephenson retorted that such a contention "defies logic," noting that internet-delivered pay-TV service DirecTV Now, which features packages as cheap as $35 a month, launched one year after the DirecTV deal closed. "As you innovate and you broaden distribution, price points come down," he said. Traditional players, he added, are competing against Facebook, Amazon, Netflix and Google, which reach billions of customers at much lower price points and with greater technological might than the TV establishment.
Petrocelli emphasized numerous times that the government, not AT&T, faced the burden of proof in the case and must show consumer harm, something that has not happened in a federal antitrust case since the 1970s. "It's a burden they have not met in half a century and a burden they will not meet here," he said. Under a combined company, "the TV bill will not go up."
- AT&T Boss In Wake Of DOJ Lawsuit: Any Deal Harming CNN Is "A Non-Starter", Deadline.com, November 20, 2017.

3. President Donald Trump on Saturday offered Democrats three years of deportation protections for some immigrants in exchange for $5.7 billion in border wall funding, a proposal immediately rejected by Democrats and derided by conservatives as amnesty.
Aiming to end the 29-day partial government shutdown, Trump outlined his plan in a White House address in which he sought to revive negotiations with Democrats, who responded that they would not engage in immigration talks until he reopened the government.
Trump proposed offering a reprieve on his attempts to end the Deferred Action for Childhood Arrivals (DACA) program and temporary protected status (TPS) for immigrants from some Latin American and African nations, in exchange for building hundreds of miles of barriers on the southern U.S. border and hiring thousands of new law enforcement agents to be deployed there.
"This is a common-sense compromise both parties should embrace," Trump said. He added: "The radical left can never control our borders. I will never let it happen."
But the initial reaction to the offer from Democrats and conservative border hawks was hostile, raising doubts that it would be enough to break an impasse that has resulted in 800,000 federal workers being furloughed or forced to work without pay and numerous government agencies, including the Department of Homeland Security, operating at minimal staffing levels.
The shutdown has become the longest in U.S. government history.
House Speaker Nancy Pelosi, D-Calif., dismissed the proposal as a "non-starter" and vowed that Democrats would pass legislation next week to reopen the government, putting the onus on the Republican-led Senate to follow suit.
"The president must sign these bills to reopen government immediately and stop holding the American people hostage with this senseless shutdown," Pelosi said. Senate Minority Leader Charles Schumer, D-N.Y., also said he opposed the plan.
- Democrats reject, conservatives deride Trump's 'non-starter' of a border wall deal, Washington Post, January 19, 2019.
本文仅代表作者本人观点,与本网立场无关。欢迎大家讨论学术问题,尊重他人,禁止人身攻击和发布一切违反国家现行法律法规的内容。
About the author: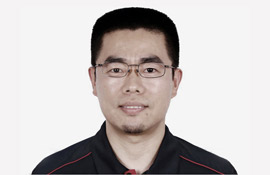 Zhang Xin is Trainer at chinadaily.com.cn. He has been with China Daily since 1988, when he graduated from Beijing Foreign Studies University. Write him at: zhangxin@chinadaily.com.cn, or raise a question for potential use in a future column.
(作者:张欣 编辑:丹妮)
中国日报网英语点津版权说明:凡注明来源为"中国日报网英语点津:XXX(署名)"的原创作品,除与中国日报网签署英语点津内容授权协议的网站外,其他任何网站或单位未经允许不得非法盗链、转载和使用,违者必究。如需使用,请与010-84883561联系;凡本网注明"来源:XXX(非英语点津)"的作品,均转载自其它媒体,目的在于传播更多信息,其他媒体如需转载,请与稿件来源方联系,如产生任何问题与本网无关;本网所发布的歌曲、电影片段,版权归原作者所有,仅供学习与研究,如果侵权,请提供版权证明,以便尽快删除。