Changing of the guard? 交接换班
中国日报网 2019-01-25 11:28
分享到微信 Reader question:
Please explain "the changing of the guard" in these passages (Changing of the guard? What Stefanos Tsitsipas' win over Roger Federer really means, ESPN.com, January 21, 2019):
On Sunday night, Federer's 6-7 (11), 7-6 (3), 7-5, 7-6 (5) loss to Tsitsipas capped off a day already shaken by a series of surprising results. But this loss was different. This was Roger Federer.
"I'm the happiest man on the Earth right now," Tsitsipas said on the court, unable to fully collect his thoughts amid all the emotions. How could he not be?
"You're watching the changing of the guard," said John McEnroe, who was conducting the interview.

My comments:
Tennis fans will have an easier time understanding this, understanding it all.
Let me sum it up for those who're not that into the game of tennis. Here, in the news, just a few days ago, Stefanos Tsitsipas beat Roger Federer in the Australian Open. Tsitsipas is a youngster from Greece. Federer is arguably the greatest tennis player in history, winning more Grand Slam or tennis's biggest trophies (20, and still counting) than anyone else.
Tsitsipas is 21 years of age. Federer is 37, in other words, old.
Hence, it is kind of understandable for John McEnroe, a legend who had his hay day in the 1980s, to say that, essentially, the young generation are now ready to take over, take over and take control, take control and hold court, hold court and consign the older generation to the proverbial dustbin, to retirement and to history.
McEnroe meant this, you see, by using the expression "the changing of the guard".
Changing of the guard literally refers to the ceremony at Buckingham Palace, where a group of royal guards is replaced by a new group. That's nothing significant in itself, just a normal shift change because one group of guards can only stand in an upright and tense position for so many hours at a time. But the ceremony, itself elaborate plus rich in history and tradition, is one of the must-see scenes in London.
Changing of the guard also is an idiom, signifying, symbolically some big change has taken place or is or going to take place.
Big change, because, you see, every one of the old guard is replaced, not just one or a few or some but all of them as once.
Anyways, in short, changing of the guard means a big change is coming, a major change, a sea change even.
Now, media examples:

1. The new president of Netball Australia "isn't one of those old bags who has been around netball for years", according to Swifts coach Julie Fitzgerald.
But Marilyn Melhuish, the new president, has been around the game for 30 years, and has no plans to break with the game's traditions.
Her appointment completes the changing of the guard in Australian netball, with new chief executive officer Lindsay Cane, national coach Norma Plummer and captain Liz Ellis all stepping up in the past nine months. Outgoing president Sue Taylor, who courted controversy by trying to ban pregnant players in 2001, will remain on Netball Australia's six-member board of directors.
But Melhuish denied that netball's regime change meant a change of direction for the sport, which was widely accused of being too prudish following the pregnancy furore and a ban on players' swearing last year.
"There might have been a few things in the past that should have been handled differently," Melhuish said. "Hindsight's a wonderful thing, isn't it? But in retrospect, all the things we did, we did for the right reasons. With the pregnancy thing, other sports recognised what we were trying to do, some of them privately agreed with us. The mistake was that it became so public."
Melhuish, who was awarded the Order of Australia medal for services to netball in 1992, was manager of the national team for 12 years from 1984.
"I haven't exactly come down off a sky hook. I've been around for 30 years. There is no reason that I can see to change the way we do things. We want to keep the traditions of netball as they are. There should be continuity with the past, netball can go forward with that."
- New face at top caps off a change of the guard, SMH.com.au, May 14, 2004.

2. Back-up quarterback Kevin Kolb passes for 327 yards and two touchdowns without committing any turnovers in a 34-14 win over the Kansas City Chiefs.
LeSean McCoy ran for 82 yards and a touchdown. DeSean Jackson caught six balls for 149 yards and a touchdown, and tight end Brent Celek established himself as a force on the field with eight catches and 104 yards and a touchdown.
It was a breath of fresh air, a pretense to a change of the guard in Eagles green: no Donavan McNabb, Brian Westbrook or Kevin Curtis.
It's almost like when Randall Cunningham finally took over at quarterback for Ron Jaworski in the 1980s.
Every decade or so, a change of the guard has to take place.
Joe Montana moved on from San Francisco to Kansas City. Brett Favre moved from Green Bay to New York to Minnesota.
It happens.
- A Changing of the Guard: Kevin Kolb in, Donovan McNabb out in Philly, BleacherReport.com, April 6, 2010.

3. John McEnroe does not get a lot wrong. However, when he suggested a few days ago that Stefanos Tsitsipas's victory over Roger Federer might represent a changing of the guard, he momentarily forgot the championship heart and pedigree of Rafael Nadal, who will play in his fifth Australian Open final on Sunday after slaying the young Greek on a warm Melbourne evening.
Nadal, the 2009 champion, could well win his second title here, drawing him to within two majors of Federer's 20 slams, and inviting speculation that, if he were to go on to prevail at Roland Garros (one of the safest bets in tennis), he would arrive at Wimbledon staring history in the face again. The guard is not for changing just yet.
The 32-year-old Spaniard – who retired injured in the quarter-finals last year – has arrived back in the harsh southern limelight by beating a couple of Australian underdogs in James Duckworth and Matthew Ebden, then set about their fledgling compatriot Alex de Minaur, before trouncing his old foe Tomas Berdych and, to get to Thursday's semi-final, the ebullient ball of American energy Frances Tiafoe.
All of that occupied Nadal less than 10 and a half hours and 15 sets. He spent only an hour and 46 minutes accounting for the tired but willing challenge of Tsitsipas, the player hailed, by McEnroe and many others, as the leader of the new wave.
Nadal won 6-2, 6-4, 6-0 and has not looked as dominant at this stage of a slam since Roland Garros last year; even on his favourite surface there, he lost a set, to Diego Schwartzman. This is his first run to a slam final without dropping a set since the 2017 French Open.
Yet there were reasons to wonder. Three weeks ago, he pulled out of the Brisbane International to rest a thigh strain, a sorry continuation of his wretched run of injuries in 2018, when he played in only nine tournaments as fault lines in his hip, knee, abdomen and ankle threatened to bring his career to a painful close.
Yet here he is again, winning a semi-final on a hard court – and persuading McEnroe, in his role as courtside jester, to now praise him as the nemesis of the Next Gen pretenders.
- Rafael Nadal dismantles Stefanos Tsitsipas to reach Australian Open final, TheGuardian.com, January 24, 2019.
本文仅代表作者本人观点,与本网立场无关。欢迎大家讨论学术问题,尊重他人,禁止人身攻击和发布一切违反国家现行法律法规的内容。
About the author: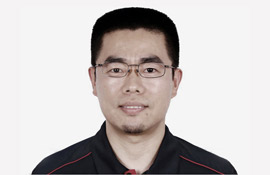 Zhang Xin is Trainer at chinadaily.com.cn. He has been with China Daily since 1988, when he graduated from Beijing Foreign Studies University. Write him at: zhangxin@chinadaily.com.cn, or raise a question for potential use in a future column.
(作者:张欣 编辑:丹妮)
中国日报网英语点津版权说明:凡注明来源为"中国日报网英语点津:XXX(署名)"的原创作品,除与中国日报网签署英语点津内容授权协议的网站外,其他任何网站或单位未经允许不得非法盗链、转载和使用,违者必究。如需使用,请与010-84883561联系;凡本网注明"来源:XXX(非英语点津)"的作品,均转载自其它媒体,目的在于传播更多信息,其他媒体如需转载,请与稿件来源方联系,如产生任何问题与本网无关;本网所发布的歌曲、电影片段,版权归原作者所有,仅供学习与研究,如果侵权,请提供版权证明,以便尽快删除。