Arms race 军备竞赛
中国日报网 2019-02-19 14:16
Reader question:
Please explain "arms race" in "the arms race between forest trees struggling to reach the light."

My comments:
This is a good question because when we talk about an "arms race", we are usually addressing the problem of countries producing more and more – plus increasingly deadly – weapons in order to out-compete their opponents. The erstwhile arms race between the Unites States and the former Soviet Union during the Cold War era springs uppermost to mind.
Here, in our example, however, "arms race" merely refers to the competition among forest trees to grow taller branches in order to get more sunshine.
In a thick forest, there's little or no sunshine penetrating through thick leaves to reach ground level. There is an abundance of it, however, at the top. That compels forest trees to grow taller and taller in order to thrive – or merely survive, as trees depend on the sun for photosynthesis and survival.
If you liken sun-reaching tree branches as the arms or upper limbs of trees, then "arms race" makes some literal sense.
"Arms race" as an expression, however, refers not to human upper limbs but to weaponry, "arms" as in "call to arms".
I guess arms (plural) gets to stand for weapons because you have to take any weaponry into one's arms in order to inflict any pain on the enemy.
But anyways, the term "arms race" has to do with weaponry and competition (race, as in "horse race") but nothing to do with human limbs or tree branches. But I can understand the confusion caused therein – there in our top example.
All right, here are media examples of "arms race", sometimes involving weaponry, sometimes merely referring to a competition so fierce that it reminds people of an arms race in the military or bellicose sense:

1. While denying that NATO is being drawn into an arms race with Russia, the alliance's Secretary-General, Jens Stoltenberg, said it will be upgrading its military capabilities.
According to the Associated Press, Stoltenberg spoke to reporters as defense ministers of NATO countries met in Brussels. The meeting ended with a decision to increase the manpower of the Response Force by up to 27,000 troops.
The Response Force is the alliance's quickly-deployable force, whose purpose is to respond quickly to any emerging crisis.
"We want to keep our nations safe," Stoltenberg said. "And faced with many challenges from many directions, we need to be prepared."
The Ukraine crisis, which began in 2013 when massive Ukrainian protests forced pro-Russia President Viktor Yanukovych out of office and later developed into violent clashes between Western-backed Ukrainian forces and Russian and pro-Russian forces, has sparked severe tensions between the West and Russia. The violence has resulted in thousands of deaths on both sides.
Both Russia and NATO have been blaming each other for instigating the other into an arms race. According to Reuters, Stoltenberg said Russia's involvement in the Ukraine crisis has forced the alliance to improve its capabilities. Moscow has also blamed the U.S. and its allies' military activity near its borders for forcing it into an arms race.
- Arms Race: NATO Says It Won't Be Dragged In, Begins Upgrading Capabilities, Inquisitr.com, June 30, 2015.

2. Mercedes have reviewed their Chinese Grand Prix performance and conclude that we have us a Formula 1 arms race this year between the World Champions, Red Bull and Ferrari that is set to go on the rest of the season, as the Big Three seek to eke out an advantage over one another from race-to-race.
James Vowles, Mercedes chief strategist, said in the team's Shanghai debrief, "Ferrari and Red Bull are fierce opponents, they are World Champions they are developing the car and they are working day and night tirelessly to beat us, we are doing the same but it is an arms race of who can develop the car the fastest and who can produce the fastest car."
"What we can't ignore at this point in time is that, in Shanghai, Ferrari had a faster car than us. It is our duty and job to keep working tirelessly to go through to Baku and do our best to fight back against them."
Tyres and how the respective cars treat them in varying conditions is proving to be one of the key factors of the early races and sure to have a significant influence on how the season pans out.
"The tyres this year are having an impact," declared Vowles. "But more so than that there is a second aspect as well which is that you have three teams Mercedes, Ferrari and Red Bull that all, depending on what tyre it is and track it is, are able to have different levels of performance to each other."
"In the case of Melbourne we were very fast on both compounds, in Bahrain were very fast on that Supersoft tyre but had more degradation and in the case of the Chinese Grand Prix, Red Bull were extraordinarily fast on the Soft tyre."
"What that is creating is different cars with different levels of performance, depending on what the track temperature is, what the conditions are and what tyres they have fitted to the car," explained the Mercedes man whose team have yet to win a grand prix in the first three races of the season.
- MERCEDES: WE HAVE US AN ARMS RACE, GrandPrix247.com, April 19, 2018.

3. President Donald Trump's new global missile defense plan would be too expensive and technologically taxing to effectively implement, leading experts have said.
The president unveiled his 2019 Missile Defense Review, the first of its kind since 2010, during an address Thursday at the Pentagon. He pledged to virtually eliminate any external threat to the United States, vowing to "to ensure that we can detect and destroy any missile launched against the United States anywhere, anytime."
Commenting on this statement specifically, Ploughshares Fund think tank director Joseph Cirincione said during a press call that this "is simple to say, impossible to do."
"If you liked the president's border wall, wait until you see his space wall," Cirincione, who also served as a professional staff member of House Armed Services Committee and Government Operations Committee responsible for congressional oversight of missile defense programs in the 1980s and early 1990s, added. "This is a complete fantasy.
....

Trump's push for greater missile defense was partially rooted in Vladimir Putin's State of the Nation address last March, when the Russian president showcased a number of advanced weapons he claimed were capable of thwarting even the most technologically advanced defense systems. He claimed Russia's arsenal included nuclear-capable and hypersonic missiles that the U.S. currently has no defense fast enough to intercept.
Putin justified his weapons development by arguing Washington and its allies had ignored Russian interests since the Soviet Union's collapse and, during an interview with NBC News, said that former President George W. Bush's exit from the 2001 Anti-Ballistic Missile (ABM) treaty was "precisely" when "an arms race started."
U.S.-Russia relations have deteriorated considerably throughout the 21st century, with many observers on both sides making comparisons to the Cold War. Through his 2019 Missile Defense Review, Trump has inspired further analogies, especially to the doomed "Star Wars" Strategic Defense Initiative launched by former President Ronald Reagan in the 1980s, which eventually died out due to technological and financial limitations as well as arms control treaties.
With Trump considering following the Bush administration in abandoning such deals, which include the Intermediate-range Nuclear Forces (INF) treaty and the Strategic Arms Reduction Treaty (START), the U.S. and Russia may once again find themselves on a collision course. Cirincione described the missile review as "throwing fuel on the fire of nuclear arms race" and Andrei Krasov, first deputy head of the defense committee in Russia's lower house of parliament, also criticized the report.
"They just have a desire to draw us into an arms race," Krasov told the Interfax news outlet. "We will not be drawn into any arms race. We have the most modern weapons and military equipment. We should respond to new military initiatives by the U.S. and its NATO allies with intensive exercises. We have everything else, we should not be drawn into the arms race. The military budgets of Russia and the United States are still incomparable."
- DONALD TRUMP'S SPACE MISSILE PLAN IS TOO EXPENSIVE AND WILL NOT WORK, JUST LIKE HIS BORDER WALL, EXPERTS SAY, Newsweek.com, January 17, 2019.
本文仅代表作者本人观点,与本网立场无关。欢迎大家讨论学术问题,尊重他人,禁止人身攻击和发布一切违反国家现行法律法规的内容。
About the author: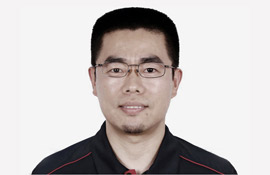 Zhang Xin is Trainer at chinadaily.com.cn. He has been with China Daily since 1988, when he graduated from Beijing Foreign Studies University. Write him at: zhangxin@chinadaily.com.cn, or raise a question for potential use in a future column.
(作者:张欣 编辑:丹妮)
中国日报网英语点津版权说明:凡注明来源为"中国日报网英语点津:XXX(署名)"的原创作品,除与中国日报网签署英语点津内容授权协议的网站外,其他任何网站或单位未经允许不得非法盗链、转载和使用,违者必究。如需使用,请与010-84883561联系;凡本网注明"来源:XXX(非英语点津)"的作品,均转载自其它媒体,目的在于传播更多信息,其他媒体如需转载,请与稿件来源方联系,如产生任何问题与本网无关;本网所发布的歌曲、电影片段,版权归原作者所有,仅供学习与研究,如果侵权,请提供版权证明,以便尽快删除。