Very hard to get your head around? 难以理解
中国日报网 2019-04-02 14:01
分享到微信 Reader question:
Please explain this sentence: Statistics like these are very hard your head around.

My comments:
Statistics are data and figures. Beijing, for example, has a population of more than 20 million. That's a piece of statistic.
Hard to get your head around means it's hard to understand, hard to make sense of, hard to fathom.
Beijing having a 20-million population may not be difficult to fathom because, well, China has a population of more than 1.4 billion and Beijing is the capital and one of its largest cities.
So, here's a statistic that's difficult to fathom and, um, get our head around. The temperature of the surface of the Sun is 5,500 degrees centigrade.
5,500 degrees?
The room temperature here, where I'm sitting, right now, is 19. We all know the temperature of water at boiling point is 100. So, yeah, 5, 500 degrees Celsius is a more than a little hard to imagine.
Here's a figure that's really hard to wrap our head around – the Sun's temperature at its core is, according to scientists, is 15 million degrees centigrade.
Fifteen million degrees? We can only imagine how hot that can be.
I mean, we cannot even imagine how hot that is.
I mean, we can only begin to imagine how hot that is.
Anyways, the point here is, if something is hard to get our head around, then it's difficult for us to understand. It's something we find difficult to have a firm hold of, a firm grasp of, even after we have tried to make sense of it in many different and roundabout ways.
If we're going to a place and find that the road to it is blocked, we move around and try to approach that place from another route. But if all roads and routes are blocked, then it becomes a place we cannot get around to.
Figuratively speaking, if it's a figure or idea or concept that's very hard for us to get and wrap our head around, it's likewise hard to get to, hard to reach at even after we've racked our brains and thought about the matter this way and that way.
The temperature of the Sun at its core is certainly a figure too hard to wrap our head around – and obviously I'm not asking you to do it literally either. It's a figure that's just enormously too large.
Oh, well, no more ado, here are media examples of people trying to get and, often, wrap their head around some thing or situation:

1. Friends of Irving High School senior Desaree Hoskins say she would do anything for those close to her, even if it cost her life.
Less than two weeks ago, it did.
The live-in boyfriend of Desaree's mother, Mischell Fuller, walked into Irving police headquarters March 27 and said he fatally stabbed Fuller during an argument at their Irving home, and then did the same to Desaree when she tried to intervene.
"One thing I'll always remember about Desaree is her heart," said her classmate and best friend, Alyson Nelson. "She was very caring and she was always there … if you needed her. She always put others before herself."
Mother and daughter were eulogized Wednesday inside a standing-room-only St. John Church in Grand Prairie. The crowd of mourners was so large that the service was delayed 30 minutes to get everyone inside.
Authorities have charged Tyrone Cade, 38, with one count of capital murder in the slayings of the 37-year-old Fuller, his former high school classmate at Irving High, and Desaree. He told authorities that he became upset and committed the crimes after he secretly recorded Fuller communicating on Skype with her ex-husband.
Karlton Hoskins acknowledged that he talked with his ex-wife on Skype but said the two — who separated in 1994 and finalized their divorce in 2004 — were not romantically involved.
Hoskins lives in Florida but said that he and Fuller, a native of Belize, remained friends. And he said this week that his ex-wife had told him that she wanted to end her four-year relationship with Cade, a registered sex offender who, along with his own daughter, had moved into Fuller's Ronne Drive home.
…
Amy Nelson, Alyson's mother, said dealing with the tragedy has been difficult for the entire Irving High family, which turned out en masse at Wednesday's funerals.
"We've dealt with illnesses and car wrecks," she said. "We don't know how to wrap our head around something like this."
- Friends say slain Irving mother, daughter were loving, caring, DallasNews.com, April 6, 2011.

2. It's hard to wrap your head around the possibility that a loved one may have schizophrenia.
Yet each year, about 3 million people are diagnosed with this mental health disorder in the United States — typically as young adults.
So it's important to understand the risk factors and warning signs.
"Schizophrenia means loss of touch with reality," explains psychiatrist Minnie Bowers-Smith, MD. "It is a serious illness, but it does not develop overnight. The symptoms usually worsen over a period of months or years."
Because schizophrenia changes the way you think, behave and relate to others, it requires lifelong treatment.
"If you can manage the symptoms, you can have a reasonably stable life," stresses Dr. Bowers. "That's why it's key to engage people early on, and encourage them to find a doctor they can relate to and a therapist who understands them."
- The Warning Signs of Schizophrenia: What You Need to Know, HealthClevelandClinic.org, October 3, 2018.

3. Autonomous driving is something most people can't get their head around. It is technology that will eventually manage our highway commutes and hopefully eliminate gridlock. It will allow communication between vehicles and make commuting into busy cities effortless and efficient.
But that tech is a while away, you would think. Behold the Super Cruise feature of the 2018 Cadillac CT6.
This review is specifically about the Super Cruise autonomous cruise control that is installed into the beautiful Caddy CT6 sedan. It's a feature that is groundbreaking and, frankly, awesome to witness. The guinea pig that is used to showcase this tech is a 2018 CT6 3.0-liter Twin Turbo V6 equipped with the cameras and sensors to read the road ahead and provide complete handsfree driving on the highway once cruise is set.
Merge onto a highway and get to the speed you wish to maintain. Engage cruise control, and an icon on the dash will appear looking like the steering wheel. Once that turns green, you are free to engage Super Cruise with the dedicated button on the wheel. While engaged, the steering wheel will light up several LED indicators on the top half of the wheel red and green to let you know the car is actively driving by itself.
This feature is available only on certain highways, not in gridlock or on busy stretches of highway like Interstate 279 close to Pittsburgh. I was able to use it on long stretches of I-376 from Hopewell Township to New Castle and again on almost any stretch of I-80. The car simply stays within the lines of the lane you are in and steers around bends while maintaining the speed you chose and a distance from the car in front of you.
If you need to switch lanes, all you do is use the signal indicator to alert surrounding motorists and manually start to change lanes. The autonomy will pause with a blue indicator on the wheel and allow you to make the lane change. Once you center the car again, Super Cruise will re-engage and the car will drive autonomously again.
You might be wondering if you can read text messages or just not pay attention while this is engaged, and the answer is no. You have to maintain focus on the road at all times. A camera mounted on the steering column monitors your face and eyes. If you look away for longer than five seconds, the Super Cruise will disengage and alert you to take control of the vehicle.
- Auto Review: Cadillac's Super Cruise brings autonomy to the highway, by Will Chamberlain, TimesOnLine.com, December 9, 2018.
本文仅代表作者本人观点,与本网立场无关。欢迎大家讨论学术问题,尊重他人,禁止人身攻击和发布一切违反国家现行法律法规的内容。
About the author: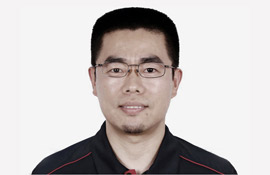 Zhang Xin is Trainer at chinadaily.com.cn. He has been with China Daily since 1988, when he graduated from Beijing Foreign Studies University. Write him at: zhangxin@chinadaily.com.cn, or raise a question for potential use in a future column.
(作者:张欣 编辑:丹妮)
中国日报网英语点津版权说明:凡注明来源为"中国日报网英语点津:XXX(署名)"的原创作品,除与中国日报网签署英语点津内容授权协议的网站外,其他任何网站或单位未经允许不得非法盗链、转载和使用,违者必究。如需使用,请与010-84883561联系;凡本网注明"来源:XXX(非英语点津)"的作品,均转载自其它媒体,目的在于传播更多信息,其他媒体如需转载,请与稿件来源方联系,如产生任何问题与本网无关;本网所发布的歌曲、电影片段,版权归原作者所有,仅供学习与研究,如果侵权,请提供版权证明,以便尽快删除。