Never found his feet? 不合群?
中国日报网 2019-04-16 11:33
分享到微信 Reader question:
Please explain this sentence, particularly "never found his feet": "He never found his feet with the team, though, and was traded to another team two years later."
My comments:
We're probably talking about a player who underperformed, who failed to meet team expectations.
That's my take. That's what "though" suggests.
Obviously, "he" was a player that could help the team but he never found his feet, or footing, for some reason.
That means he never got a firm foothold in the team. That's what footing means. It means a firm grip with the feet, namely a strong foothold. If you run races, you'll have no problem understanding the importance of a strong foothold before you start. Without a firm grip with the feet, you'll slip and fall. At the very least, you'll wobble and you cannot run very fast that way, wobbling away.
"Finding one's feet" as an expression must have been inspired by people observing a newly born calf or cub struggling to get to its feet for the first time. You know, when a calf of, say, a gazelle is released from the mother's womb, it is delivered in a wet bundle to the ground. Almost immediately, the baby begins to try to stand up. That's when it has to find its feet, as if to locate them – so that it can stand up and stand its ground, so to speak, firmly.
It'll wobble and fall a few times, to be sure but soon enough, within a matter of minutes in fact, it will be able to find its feet.
And again, sometimes within minutes it will be able to walk.
In the case of the gazelle calf, this is all necessary. It needs to learn to walk as quickly as possible because there might be cheetahs, lions or hyenas lurking around not too far off, hiding in the tall grass or behind the high trees, ready to pounce at any moment.
The long and short of it is, once the calf finds his feet, it is able to walk, dance, jump, gallop and run with comfort and, more importantly, with confidence.
Back to our example, the player in question never found his feet in his team, and therefore failed to shine. Perhaps, with a new team, he could, somehow, find his feet again and, yes, find his comfort zone.
All right. No more ado. Examples of people finding their feet in recent media:
1. Heart attack patients can suffer substantial emotional trauma once the medics have finished making their bodies better, according to new research.
The emotional whiplash can range from phobia about moving in case their heart rate rises, to difficulty accepting a new identity as someone with a serious health condition.
The study found emotional trauma following a heart attack was more common in men who saw themselves as alpha males who, after becoming a heart patient, saw themselves as the runt in the litter, weak and likely to be 'picked off' by life and other people.
The research, by University of Portsmouth Ph.D. student Samantha Meredith, in the Department of Sport and Exercise Science, found cardiac rehabilitation played a huge role in helping people find their way back to emotional wellbeing.
Her study examines cardiac patients navigating shock and grief, including depression, feelings of loss of control, and a disruption to their understanding of who they thought they were.
The year-long ethnographical study is published in Qualitative Research in Sport, Exercise and Health.
Samantha said: "We saw substantial emotional trauma following a cardiac event, including 'cardiophobia', the fear of elevated heart rate or doing anything strenuous.
"Cardiac patients need better support in terms of counselling, identity support, social support and emotionally intelligent care to help them find their feet again, following a traumatic experience.
"They also need to talk about their feelings. Some patients appear to bury their emotions for fear of judgement and to avoid being labelled 'sick'.
"This is particularly true of men, who seemed to see expressing emotion as not masculine."
- Heart patients need kindness as much as medical intervention, MedicalXpress.com, January 2, 2019.
- He knows a thing or two about helping Novak Djokovic to reach the top, but even Boris Becker has described the Serb's recent form as "remarkable" and also feels he can overtake Roger Federer's record of 20 Grand Slams.
Becker coached Djokovic from December 2013 until December 2016 and during that time they won six major titles.
However, the Serb's form took a nosedive in 2017 and continued during the first half of 2018 as he struggled with injury.
But just as people started questioning whether or not he was done at the top, Djokovic found his groove again as he won Wimbledon and the US Open, and finished the year as the world No 1.
He continued that form at the start of 2019, winning the Australian Open, and Becker is impressed.
"It's remarkable. A year ago, he was just going through a break and elbow surgery and was just trying to find his feet again in tennis," the German great said during a Laureus Academy interview.
"For him to catapult himself back like that was not to be expected but he has a champion's mentality. He knows what it takes to win and he's fully on it."
It wasn't that long ago that many believed it could take years or decades for someone to overhaul Federer's 20 Grand Slams, but Djokovic is closing in rapidly as he is now just five adrift after winning the last three majors while Nadal (17) can also not be written off.
"Who says Roger's not going to win more than 20? Maybe he's going to win Wimbledon this year," Becker said.
"I wouldn't rule out (Djokovic going past Federer in Grand Slams). Can he do it? Yeah, but so can Rafa. Rafa has 17.
"There are big question marks. These three champions keep on winning and until they stop playing tennis, nothing is sure."
Boris Becker: Novak Djokovic and Rafael Nadal can overhaul Roger Federer's 20 Slams, Tennis365.com, February 18, 2019.
- World number one Naomi Osaka crashed out of Indian Wells on Tuesday, routed by Belinda Bencic on a day that saw second-ranked Simona Halep sent packing, too.
Bencic, ranked 23rd in the world, defeated Osaka 6-3, 6-1 to reach the quarter-finals of the prestigious WTA premier mandatory event, where Osaka won her first tour title last year.
That marked the start of a remarkable rise that included Osaka's first Grand Slam title at the US Open. She followed that with an Australian Open crown that sent her to number one.
But she never found her feet against Bencic, whose crisp groundstrokes and precise service game propelled her to victory in 66 minutes.
"I didn't play that well," Osaka said. "Honestly, at a time like this with that scoreline, I would usually feel very depressed and sad. But I feel pretty good right now, because I tried my best and I do''t really have any regrets.
"She was just playing so well ... there wasn't anything that I could do in that situation."
Bencic, who turned 22 on Sunday, is back on the rise after a string of injuries stalled a career that had exploded with two precocious WTA titles in 2015.
-Top-ranked Osaka, Halep crash out of Indian Wells, AFP, March 13, 2019.
About the author: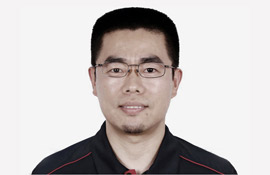 Zhang Xin is Trainer at chinadaily.com.cn. He has been with China Daily since 1988, when he graduated from Beijing Foreign Studies University. Write him at: zhangxin@chinadaily.com.cn, or raise a question for potential use in a future column.
(作者:张欣 编辑:yaning)
中国日报网英语点津版权说明:凡注明来源为"中国日报网英语点津:XXX(署名)"的原创作品,除与中国日报网签署英语点津内容授权协议的网站外,其他任何网站或单位未经允许不得非法盗链、转载和使用,违者必究。如需使用,请与010-84883561联系;凡本网注明"来源:XXX(非英语点津)"的作品,均转载自其它媒体,目的在于传播更多信息,其他媒体如需转载,请与稿件来源方联系,如产生任何问题与本网无关;本网所发布的歌曲、电影片段,版权归原作者所有,仅供学习与研究,如果侵权,请提供版权证明,以便尽快删除。