Turned some heads? 引人注目
中国日报网 2019-04-30 14:03
分享到微信 Reader question:
Please explain "turned some heads" in this quote: "I got a lot of people coming up to me afterwards telling me I turned some heads." Turned some heads?

My comments:
Yeah, literally made some people TURN their HEADS and look in the speaker's direction. In other words, the speaker definitely left an impression on some people with his or her performance.
Turning heads as an expression is clearly inspired by the fact that people turn their heads when something unusual happens around. For example, you're walking in the street when all of a sudden, you hear car wheels squeaking sharply followed by a loud sound of a car crash. Automatically you turn around to see exactly what happens. As you do so, you notice everybody else nearby has also turned their heads around to look at the scene of the collision.
For another example, in the theatre, when a Peking Opera master performer makes his or her first appearance, slowly emerging from the side chamber, everyone in the audience turn their heads to fix their eyes on the master performer, indulging themselves in each step the master takes.
Nobody watches Peking Opera anymore, I'm afraid, but you get my point.
I hope you do. I'm sure you do.
Anyways, back to our example, clearly the speaker gave a good performance of their own to attract quite a few people's attention. Obviously they were all impressed and approved of the speaker's performance. They thought the speaker, he or she, did pretty well.
In short and to sum up, if you are able to turn people's heads, you must be doing something impressive, perhaps something exceptionally daring or interesting or just unusual. They are attracted to you. They cannot help but look in your direction. They cannot help paying attention to you.
Or, in Internet parley, you've garnered (attracted) a lot of eyeballs.
Eyeballs, indeed.
Yech.
Oh, well, here are media examples of people turning heads, attracting, generally speaking, good attention:
1. Kate Middleton is adding a bit more sparkle and shine to her evening look.
As the Duchess of Cambridge arrived for the annual evening reception for members of the Diplomatic Corps at Buckingham Palace, fans may have first laid eyes on her stunning Jenny Packham gown.
And yes, she absolutely recycled the look after wearing it at a China State Dinner.
But what really turned people's heads for the right reasons was the tiara shining bright in photos.
E! News has learned the accessory was the Cambridge Lover's Knot, one of the most well-known tiaras in Princess Diana's collection.
- Kate Middleton Sparkles in Princess Diana's Favorite Tiara While Posing for Brand-New Family Portrait, EOnline.com, December 8, 2016.

2. Reading Between The Lines
Not haphazardly, of course, but in relation to what the scene is about. The narration needs to hint at or reveal the theme of your scene, which is to say that it needs to expose what's going on between the lines. Quite literally so.
Let's look how that might affect the scene between Regan and Bob.
"Jane called me earlier today. She quit her job," Bob said.
"Does mom know? If she hears that her favorite is out of a job, she'll freak!" Regan dropped her fork and knife on her plate with such force that the clatter turned heads at the nearby tables.
"Done eating already?" Bob asked as he leaned forward to inspect the plate for cracks.
"Why are you always taking her side?"
"I'm not," he said and waved off the waitress who had taken a few steps toward them, summoned by the commotion.
- Writing a Scene with Good Dialogue and Narration, WritersDigest.com, August 21, 2017.

3. Soy sauce and noodle soups aren't the most natural flavour pairings for chocolate, but a rising crop of artisanal chocolate makers are daring to try — and succeeding — in the unlikeliest of places.
In Ho Chi Minh City, artisans are creating world-class chocolate bars and adding a splash of spices for a "pho" confection. Chocolate-makers in the Philippines are mixing soy sauce with their sweets, while in Indonesia chocolatiers are producing cocoa with a "tobacco aftertaste".
Nearly all these chocolatiers identify as bean-to-bar, or single-origin confectionery factories, sourcing locally from small cocoa farms and then roasting and fermenting the beans to perfection. While concocting their own regional flavours, these chocolate makers have much in common: They are risk-taking pioneers.
"The whole chocolate scene in South-East Asia is very new," says Vincent Mourou, who gave up an advertising agency career in San Francisco about nine years ago to make chocolate in Vietnam. "We turned many heads. Vietnam didn't do chocolate."
Indeed, they have their work cut out for them in tropical climes, where chocolate melts as fast as ice on hot humid days. But perhaps the tougher challenge is wooing domestic consumers, who are not known as the biggest fans of the cocoa treat. Asians eat much less than North Americans and Europeans, who devour more than half of the world's chocolate every year — 5.4 million tonnes of confectionery, compared to the Asia Pacific's mere 867,000 tonnes, according to Euromonitor International.
- These Asian chocolatiers are spicing up the global sweets scene, TheMalaysianReserve.com, April 8, 2019.
本文仅代表作者本人观点,与本网立场无关。欢迎大家讨论学术问题,尊重他人,禁止人身攻击和发布一切违反国家现行法律法规的内容。
About the author: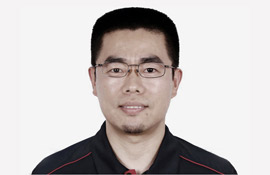 Zhang Xin is Trainer at chinadaily.com.cn. He has been with China Daily since 1988, when he graduated from Beijing Foreign Studies University. Write him at: zhangxin@chinadaily.com.cn, or raise a question for potential use in a future column.
(作者:张欣 编辑:丹妮)
中国日报网英语点津版权说明:凡注明来源为"中国日报网英语点津:XXX(署名)"的原创作品,除与中国日报网签署英语点津内容授权协议的网站外,其他任何网站或单位未经允许不得非法盗链、转载和使用,违者必究。如需使用,请与010-84883561联系;凡本网注明"来源:XXX(非英语点津)"的作品,均转载自其它媒体,目的在于传播更多信息,其他媒体如需转载,请与稿件来源方联系,如产生任何问题与本网无关;本网所发布的歌曲、电影片段,版权归原作者所有,仅供学习与研究,如果侵权,请提供版权证明,以便尽快删除。