Out of the picture? 不相干
中国日报网 2019-05-21 13:34
分享到微信 Reader question:
Please explain "humans out of the picture", as in this sentence: Conservationists often have the goal of "let's get back to that natural environment with humans out of the picture."

My comments:
That's a great part of what conservation is about, isn't it, to take humans out of the picture?
Conservation, that is, of some natural site, be it a certain mountain, a lake, or a swamp, conservation in terms of preservation, protection or even restoration of the area's natural environment with its wildlife.
"Humans out of the picture" means, first, let's perhaps move all humans out of the area, okay? If any people live there, ask them to leave and relocate somewhere else. Second, in a metaphorical sense, remove human influences altogether. For example, not so many tourists swarming the place every day. And stop building that railway running all the way through the area.
"Out of the picture" can be understood using the photo-taking analogy. After a group meeting or gathering, for instance, people often want to take a group picture to record and remember the occasion. On such an occasion, it's important, of course, to make sure everybody is included in the picture. That is, make sure each and every individual milling about squeeze themselves into the frame of the picture.
The picture taker can see this, via the viewing hole or from the back screen.
Anyways, if anyone is left out from the event or they are in the bathroom at the moment when the picture is taken or they are hidden from view behind taller members in the front rows, they will be literally out of the picture. In other words, their images won't be found in the photo taken.
Metaphorically speaking, if people are described as "out of the picture", it means they're not there, not around, not involved in the situation. By extension, we infer that they're not important, not influential. After all, as we often say, anybody who is anybody is there at a certain event. If you're not there, prominently on center stage, you're probably not so prominent or important.
Also, out of sight, out of mind. If you're out of the picture, you're not a consideration.
You're out, in other words.
Like, totally. Like, altogether. Like, dead.
Like, well, no more ado. Here are a few concrete "out of the picture" examples to illustrate the point:

1. A Le Sueur woman who pleaded guilty to plotting to have her ex-husband murdered will spend at least nine years in prison.
Blanche Elizabeth Wilson, 41, was convicted of conspiracy to commit murder Wednesday and was sentenced to 15 years in the Shakopee prison. She will be eligible for supervised release after 10 years, minus the 285 days she's already spent in jail.
Wilson and her mother contacted a family friend last June seeking to hire a hit man to kill Wilson's ex-husband, who had recently gained custody of their three children. The family friend told authorities and a Le Sueur County Sheriff investigator posed as a hit man. When the undercover investigator asked if Wilson was certain about going through with the plan, Wilson reportedly responded, "I have never been more certain of anything in my life."
The undercover detective returned with staged photographs in which Shaun Wilson had pretended to be dead. Wilson was arrested after she signed over the title to her vehicle as partial payment and pledged to pay more in cash after she obtained a loan.
During the sentencing hearing, Shaun Wilson called his ex-wife a manipulative person who "blamed me for her life spinning out of control."
He told the judge she had threatened him in the past.
"I never in a million years would have thought to take her threat seriously," he said. "It wasn't until I was lying in a field, posing as a dead man that it really hit me."
Shaun Wilson said he is living in fear that Blanche Wilson will attempt to kill him again.
"I believe she is capable of anything and will stop at nothing to get me out of the picture," he said.
- Woman who plotted to kill ex-husband sentenced to 15 years, MankatoFreePress, April 5, 2017.

2. Rosario Dawson was born May 9, 1979. Her mother was a singer and her father was out of the picture. She grew up in New York City and quickly discovered she had a knack for acting, landing her first film role at age 15.
Over the years, Dawson has played a diverse range of characters and has established herself as a vocal and active member of the Hollywood community. So just how much is Rosario Dawson worth and what is her most popular role to date?
Things were not always easy for Dawson growing up. The New York native spent many years moving around trying to find a place to live. Dawson's family had difficulty paying the rent so this meant the family often had to squat in empty buildings.
Dawson got her break at 15 when she was discovered by director Larry Clark. Dawson was hanging outside her building with some of her friends when she caught Clark's attention. Clark cast her to play Ruby in his film Kids.
Just six short years later, Dawson was cast as Valerie Brown in Josie and the Pussycats. At this point, the 21-year-old actress already had seven films under her belt. In the years that followed, Dawson appeared in Men in Black II, Sin City, and several other movies.
If there is one role that Dawson continues to get recognized for it is arguably the film adaptation of the musical Rent. Dawson starred as Mimi, and HIV positive stripper, in the Broadway classic. Dawson told MTV that there was no way she was letting anyone else win the part, joking, "If anyone else had gotten that role, she would be missing in action right now," Dawson joked. "I grew up on the Lower East Side of New York. I grew up on Avenue B. I mean, there's no one else who can play that role!"
- What Is Rosario Dawson's Net Worth and What Is She Most Famous For? CheatSheet.com, March 17, 2019.

3. The Lakers' coaching search is a mess, their top choice – Tyronn Lue – suddenly out of the picture.
Who's in charge here?
Chris Haynes of Yahoo Sports:
Kurt Rambis — a former Lakers player and coach whose wife, Linda, is a trusted confidant and adviser to team owner Jeanie Buss — has had a significant role in the process, sources said.
General manager Rob Pelinka holds the top title in the Lakers' front office, and he appeared to be running things. But he's not married to Linda Rambis, who some call the Lakers' shadow owner.
Kurt Rambis is officially the Lakers' Senior Basketball Advisor, but they reportedly want to make him associate head coach or assistant general manager. At this point, why not head coach?
The Lakers are out on their apparent top two choices, Lue and Monty Williams, whom the Suns hired. The only other candidates Los Angeles interviewed were Jason Kidd and Juwan Howard.
But apparently the Lakers will re-open their search.
Shams Charania of The Athletic:
The Los Angeles Lakers are adding these former NBA coaches to their coaching search: Lionel Hollins, Frank Vogel and Mike Woodson, league sources tell @TheAthleticNBA @Stadium.
— Shams Charania (@ShamsCharania) May 8, 2019
Lionel Hollins (Grizzlies and Nets), Frank Vogel (Pacers and Magic) and Mike Woodson (Hawks and Knicks) are all experienced head coaches, but they're available because they ultimately failed in their last jobs. Sometimes, coaches thrive in different opportunities with new perspectives. Sometimes, they prove why the pejorative "retread" label was deserving.
That the Lakers are now considering these new names is an indictment of their previous coaching search. If Hollins, Vogel and Woodson are so great, why didn't they warrant even an interview the first time around?
This could signal the Lakers don't actually believe in Kidd and Howard. More likely, it shows the factions within the organization. The same person who deemed Kidd and Howard worthy of interviews might not be the same person pushing Hollins, Vogel and Woodson.
The big questions: Who makes the final choice? Can the final decisionmaker actually guide the selection through all the fractures in the organization to a signed contract?
- Report: Kurt Rambis playing significant role in Lakers' coaching search, NBCSports.com, May 8, 2019.
本文仅代表作者本人观点,与本网立场无关。欢迎大家讨论学术问题,尊重他人,禁止人身攻击和发布一切违反国家现行法律法规的内容。
About the author: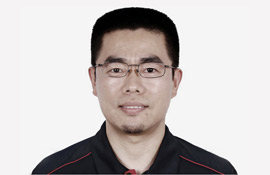 Zhang Xin is Trainer at chinadaily.com.cn. He has been with China Daily since 1988, when he graduated from Beijing Foreign Studies University. Write him at: zhangxin@chinadaily.com.cn, or raise a question for potential use in a future column.
(作者:张欣 编辑:丹妮)
中国日报网英语点津版权说明:凡注明来源为"中国日报网英语点津:XXX(署名)"的原创作品,除与中国日报网签署英语点津内容授权协议的网站外,其他任何网站或单位未经允许不得非法盗链、转载和使用,违者必究。如需使用,请与010-84883561联系;凡本网注明"来源:XXX(非英语点津)"的作品,均转载自其它媒体,目的在于传播更多信息,其他媒体如需转载,请与稿件来源方联系,如产生任何问题与本网无关;本网所发布的歌曲、电影片段,版权归原作者所有,仅供学习与研究,如果侵权,请提供版权证明,以便尽快删除。