Wide open? 易受攻击
中国日报网 2019-05-24 11:45
分享到微信 Reader question:
Please explain "wide open", as in "wide open three" in this sentence: "Bledsoe has never been a great 3-point shooter, but he is shooting 7-of-40 (17.5 percent) on wide-open threes in the playoffs, according to the NBA's data, meaning a defender isn't within six feet of him."
My comments:
Eric Bledsoe, that is, a basketball star on the Milwaukee Bucks.
If you play or watch NBA basketball, you'll have, relatively speaking, little trouble understanding the above sentence.
To paraphrase, Bledsoe is not a good 3-point shooter. He doesn't make a lot of shots from distance, or from outside the 3-point line (outside the 3-point line, a made basket is worth 3 points instead of 2) and his stat line (7 made baskets out of 40) shows that. And that's when he's wide open, meaning when no defender is closely guarding him (or by NBA's definition, when no defender is within six feet, about 1.8 meters).
Americans prefer feet and inches to meters and centimeters, but let's focus on the phrase "wide open".
If a door is open, people can move past it freely, without hindrance, right?
Right. If the door is wide open, it's fully open, open to the fullest extent. Like, totally open, no hindrance at all.
Now, in basketball context, when a player attempts to shoot, there's usually a defender in his or her face or somewhere nearby trying to block the shot or at least put a hand up in order to distract the shooter. That's called defense and is an integral part of basketball.
Sometimes, however, the offensive team, the team with the ball that is, works so well through team work that they are able to allow a teammate to shake off their defender and stand alone in open space. In this situation, that teammate is wide open.
And in this situation, if the ball is passed to them, they can shoot what is known as a wide open shot, which is a high percentage shot and which is therefore highly sought.
Anyways, in sum and in short, a wide open shot refers to the situation where the shooter is wide open to shoot the ball without any hindrance, distraction or disturbance.
In other words, they're extremely free to do what they want to do.
In this sense, wide open is consistent in meaning with the general meaning of a race or competition being described as "wide open". For instance, to use another sporting example, in the upcoming French Open tennis, if Rafael Nadal decided to withdraw from the event, it would throw the competition at Roland Garros wide open.
Yes, you guess it, this means anyone could win it now that the heavy favourite was absent.
Nope. It's not happening. Nadal, who's won the French Open 11 times, is attending. An incredible 12th victory is his to lose.
Or rather, to win.
All right, no more ado, here are media examples of "open" and "wide open" in both sports and other areas:

1. The 2020 presidential contest among Democrats is wide open, with a majority of voters in the party unable to name their favorite candidate, a poll released Tuesday shows.
Asked whom they would support for the 2020 presidential nomination, 56 percent of Democrats or Democratic-leaning independents couldn't come up with a name, a Washington Post/ABC News poll found.
Of the 44 percent who did have a preference, former Vice President Joe Biden led the pack with 9 percent and Sen. Kamala Harris came in second at 8 percent.
Rounding out the top of the list were Sen. Bernie Sanders with 4 percent, President Trump at 4 percent, Beto O'Rourke with 3 percent, former first lady Michelle Obama with 2 percent and Sen. Elizabeth Warren with 2 percent.
Michael Bloomberg came in under 1 percent, as did Sen. Kirsten Gillibrand.
Hillary Clinton and Oprah Winfrey each got 1 percent.
The survey wasn't good news for Trump's re-election campaign.
Overall, 56 percent of registered voters said they "definitely would not vote" for him, 28 percent "definitely would vote" for Trump and 14 percent "would consider" voting for the president. One percent had no opinion.
Asked what issues should receive the most priority, 31 percent of Democrats picked improving health care, 21 percent said reducing economic inequality, 18 percent chose reducing racial and gender discrimination, and 15 percent said fighting global warming.
On the question of what's more important to them in a presidential nominee, 47 percent of Democrats said one whose position on the issues is closest to theirs, while 43 percent said a person who "seems likely to defeat Trump."
The remainder said neither, both equally or had no opinion.
The poll surveyed 1,001 adults between Jan. 21 and Jan. 24. It has a plus/minus 3.5 percentage-point margin of error and a 5.5 percentage-point margin of error in the samples of Democrats and Republicans.
- The 2020 Democratic presidential race is wide open: poll, NYPost.com, January 29, 2019.

2. Hall of Fame trainers D. Wayne Lukas and Bob Baffert sit side by side in the corner of the stakes barn at Pimlico Race Course sizing up the Preakness.
"A lot of speed in there," Baffert says. Lukas responds without missing a beat, "My horse is fast."
"There's some nice horses in here," Baffert says. "Pretty evenly matched."
The banter sums up this year's Preakness.
For the first time since 1996, the Preakness doesn't have the Kentucky Derby winner and therefore no Triple Crown possibility, but it is one of the most-wide open in recent history. Baffert-trained Improbable opened as the favorite -- because he said some horse had to be favored -- and without any of the first four horses to cross the finish line at the Derby, the Preakness feels like almost anyone's $1.5 million race to win.
"It's wide open – there's four or five horses that can win it," Improbable co-owner Elliott Walden said Friday. "It's kind of like the NCAA tournament. Just because Duke got beat, the No. 1 seed, didn't mean they didn't have a Final Four and it wasn't as impactful at the Final Four."
- 'Pretty evenly matched': Preakness features wide open field, AP, May 17, 2019.

3. When LeBron James moved to the Los Angeles Lakers this offseason, he created a vacuum of power in the Eastern Conference. James had led his teams to the NBA Finals out of the East for eight consecutive years — four with Miami, and then four with Cleveland. His departure meant that teams like the Toronto Raptors and the Boston Celtics, who had each been bounced by James multiple times during his Eastern reign of terror, finally had a chance to break through.
One team that James never faced in the Eastern Conference playoffs was the Milwaukee Bucks, led by MVP favorite Giannis Antetokounmpo. As a result, Antetokounmpo didn't really think it was a big deal that James wasn't around when the season started, but his tune has changed.
Before Game 2 of the Eastern Conference Finals against the Raptors, Antetokounmpo told ESPN:
"I didn't see it as open. But now that I look back and see how everything went, it's definitely open, not having LeBron in the East and not trying to go through him."
Even though Antetokounmpo hasn't had to face LeBron James in the playoffs, that doesn't mean other members of his team aren't acutely familiar with the pain of losing to the King.
Head coach Mike Budenholzer, who coached the Atlanta Hawks from 2013-2018, was swept unceremoniously by James' Cavaliers two consecutive seasons, one in which the Hawks had homecourt advantage. As a result, Budenholzer somewhat unfairly earned a reputation for being unable to make adjustments in the postseason, even when there's no real adjustment to make when DeMarre Carroll has to guard LeBron.
Milwaukee center Brook Lopez lost to James and the Miami Heat in 2014, while Ersan Ilyasova was swept by the Heat in 2013. George Hill also lost to James three straight years in the playoffs while with the Indiana Pacers, and didn't even get to enjoy being James' teammate last year after bricking a free throw that could have given the Cavaliers a Game 1 victory in the NBA Finals.
Suffice it to say that even though Antetokounmpo is personally unfamiliar with Playoff LeBron, his teammates have helped him appreciate his fellow All-Star captain's absence, all while Giannis becomes a similarly destructive force in the postseason.
While Milwaukee is enjoying clear passage to the finals, what no one expected was that the path to the Western Conference Finals would also be LeBron-free this season. The Lakers are working towards fixing that next year and can only hope that the Los Angeles edition of Playoff LeBron is equally formidable in 2020.
- Giannis Antetokounmpo says the Eastern Conference Playoffs are wide open without LeBron James, SilverScreenAndRoll.com, May 18, 2019.
本文仅代表作者本人观点,与本网立场无关。欢迎大家讨论学术问题,尊重他人,禁止人身攻击和发布一切违反国家现行法律法规的内容。
About the author: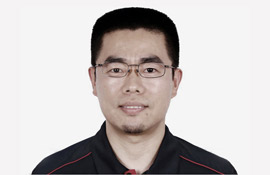 Zhang Xin is Trainer at chinadaily.com.cn. He has been with China Daily since 1988, when he graduated from Beijing Foreign Studies University. Write him at: zhangxin@chinadaily.com.cn, or raise a question for potential use in a future column.
(作者:张欣 编辑:丹妮)
中国日报网英语点津版权说明:凡注明来源为"中国日报网英语点津:XXX(署名)"的原创作品,除与中国日报网签署英语点津内容授权协议的网站外,其他任何网站或单位未经允许不得非法盗链、转载和使用,违者必究。如需使用,请与010-84883561联系;凡本网注明"来源:XXX(非英语点津)"的作品,均转载自其它媒体,目的在于传播更多信息,其他媒体如需转载,请与稿件来源方联系,如产生任何问题与本网无关;本网所发布的歌曲、电影片段,版权归原作者所有,仅供学习与研究,如果侵权,请提供版权证明,以便尽快删除。