So and so is an institution 威望很高的人
中国日报网 2019-06-25 12:16
分享到微信 Reader question:
What does it mean when so and so is called "an institution"?

My comments:
It means this "so and so" is person of high renown.
Let's use Mike Krzyzewski as an example. Krzyzewski is the head coach of the men's basketball team at Duke University and I've heard commentators call him "an institution at Duke" more than once.
Krzyzewski, you see, has been head coach at Duke since 1980. He has, among other great achievements, led the University to NCAA (National Collegiate Athletic Association) championship five times. He's arguably the most successful college head coach in history.
Due to his success and long tenure, everybody at Duke (and elsewhere, as a matter of fact) knows who "Coach K" is.
That's why he's called "an institution at Duke".
If you look up "institution" in the dictionary, you'll find that the word refers to, among other meanings, a custom or tradition or practice that has existed in a place or society for a long time. People are familiar with this tradition or custom and accept it as an important part of the place or society as a whole.
Marriage and family are social institutions. All people (or almost all) follow the tradition or custom by getting married and forming families.
It is by extension and stretch from this sense that we sometimes figuratively call a person "an institution."
By that, we mean to say that everyone is familiar with this person. We all hold him or her in high regard.
Let's again use Krzyzewski as an example. By calling Coach K an institution at Duke University, we get the feeling that Coach K and Duke University is inseparable. When we talk about Duke University, we think of Coach K and vice versa.
It's as if Coach K were synonymous with Duke University, which is, of course an institution itself (in the first sense of the word), a well-established educational institution.
All right, no more ado. Let's read a few media examples of people or places who or which are so well established that they themselves have become "an institution":

1. There's nothing more symbolic of Chicago than its hot dog: Sears Tower, Wrigley Field, systemic political corruption, all take a back seat. There is no act more American than piling a bunch of delicious toppings onto a hot dog, and no place on earth takes its meat as seriously as the Windy City. The Chicago Dog, a beacon of neon green relish and yellow mustard, is not just our town's greatest contribution to culture of any kind, it both encapsulates how Chicago was built, and what makes this city great.
The exact time and location the hot dog first took our veritable Republic by storm are unfortunately lost to memory, different cities and people claimed to have been the first to serve the modern hot dog on a bun, but its ancestral roots are clear. Before Hispanics, Italians, Jewish, or Polish, the country's first mass immigrant group was from the fatherland of ground tubed meat, Germany. German immigrants had been a part of the US since before the revolution, though they didn't start flooding the nation until the 1840s. Displaced by political upheaval back home, Germans populated not only the farmland of the Midwest, but filled the burgeoning industrial cities as well. By the end of the 19th century, 25% of Chicago's population was either born in Germany or first generation.
As anyone who walked Taylor St in 1920s or Devon Ave today could tell you, food is an essential part of cultural identity. What we eat, how we eat it, and who we eat with will make up the backbone of daily life, and as immigrant groups attempt to survive and assimilate it is often their cuisine that sustains them. The Germans of Chicago were no different than any group that came after, they brought a taste of home along in the form of sausages, in particular the frankfurter, the skinny mixture of pork, beef, and spices from Vienna, godfather of the hot dog we love today. Americans of the 19th century were no less hungry than us for the newest food craze, and the frankfurter exploded across the country as a quick, cheap, and most importantly, delicious on-the-go meal.
...
In the boom of post-war America, the suburban land we know today finally took hold. What was once a privilege of rich commuters became the ideal of an entire nation, green lawns, wide-streets, and cars. As young couples moved to the new suburbs out of the old neighborhoods they carried an all-American love of hot dogs with them. The new communities were being built almost from scratch, huge swaths of countryside being eaten up by ranch houses and freeways. Unlike the established neighborhoods the Chicago dog was born in, there were no cultural centers, no historic landmarks and shared traditions. The neighborhood hot dog stand became one of the first institutions to fill that void.
As German and Jewish immigrants found the hot dog stand to be an accessible and cheap business to make their living with, so did the working class families fleeing to the suburbs. Many of the Chicagoland's most enduring hot dog stands got their start in the '40s and '50s with the Chicago-style hot dog as their main (sometimes only) attraction. Gene's & Jude's has its origins in a hot dog stand on the west side at Polk and Western. After losing the original store Gene Mormino decided to set up shop in the suburb of River Grove, so undeveloped at the time the streets weren't even paved yet. Opening in 1950, Gene's & Jude's has become an institution serving nothing but fries, tamales, and high quality minimalist dogs. The original Fluky's itself migrated from the Maxwell St to the newly developed far North Side at Western & Pratt.
- A History of the Esteemed Chicago-Style Hot Dog, ThrilList.com, May 20, 2016.

2. Legendary actor Raj Kapoor's wife Krishna Raj Kapoor is no more. The 87-year-old breathed her last on Monday morning after she suffered a cardiac arrest.
Confirming the news, son Randhir Kapoor told PTI, "My mother passed away at about 5 am today due to cardiac arrest...old age was another factor. We are deeply saddened by her demise."
The 71-year-old actor added that the last rites will take place at Chembur crematorium.
As soon as the sad news of Krishna Raj Kapoor's death broke, many B-Town celebrities took to Twitter to pay condolences. And Bollywood's Mr Perfectionist Aamir Khan was not far behind.
The 53-year-old actor wrote, "If Raj Kapoor was an institution in film making, Krishnaji was an institution in living life. A very sad loss to all of us. My love and warmth to Randhirji, Rishiji, Chimpuji, Reema, Rituji and everyone in the family. We love you Krishnaji."
- Aamir Khan remembers Krishna Raj Kapoor: She was an institution in living life, IndiaToday.in, October 1, 2018.

3. Cal Ramsey, who starred on the court in high school, college and professionally in New York and then became an institution at Madison Square Garden for decades, passed away on Monday at age 81, the Knicks said.
Ramsey, who was a longtime courtside presence at the Garden before games, greeting fans and guests, died at the Riverside Premier Rehabilitation and Healing Center of cardiac arrest, according to the Knicks.
The Knicks will honor Ramsey, a community relations ambassador for the team, with a moment of silence, a special tribute and a memorial uniform ribbon during their game against the Raptors on Thursday.
"Cal represented the Knicks with pride for more than five decades as a player, broadcaster and one of the greatest ambassadors in New York City basketball history," Madison Square Garden executive chairman and chief executive officer James Dolan said in a statement. "He was the epitome of class, wisdom and dignity, and will be remembered for the thousands of young lives he influenced as a community leader. Knicks games will not be the same without Cal's presence. He will be greatly missed."
Ramsey, who was born July 13, 1937, in Selma, Alabama, attended Commerce High School in New York and then New York University, where he starred for the Violets and earned All-American status as a senior in 1959. He graduated from NYU's School of Commerce with a bachelor of science degree in business administration in 1959.
Ramsey went on to play professionally for the NBA's St. Louis Hawks, Knicks and Syracuse Nationals. He played 13 games in his career, including seven with the Knicks in the 1959-60 season, when he averaged 11.4 points per game.
After his playing career, Ramsey became a television analyst for the Knicks from 1972 to 1982. In 1991, he joined the Knicks' community relations team and served as an ambassador for the last 28 years.
He was inducted into the NYU Athletics Hall of Fame in 1978 and New York City Basketball Hall of Fame in 1994.
- Cal Ramsey, a basketball institution in New York, dies at age 81, NewsDay.com, March 26, 2019.
本文仅代表作者本人观点,与本网立场无关。欢迎大家讨论学术问题,尊重他人,禁止人身攻击和发布一切违反国家现行法律法规的内容。
About the author: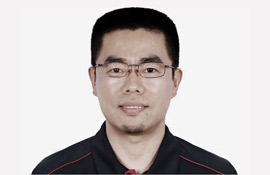 Zhang Xin is Trainer at chinadaily.com.cn. He has been with China Daily since 1988, when he graduated from Beijing Foreign Studies University. Write him at: zhangxin@chinadaily.com.cn, or raise a question for potential use in a future column.
(作者:张欣 编辑:丹妮)
中国日报网英语点津版权说明:凡注明来源为"中国日报网英语点津:XXX(署名)"的原创作品,除与中国日报网签署英语点津内容授权协议的网站外,其他任何网站或单位未经允许不得非法盗链、转载和使用,违者必究。如需使用,请与010-84883561联系;凡本网注明"来源:XXX(非英语点津)"的作品,均转载自其它媒体,目的在于传播更多信息,其他媒体如需转载,请与稿件来源方联系,如产生任何问题与本网无关;本网所发布的歌曲、电影片段,版权归原作者所有,仅供学习与研究,如果侵权,请提供版权证明,以便尽快删除。