Another point goes begging? 没销路
中国日报网 2019-07-12 13:59
Reader question:
Please explain this sentence from a commentator calling a tennis match: "Another point goes begging."

My comments:
This must have happened right after a player misses a point, failing to return a shot or hitting the shot into the net or wide or long.
In fact, this is a point that the player could have won, and rather easily as well.
In other words, the commentator thinks another opportunity is being squandered.
Let me give you an example in another area. When houses fail to sell, for example, newspapers often say, like, hundreds of apartments are "going begging" right now. This means these houses are unwanted, even if prices are low.
Why? Because, you see, normally people don't beg. They work for a living. However, sometimes hard times hit and people fail to find or keep a job, or something and one finds oneself having to go begging for a meal, say, with a rice bowl in hand.
To go begging means you're going out of your way, doing something excessive, something you will not do in normal circumstances.
Similarly, something unusually bad must have happened to the housing market. Otherwise, pretty and inexpensive houses won't be failing to sell. Perhaps the economy is in recession, for example. People want to cut back during an economic recession. They don't want to spend, certainly not to overspend. Now is time for holding on, for trying to make do with less, not for extravagance or expansion.
Well, the long and short of it is, when people say something goes begging, it means it is readily available but is unwanted and therefore kind of wasted.
In our tennis example, when "another point goes begging", the player misses another point, a point he or she perhaps could've won.
It's as if "another point" has to go begging to be won. It's as if the ball has to go out of its way to plead: "Please take me. Please send me back to the court. Please don't let me go astray."
Yes, another point has gone astray and perhaps quite unnecessarily. That's the point, so to speak, to remember about something goes begging.
Here are media examples:

1. Before World War II, Americans were more likely to rent their homes than own them. But that changed after the war. Special programs were instituted to encourage homeownership, especially for veterans. By 1960, 15 years after the war ended, more than 60 percent of Americans were homeowners; this percentage rose steadily until 2007.
But with the Great Recession of 2008 home ownership took a downward spiral that has accelerated over the past decade, especially among millennials. Why are millennials not buying houses? After all, the economy has picked up considerably in the past few years, and jobs in specific sectors are going begging.
The reason has little to do with the economy. It's all about the situation many of today's millennials find themselves in, and addressing this situation may be one way the jansan industry can attract younger people to the industry.
Many millennials owe anywhere from US$40,000 to more than $200,000 in student loans.
"Rising costs, student loans, and salaries for entry-level jobs are all barriers to home ownership [for college graduates]; this has led to a substantial drop in home-ownership among those 35 and younger—from 43.6 percent in 2007 to 35.9 percent today," according to ReputationPartners.com's July 26, 2018, Home Trend Report. Because of this, some employers are offering better starting salaries but many also are helping millennials pay down their student loan debt.
"The hope is that by offering to help this demographic pay off their [student] loans, companies can have a leg up in the recruiting process," wrote Jillian Berman in MarketWatch.
- How to Recruit Young Talent, ISSA.com, August 27, 2018.

2. Roger Federer's bid for a hat-trick of Australian Open titles was crushed on Sunday as Greek wunderkind Stefanos Tsitsipas rose up to floor the Swiss master and become his nation's first Grand Slam quarter-finalist.
In a match pitting the oldest and youngest players left in the men's draw, the 20-year-old Tsitsipas overhauled Federer 6-7(11) 7-6(3) 7-5 7-6(5) under the lights of Rod Laver Arena, sparking delirium among Greek fans out in force at Melbourne Park.
The 37-year-old Federer, 20 times a Grand Slam champion, will rue his chances, having failed to convert any of the 12 break points he took from Tsitsipas over the course of a riveting clash laden with sparkling shot-making.
Instead, it was Tsitsipas showing a wise head on young shoulders in a final tiebreak of unrelenting tension.
When given a match point after Federer slapped a forehand long, he converted it clinically, forcing a backhand error from the Swiss to announce himself on one of the game's biggest stages.
...
Lesser opponents might have fallen into a funk against the front-running Swiss but Tsitsipas stayed brave under fire.
He saved eight break points in the second set to keep Federer at bay yet had no such gifts on his opponent's serve.
The Greek stared down four set points when serving at 5-4 and finally held with a net-rush and a volley.
He fired a backhand crosscourt into the net-bound Federer's sneakers to earn three set points in the tiebreak, then converted the first with a crushing forehand winner that kissed the line in the corner.
Federer became concerned as more break points went begging in the third set, and he was soon clinging desperately on serve.
It came to a head at 6-5 down, with Federer's first serve going missing in four successive points and the set lost with a trio of unforced errors on forehand.
The Swiss held on until deep into the decider but it seemed time was catching up with him.
Tsitsipas, 17 years his junior, never dropped his guard, and Federer will leave Melbourne Park without a quarter-final appointment for only the second time in 18 years.
- Federer knocked out by Greek wunderkind Tsitsipas, Reuters, January 20, 2019.

3. A Lionel Messi penalty salvaged a 1-1 draw for Argentina against Paraguay on Wednesday as the two-time world champions once again struggled at the Copa America.
Messi swept in a 57th-minute spot-kick at Belo Horizonte's Mineirao Stadium to cancel out a first-half opener from Paraguay's Richard Sanchez.
Argentina also had goalkeeper Franco Armani to thank for a second half penalty save that prevented Paraguay from taking a 2-1 lead in the Group B battle.
The draw left Argentina with one point from two games and on the bottom of the table with one game remaining.
...
In the 37th minute however, Paraguay's more organised performance got its reward.
A swift counter-attack saw the ball transferred to Newcastle United's Miguel Almiron near halfway.
The livewire forward turned on the after-burners to roast Roberto Pereya down the left wing before crossing for Sanchez who drove a low finish into the bottom corner of the Argentina net.
A rattled Argentina were given a huge let-off moments later when Armani came racing out of his area to shut down Gonzalez.
A wild kick brought down the Paraguayan player but Armani somehow escaped a red card and was only cautioned.
Scaloni went for broke at half-time, bolstering his attack with the introduction of Sergio Aguero and the move paid instant dividends.
Aguero deftly lost his marker on 51 minutes and pulled back for Martinez, whose shot cannoned off the woodwork. Messi pounced on the rebound but Fernandez blocked with a diving save.
The chance appeared to have gone begging but VAR had spotted that Martinez's shot had in fact struck Ivan Piris's arm before hitting the bar and Brazilian referee Wilson Sampaio pointed to the spot.
Messi stepped up to sweep in the spot-kick and Argentina were level.
- Messi rescues Argentina as Paraguay pay penalty, AFP, June 20, 2019.
本文仅代表作者本人观点,与本网立场无关。欢迎大家讨论学术问题,尊重他人,禁止人身攻击和发布一切违反国家现行法律法规的内容。
About the author: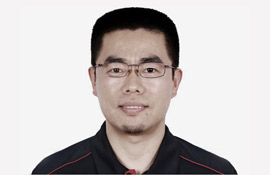 Zhang Xin is Trainer at chinadaily.com.cn. He has been with China Daily since 1988, when he graduated from Beijing Foreign Studies University. Write him at: zhangxin@chinadaily.com.cn, or raise a question for potential use in a future column.
(作者:张欣 编辑:丹妮)
中国日报网英语点津版权说明:凡注明来源为"中国日报网英语点津:XXX(署名)"的原创作品,除与中国日报网签署英语点津内容授权协议的网站外,其他任何网站或单位未经允许不得非法盗链、转载和使用,违者必究。如需使用,请与010-84883561联系;凡本网注明"来源:XXX(非英语点津)"的作品,均转载自其它媒体,目的在于传播更多信息,其他媒体如需转载,请与稿件来源方联系,如产生任何问题与本网无关;本网所发布的歌曲、电影片段,版权归原作者所有,仅供学习与研究,如果侵权,请提供版权证明,以便尽快删除。