Put up or shut up? 要么行动要么闭嘴
中国日报网 2019-09-20 16:50
Reader question:
Please explain this sentence, "put up or shut up" in particular: "It's time for Republicans to put up or shut up about gun control." Shut up, all right, but put up? Put up what?

My comments:
Whoever makes this remark means to say to Republicans: Do something on gun control or shut up, keep mum and quit talking about this matter altogether.
A little background.
After numerous or rather innumerable (since there've been intolerably too many) mass shootings in the recent past, calls have been growing louder for gun control from across the board. The most radical proposals ask for the government, US government that is as obviously we're talking about America, to confiscate all guns that are currently in private hands. The mildest proposals, on the other hand, suggest that at the very least automatic machine guns should be banned.
Even without delving into the matter, we can see that the mildest proposals make sense. Since single-shot guns are usually sufficient for self-defense, there is or should be no place for an AK-47 or a heavier assault weapon, one that is suited for the battlefield in a real war.
But the US Congress isn't even able to do something like that, due to resistance from Republicans.
That's why, in short, someone got tired of them and told them to either "put up" or "shut up".
Now, put up what?
Put up the money for a bet, that's what – that is, originally and in the literal senase.
Originally, you see, "put up or shut up" is what one boxer tells another after the latter has again and again refused to take up an offer for a fight for money.
Back in the day, boxers fought with their bare hands and almost always fought for money. Boxing matches used to be a brutal affair. Unlike today's boxers who wear thick, padded gloves designed to soften the blow, boxers in the days of yore fought with their bare hands (they were hence called pugilists, pugilist coming from the Latin pugnus meaning fist).
Really?
Yeah. It's true.
Anyways, any two boxers or pugilists would negotiate and talk about how much money each would put up and how much each would get in case of a win or in the event of a loss. Usually, the winner would take all the money in the pool with the loser taking home nothing but a bloodied face plus perhaps some remaining pride, the latter wounded, too.
The negotiation may go something like this. Fighter A suggests that he and Fighter B each put up 500 dollars, winner-take-all, meaning the winner will take home 1,000 dollars – leaving nothing for the loser.
Now, Fighter B, who is an inferior fighter, refuses to take the offer. So Fighter A sweetens the deal by offering to put up 600 dollars instead. This means Fighter B needs only to put up 400 dollars.
Fighter B still refuses.
Fighter A then offers to put 700, and later 800 dollars into the pool. Somehow, Fighter B still refuses, managing to come up with a different excuse each time.
Finally, Fighter A gets upset and makes the last offer: "I will put up 900 dollars. You either put up or shut up!"
With that, Fighter A tells Fighter B to shut up his big mouth from now on and quit ever bragging about what a good fighter he is.
That's the gist of "put up or shut up".
Got it?
All right, here are recent media examples of "put up or shut up":

1. Lawmakers wrapped up the 2019 legislative session with a $1,500 pay raise for public school teachers, but many are so outraged by the amount that they're considering a strike — something Mississippi law expressly forbids.
Last week, educators and advocates called the amount of the pay increase an insulting gesture from lawmakers in an election year. First-year public school teachers with a bachelor's degree earn $34,390 without any district supplements, and the statewide average salary was $44,926, during 2017-18 school year. The anger amongst some educators and advocacy organizations intensified once it became public knowledge that Republican leaders slipped $2 million in a non-education budget bill for a program similar to vouchers, which use public funds to send special needs children to private schools.
"We're not getting paid what we're worth. We don't just pass out worksheets … and write detention slips. We do so much of what it takes to build up responsible citizens," said Jennifer Bradford, a middle school English teacher in the Jackson County School District. "My job is to make sure I give 100 percent to that child's future and it's frustrating that they don't appreciate that."
Meanwhile, on a Facebook page called Pay Raise for Mississippi Teachers, debate about a potential strike has stirred under a post with more than 280 comments.
"We have nearly 40,000 followers of this page. It is time we discuss what it will take to organize a teacher strike," a March 30 post reads. "It's time to put up or shut up."
- 'Put up or shut up': Mississippi teachers mull strike in wake of 'insulting' pay raise, secretive voucher funding move, MississippiToday.org, April 3, 2019.

2. Saul Canelo Alvarez must offer a super-fight to Callum Smith this year, or should forget about facing the WBA 'Super' champion, says trainer Joe Gallagher.
Canelo, who holds the WBA 'regular' super middleweight belt, called out Smith's name after defeating Daniel Jacobs to add the IBF title to his WBA 'Super' and WBC middleweight titles in May.
Smith stayed on track for a showdown with the Mexican superstar by blasting out Hassan N'Dam in three rounds on the Anthony Joshua-Andy Ruiz Jr undercard at Madison Square Garden in New York on June 1.
Canelo is also reported to be considering a clash with WBO light-heavyweight Sergey Kovalev in a bid to make history as Mexico's first four-weight champion, a move which has promoted Smith's trainer Gallagher to say "put up or shut up".
"I think the Callum Smith-Canelo fight has to happen either now or in December," said Gallagher. "If it doesn't happen then, then I don't think it will ever happen.
"Canelo needs to win a genuine 168 world title and Callum is the No.1 and I think that's the fight that makes sense. The fans want to see it, you've seen social media blow up, Daniel Jacobs was hugely impressed ringside, Triple G was.
"Canelo – it's about time, I don't disrespect him, he's a good fighter, I'm well aware of him but I'm hugely confident in Callum Smith beating him.
"But you can't turn around and start mentioning people and names and then not take the fight up, so it's time to put up or shut up and we'll crack on with our career.
"If you want to fight Callum Smith, then make an offer, if you don't then forget about it and it will never happen and we'll move on and do what we need to do."
- Canelo told to 'put up or shut up' if he wants to face Callum Smith, SkySports.com, April 7, 2019.

3. With hungry academy players and key additions in the transfer window, Arsenal are instilling an 'Invincibles mentality'. For those already at the club, that means one thing: it is time put up or shut up.
Do you hear that? It's the unmistakable sound of space opening up on the Arsenal bench for Alex Iwobi and Henrikh Mkhitaryan (among others). Now that Dani Ceballos and Nicolas Pepe are in house, Mkhitaryan and Iwobi will be seeing a lot less of the Premier League than they will the Europa League group stage and Carabao Cup. If Arsenal manage to get the Kieran Tierney deal over the line, the same thing will be true for Sead Kolasinac. And that is all as it should be.
The truth is, Iwobi, Kolasinac and Mkhitaryan have all been given sufficient time to establish themselves as starters. They didn't, otherwise, Ceballos and Pepe wouldn't be at the club. Nor would the club be hot on the heels of Tierney. It's not that the incumbent trio are bad footballers. It's just the opposite. They all have quality on their day. But those days do not come often enough.
When Edu took over as Technical Director, he talked about bringing back 'The Invincibles' mentality. Having quality footballers like Iwobi, Kolasinac and Mkhitaryan come to the training ground genuinely afraid of losing their jobs is where rebuilding that mentality begins. It is no accident Arsenal's two best players are both scared of losing their jobs to each other.
Yes, Alexandre Lacazette and Pierre-Emerick Aubameyang have a great working relationship. Yes, they're friends. But make no mistake, they're competing with each other every day. They both genuinely want to be recognized as Arsenal's talisman. That friendly-but-fierce competition has made both of them better footballers.
- Arsenal: Put up or shut up as 'Invincibles mentality' sweeps in, PainInTheArsenal.com, August 2, 2019.
本文仅代表作者本人观点,与本网立场无关。欢迎大家讨论学术问题,尊重他人,禁止人身攻击和发布一切违反国家现行法律法规的内容。
About the author: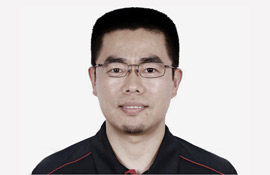 Zhang Xin is Trainer at chinadaily.com.cn. He has been with China Daily since 1988, when he graduated from Beijing Foreign Studies University. Write him at: zhangxin@chinadaily.com.cn, or raise a question for potential use in a future column.
(作者:张欣 编辑:丹妮)
中国日报网英语点津版权说明:凡注明来源为"中国日报网英语点津:XXX(署名)"的原创作品,除与中国日报网签署英语点津内容授权协议的网站外,其他任何网站或单位未经允许不得非法盗链、转载和使用,违者必究。如需使用,请与010-84883561联系;凡本网注明"来源:XXX(非英语点津)"的作品,均转载自其它媒体,目的在于传播更多信息,其他媒体如需转载,请与稿件来源方联系,如产生任何问题与本网无关;本网所发布的歌曲、电影片段,版权归原作者所有,仅供学习与研究,如果侵权,请提供版权证明,以便尽快删除。