Over his dead body? 死也不同意
中国日报网 2019-10-18 11:28
Reader question:
Please explain this sentence, "over his dead body" in particular: Mahatma Gandhi had earlier said that India could be partitioned only over his dead body.

My comments:
Back in the day, the British wanted to split what was India under the British Empire into two countries, India and Pakistan. Mahatma Gandhi was vehemently opposed to the idea, knowing fully that the British were up to their old trick again, the trick of divide and rule.
Divide and rule?
If the people are divided, they're easier to control. So if you want to lord it over them without big trouble, divide them into helpless individuals and small groups.
Anyways, the great Gandhi was opposed to the idea while saying the above.
In a direct quote, if Gandhi did use the "dead body" expression, he would've said: "Over my dead body."
This expression means, to use a similar Chinese expression, "No, not until I'm dead". You've probably heard of more than one Chinese father say this to his dearly beloved girl who wants to marry, say, someone poor or inferior in terms of social status or future prospect. "I will never let you marry that riffraff, not until I'm dead!"
Or something similar to that haunting effect: "No, so long as I have one last breath to draw, I will stop you!"
So, literally, "over my dead body" means I will allow you to do what you want to do only on top (over) of my dead body, or rather, on the top of my coffin, i.e. when I'm dead, buried and gone.
Otherwise, rest assured I will stop you with everything within my power.
In Gandhi's case, of course, the British succeeded. In 1947, The British colony was split into two parts, India and Pakistan – and, later, three, with Pakistan splitting into Pakistan and Bangladesh (1971).
Anyways, and in short, "over my dead body" is just an emphatic and hyperbolical way of saying "No!"
Hyperbolical?
That means they are just saying. They don't mean for their words to be taken quite literally. They won't just drop dead right now. No, not anything like that.
All right, let's read a few media examples of people using this expression, both in the first person (over my dead body) or otherwise (over his dead body or hers):

1. The U.S. Supreme Court's decision that it won't allow television coverage when it hears arguments on the presidential election today is a mistake.
The court is so opposed to camera coverage that one justice, David Souter, told a House subcommittee in 1996 that camera coverage of the Supreme Court would occur only over his dead body.
Whatever their skills at interpreting the Constitution, the justices are wrong to believe the public is best served by being forbidden access to the arguments made in this case. So wrong, in fact, that one suspects that the justices are not solely serving the public interest.
Opponents of televised court proceedings usually cite high-minded reasons, but none seem to apply in this case.
An oft-cited reason is that lawyers and judges may try to play to the cameras, as in the infamous O.J. Simpson case. But as the lawyers in this case already have a multitude of opportunities to perform for cameras. They are hardly likely to risk their reputations or their cases by appearing to ham it up before the Supreme Court.
Television opponents worry, too, that televising trials and hearings might reduce public respect for court proceedings. It is difficult to see how that could happen here.
When the Florida Supreme Court heard arguments relating to the presidential election, it allowed live camera coverage. Public and media commentary about the proceeding (though not necessarily the subsequent decision of the court) was uniformly respectful.
Some suspect, and some judges confirm, that a key reason some judges oppose cameras in courtrooms is that they value their privacy. Unlike many other public officials, judges typically can go out in public without being recognized.
If so, too high a price is being paid to allow judges to go to the supermarket in peace. There are significant benefits to allowing camera coverage, especially in a critical case like this.
Can we possibly allow our next president to be selected in proceedings that, except for court-approved transcripts, are essentially kept secret?
Most likely, our Founding Fathers would say no. According to the journals of the Continental Congress, the Founding Fathers desired public access to courtrooms, advocating that courtrooms be built large enough to hold entire communities and trials be held "before as many people as chuse [sic]to attend."
It would be impossible to build a courtroom large enough to hold all the Americans with a keen interest in litigation affecting the presidential race. Camera coverage is the next best thing.
The experience of the states is instructive. Forty-eight states allow camera coverage in at least some court proceedings, and studies in 28 states show television coverage of court proceedings has important social and educational benefits.
Even judges like television coverage more after they've had experience with it. A 1991-93 pilot project in the federal courts found that judges who had been neutral tended to become favorable once they'd had firsthand experience with cameras.
Perhaps the best instruction comes from Congress, which permitted camera coverage in 1977, and the Senate, which followed in 1986. Sure, some elected officials bought hairpieces because of television and maybe some (gasp!) wear a little makeup, but no one seriously argues that the country is worse off because of C-SPAN.
In another context, The New York Times said of camera coverage of the U.S. Supreme Court: "The court is not some private club. It is not supposed to be mysterious to the public it serves. Making it more accessible, and promoting greater public understanding of the complex questions it addresses, is the best way to honor the institution."
- Let TV See High Court Doing The People's Business, South Florida Sun-Sentinel, December 1, 2000.

2. Donald Trump won't be sitting down with Special Counsel Robert Mueller to answer more questions in his investigation into election interference, Rudy Giuliani, the president's attorney, vowed on Sunday.
"Over my dead body," Giuliani, the former New York City mayor and federal prosecutor said on "Fox News Sunday."
Giuliani, who'd at times floated the possibility of a meeting in interviews over several months, didn't answer directly when asked about a CNN report on Dec. 14 that Mueller wants to interview Trump in his investigation of Russia influence in the 2016 campaign.
In a separate interview on ABC's "This Week" on Sunday, Giuliani was less definitive when asked whether it's possible Trump will talk to Mueller. He cited an agreement with prosecutors allowing for a discussion about it after the president submitted written responses to questions last month.
"All I can tell you is the agreement contemplates our having discussions if there are any further follow-ups or questions, and there's been no change in that agreement," Giuliani said. "And when it's concluded, we'll tell you."
While Trump submitted written answers to some questions, his legal team rebuffed Mueller on queries about whether the president sought to obstruct justice. The lawyers said the answers only cover events before Trump became president and Russian-related topics.
- Rudy Giuliani Says 'Over My Dead Body' Trump Will Meet With Mueller, Fortune.com, December 16, 2018.

3. New Orleans Pelicans owner Gayle Benson shot down an earlier report that claimed she was extremely opposed to trading Anthony Davis to the Lakers and said it would only happen "over her dead body", according to WDSU's Fletcher Mackel.
WDSU's sports director said he spoke with Benson, who called the report "totally absurd" and "completely untrue." Mackel reports many people in the Pelicans organization think the "sloppy, incorrect reporting" is coming from the same people that said Zion Williamson does not want to be drafted by New Orleans.
ESPN's Jackie MacMullan reported earlier on Friday that the Pelicans' new lead executive would report directly to Benson, who fired general manager Dell Demps in February over his handling of Davis. Benson appears unwilling to send Davis to his preferred destination.
"We have been told, I think, through channels – most of us have heard this same scuttlebutt – that Gayle Benson has basically told him, 'To the Lakers, over my dead body,'" MacMullan said.
Davis shook up the basketball world in January by telling the Pelicans he had no intention of a signing a contract extension. Davis is eligible for a five-year, $240 million supermax should he decide to stay in New Orleans.
The five-time All-Star also requested a trade ahead of the February deadline, mentioning the Lakers high on his list of preferred destinations.
- Gayle Benson Denies 'Over My Dead Body' Report on Trading Anthony Davis, SI.com, May 17, 2019.
本文仅代表作者本人观点,与本网立场无关。欢迎大家讨论学术问题,尊重他人,禁止人身攻击和发布一切违反国家现行法律法规的内容。
About the author: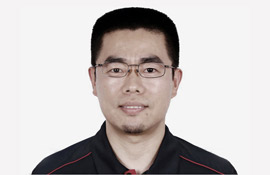 Zhang Xin is Trainer at chinadaily.com.cn. He has been with China Daily since 1988, when he graduated from Beijing Foreign Studies University. Write him at: zhangxin@chinadaily.com.cn, or raise a question for potential use in a future column.
(作者:张欣 编辑:丹妮)
中国日报网英语点津版权说明:凡注明来源为"中国日报网英语点津:XXX(署名)"的原创作品,除与中国日报网签署英语点津内容授权协议的网站外,其他任何网站或单位未经允许不得非法盗链、转载和使用,违者必究。如需使用,请与010-84883561联系;凡本网注明"来源:XXX(非英语点津)"的作品,均转载自其它媒体,目的在于传播更多信息,其他媒体如需转载,请与稿件来源方联系,如产生任何问题与本网无关;本网所发布的歌曲、电影片段,版权归原作者所有,仅供学习与研究,如果侵权,请提供版权证明,以便尽快删除。