Lost cause? 成功无望
中国日报网 2020-04-28 12:17
Reader question:
Please explain this sentence, "lost cause" in particular: By then people had given up on him, practically treating him as a lost cause.
My comments:
This means people no longer had trust in him to succeed and probably stopped helping him in any way.
A lost cause originally refers to a lofty goal or movement people believe in and are deeply committed to. People in China, for example, used to talk a lot about the Communist cause.
Well, that smacks of talking big so let's use a smaller cause as example. To clean the local tourism resort of trash and garbage, for instance, is a small but worthy cause. Because of it, people are willing to volunteer and put in the hours every day, or every free day they have.
But, as we can see, if the public, I mean, tourists do not learn not to litter, the clean-up campaign may become a lost cause, no matter how dedicated the volunteers are. You know, as soon as you pick everything up, uncaring tourists drop things to the floor.
So, along with picking litter up and set up garbage cans everywhere, it's probably a good idea to pass leaflets educating the public about keeping the environs clean.
Otherwise, the clean-up campaign is doomed, will remain a lost cause.
Likewise, if a person is considered a lost cause, he or she is also doomed, i.e. hopeless.
They perhaps don't have it in them to succeed. Perhaps they are not hard working enough, or perhaps they just don't have the talent.
Whatever, now that they're considered a lost cause, people will no longer be prepared to defend, advocate for and help them as they used to do.
Here are media examples of "lost cause":

1. AI and machine learning offer humanity a number of benefits, but they can also be used for more nefarious purposes. One of these is "deepfake" videos, which involve someone's face being edited onto the faces of actresses who appear in pornographic videos. One of the most popular Hollywood stars to be digitally added to these clips in Scarlett Johansson, but she says trying to stop them is a "lost cause."
Back in December 2017, Motherboard highlighted the work of a Redditor called deepfakes who was creating these videos, which can appear quite realistic. They've since been banned by the likes of Discord, Twitter, and GIF-hosting platform Gfycat. Pornhub was supposed to have done the same thing, but they're still easily found on site. Moreover, they've now become more realistic while the software behind them is easier to use.
Speaking to the Washington Post, Johansson, who is Hollywood's highest-paid actress, spoke out about the practice. The Avengers star appears in many of the videos, including one that has been viewed over 1.5 million times.
"Nothing can stop someone from cutting and pasting my image or anyone else's onto a different body and making it look as eerily realistic as desired," she said. "The fact is that trying to protect yourself from the Internet and its depravity is basically a lost cause [...] The Internet is a vast wormhole of darkness that eats itself."
- She calls the internet "a vast wormhole of darkness that eats itself", TechSpot.com, January 2, 2019.

2. A bill to prohibit the federal government's use of the West Virginia National Guard was nearly discharged from the Veterans Affairs and Homeland Security Committee on Tuesday, with the motion failing after a tie vote in the House of Delegates.
Del. Pat McGeehan, R-Hancock, the lead sponsor of House Bill 2732, the Defend the Guard Act, moved to discharge the bill from the minor committee and send it to the Judiciary Committee instead. The bill would prohibit the overseas deployment of the state National Guard without an official declaration of war from Congress. The last time an official declaration of war was issued was World War II.
McGeehan, who has introduced the bill in past sessions, said the bill is to put pressure on lawmakers in Washington, D.C., to do their jobs and actually debate the merits of war.
"War is the most serious operation, most serious enterprise a government could engage in," McGeehan, an Air Force veteran, said. " … We've lost sight of that since the World Wars."
The bill was placed on the Veterans Affairs Committee schedule last week until it was "ordered by the powers that be" to be removed, McGeehan said.
"The idea we need to run it through the committee process is kind of a farce," he said.
Del. Tom Bibby, R-Berkeley, chairman of the Veterans Affairs Committee, said he was committed to running the bill. The committee also passed the bill last year, under leadership of Del. Tony Paynter, R-Wyoming, but it was never picked up by the Judiciary Committee.
Bibby, a veteran, said he thinks it is a good bill, though he said he knows it would never get picked up by the Senate.
"Any discussions when it comes to war and peace, those are important things we need to talk about — where we are headed," Bibby said. "We've gone far from where our Founding Fathers wanted us to be. It's important we take a stand. We want our nation to be strong, but we've got to stop the endless wars we've had in the last 50 years."
Del. S. Marshall Wilson, I-Berkeley, also rose in support of the bill. An Army veteran himself, he said his daughter is currently deployed overseas with the Guard and his son is about to apply to a military academy.
"They are going to take my kids," he said. "They have to answer for it."
The National Guard is federally funded, but controlled by the states. However, the president also has authority to deploy the Guard. In 1986, Congress passed the "Montgomery Amendment," which prohibits state governors from withholding consent to the overseas deployment of National Guard units. The amendment was upheld by the Supreme Court in 1990.
According to Military.com, Guard and Reserve units made up about 45% of the total force sent to Iraq and Afghanistan, and received about 18.4% of the casualties. Since 9/11, the West Virginia National Guard has deployed over 12,000 soldiers and airmen in support of overseas global missions, according to their website.
Last year, Sgt. William Friese, 30, of Parkersburg, died at Camp Buehring in Kuwait from a non-combat-related incident while serving in support of Operation Inherent Resolve. McGeehan said Friese's death is an example of the real-world consequences to inaction.
Those against discharging the bill said they wanted it to move through the committee process proper. Del. Daryl Cowles, R-Morgan, said he needed to know more about the ramifications from the federal government of passing such a bill.
"What happens to our bases?" he mused.
McGeehan said since he introduced the bill last year, a coalition has been formed and 10 other states have already introduced similar legislation, with at least 10 more on the way.
"Washington, by and large, is a lost cause," he said.
- Washington 'is a lost cause': Lawmakers debate federal control of National Guard, Herald-Dispatch.com, February 4, 2020.

3. A doctor, who wished not to be named, has been in self-isolation for the last four days. He has had multiple contacts with a doctor colleague who tested positive for coronavirus. The latter attended an annual religious gathering in Punjab this month.
"He came back last week and worked with us for two days before he had a high-degree fever," says the doctor, who is the head of a department in one of the biggest hospitals of Karachi. "Now he [the colleague] has tested positive [for COVID-19]."
The doctor has moved his wife and kids to his father's home. "I don't have any symptoms for now. But who would know better than me that I am a coronavirus suspect!" However, the family is not completely safe at his father's home either. "My brother is also a doctor. And he can be a source of infection at my father's home."
"Last night I was too depressed. Because I know the virus has spread among doctors and we can take it to our homes," said the brother physician. "I have asked the management to arrange accommodation for me in the hospital. I don't want to go home."
He says his blood boils when he sees people making jokes about the pandemic. "We are a lost cause. Doctors are risking their lives, doctors are putting their families in danger but people around us are not ready to take it seriously."
He says if the government does not strictly deal with the coronavirus lockdown violators, "the time is not far when we will be short of space for the burial of our loved ones". He says that like his brother, more doctors and medical staff have been told to go in self-isolation following their contacts with coronavirus patients. "If more doctors are put in quarantine, who would take care of the people in the city?"
- As doctors go in self-isolation, many unable to grasp gravity of situation, TheNews.com, March 27, 2020.
本文仅代表作者本人观点,与本网立场无关。欢迎大家讨论学术问题,尊重他人,禁止人身攻击和发布一切违反国家现行法律法规的内容。
About the author: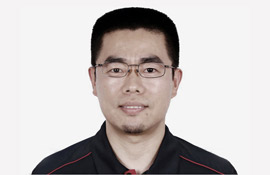 Zhang Xin is Trainer at chinadaily.com.cn. He has been with China Daily since 1988, when he graduated from Beijing Foreign Studies University. Write him at: zhangxin@chinadaily.com.cn, or raise a question for potential use in a future column.
(作者:张欣 编辑:丹妮)
中国日报网英语点津版权说明:凡注明来源为"中国日报网英语点津:XXX(署名)"的原创作品,除与中国日报网签署英语点津内容授权协议的网站外,其他任何网站或单位未经允许不得非法盗链、转载和使用,违者必究。如需使用,请与010-84883561联系;凡本网注明"来源:XXX(非英语点津)"的作品,均转载自其它媒体,目的在于传播更多信息,其他媒体如需转载,请与稿件来源方联系,如产生任何问题与本网无关;本网所发布的歌曲、电影片段,版权归原作者所有,仅供学习与研究,如果侵权,请提供版权证明,以便尽快删除。