Locking in? 锁定
中国日报网 2020-08-28 11:09
分享到微信 Reader question:
Please explain "lock in" in this sentence: Coach congratulated the team and told us to rest up and lock in on our next opponent.

My comments:
After winning a game, apparently. Coach asked players to take a good rest and come back focused on the next opponent, without letup.
That's what it means to lock in on something. Literally, locking in means, for example to get someone inside a room, then lock the door, leaving them inside the room, safe and secure.
Safe and secure, perhaps, but also trapped. To physically lock someone or something inside a particular place is to trap them or it there. Obviously, prisoners are locked up in their cell.
It is from this sense of being confined to a place that people learned to use this phrase figuratively. To lock in on something mentally, for example, is to focus on it. In our example, it is to focus on the next game.
Firmly focus on the next game, as "lock" implies security and steadfastness, meaning the players will remain firm and committed to the next game, firm and resolute and unwavering.
All right, here are media examples of "lock in" in various forms:

1. Roger Federer will look to punch his ticket to the third round of the Australian Open for the 15th consecutive year on Day 4 when he squares off against world No. 99 Blaz Kavcic in Round 2 at Melbourne Park.
The two players have never met before, but the sixth-seeded Federer will enter as a heavy favorite.
Still, upset defeats in each of his past two Grand Slam appearances have reminded us that the Swiss legend is human after all.
Let's take a closer look at Federer's keys to victory against Kavcic.
Continue to Dominate on Serve
Federer's serve was sublime in his opening-round win over James Duckworth and will be critical to his chances of avoiding a major upset in Round 2.
Of course, Federer won't need to win 89 percent of his first-serve points again in order to prevail. However, if he can remain solid on his second serve, continuing to win more than 50 percent of those points, he'll be on his way to another win Down Under.
As his convincing first-round victory proved, he doesn't need to be flashy and blast two dozen aces over the course of the match to break his opponent's will. A methodical approach will do for Federer in the second round against Kavcic.
Zero in on Break-Point Opportunities
If there's a frightening trend for Federer to watch out for against Kavcic, it's his inability to convert break-point chances of late.
Federer converted just 4 of 17 break-point opportunities against Duckworth in Round 1 and was only 2 of 16 in his previous major appearance in the fourth round at the 2013 U.S. Open, a straight-sets loss to Tommy Robredo.
While Federer wasn't too worried about his missed opportunities after his first-round match, you can bet he'll be searching for a way to capitalize moving forward, per ATPWorldTour.com:
It was not much rhythm out there. It was a matter of getting the job done and not getting broken. So it was a solid match from start to finish. Could have maybe won a few more break points here and there, but who cares now?
Against Kavcic, Federer must lock in on his early chances to break in order to keep the pressure on his opponent and build some much-needed confidence as he progresses through the draw. It's a simple key and one that applies to every professional player, but the importance of it can't be overstated.
- Roger Federer's Keys to Victory vs. Blaz Kavcic at 2014 Australian Open, BleacherReport.com, January 14, 2014.

2. It's a full house over at the Jolie home.
Amid the ongoing coronavirus pandemic, Angelina Jolie popped up online for a virtual TIME 100 Talk with Editor-in-Chief Edward Felsenthal. The 13-minute chat was focused on how children around the world are being impacted by the coronavirus, a subject the Oscar winner has tackled in pieces she penned for TIME. At the start of the conversation, she confirmed that, like most people around the world, her family is practicing social distancing.
"We're all locked in and doing all right," she assured. Jolie is famously a mom to six: Maddox, 18, Pax, 16, Zahara, 15, Shiloh, 13, Vivienne and Knox, both 11. Maddox was attending Yonsei University in South Korea before the school temporarily closed as a result of the pandemic.
As both a parent and Special Envoy of the U.N. High Commissioner for Refugees, the star spoke out about the ways the coronavirus is affecting kids worldwide, even if they are less likely to get very ill from it. After referencing the many children around the world who are already vulnerable to hunger and lack of education, she addressed how the crisis is being compounded by the effects of the pandemic now that schools are closed and kids must stay home, potentially with abusers.
"Two things that affect children from my view the most being out of school—of course, education and the challenges with education. I know parents across even this country are challenged with homeschool and that's maybe more of a challenge on the parents than the children," the star quipped. "But, for the children, it's the food insecurity that affects 11 million children, severe insecurity...and it's domestic violence and abuse," she said, pointing out that school is both where many children can get a vital meal and where bruises from abuse can be noticed.
She also discussed how inequality in America not only affects children and families facing hunger, but also those fighting this pandemic from the frontlines while being underpaid.
"It's about respecting people—it's not just for this moment to applaud the people who are doing so much work, but real respect and real equality," she said. "This is a time for outrage, for grand change across the world."
- Angelina Jolie and Her Family Are "All Locked In" Amid the Coronavirus Pandemic, EOnline.com, April 24, 2020.

3. They laughed Mike D'Antoni out of the locker room.
Minutes after Houston took a 2-0 series lead over Oklahoma City in the Western Conference playoffs, the coach's attempt at funny fell flat.
"I just told the team all we did was defend homecourt," D'Antoni said. "Now, we've got to go to Oklahoma City to play. They kind of laughed at me. I don't get it."
Bad jokes aside, what observers need to understand is this year's Houston squad might just be the real deal. General Manager Daryl Morey and D'Antoni seem to have finally added the right ingredients to add pop to the Rockets superstar stew, which features James Harden and Russell Westbrook, who sat out of Thursday's 111-98 victory due to a quadriceps injury.
On an afternoon in which Houston launched an NBA playoff-record 56 shots from 3-point range -- missing 66.1% of them -- with Harden struggling offensively, the Rockets toppled the Thunder through suffocating defense and a magical fourth-quarter run, one engineered with the 2018 MVP cheering from the bench.
Harden had shot just 2-for-12 from the field in through the first three quarters and 1-for-9 from 3-point range, with eight assists. So, for a minute, you thought this cheering sequence might serve as Harden's most significant contribution in this contest.
But please believe Harden had plenty of reasons for all the yelling and clapping.
With Harden on the bench and Houston trailing 78-77 to start the fourth quarter, the Rockets embarked on a game-changing frenzy that transformed the deficit into a 12-point lead by the time he checked back into the game.
"Unbelievable, man. That was the game right there," said Harden, who scored a team-high 21 points. "The guys just took it upon themselves to guard, and we felt a sense that Oklahoma City was getting tired. We just kept pressing the gas on them. That was the game-changer right there for us. Huge shoutout to D-House [Danuel House Jr.], Jeff [Green], Tuck [P.J. Tucker], all the guys that were in in that fourth quarter. [Eric] Gordon made some big plays and then made some big shots."
Just 12 seconds into the fourth quarter, Houston started off a 17-0 run that saw the Rockets comfortably ahead when Harden checked back in with 7:23 left to play. Houston's defense sent Oklahoma City into a scoring drought that lasted 5 minutes and 14 seconds during that sequence.
Luguentz Dort finally ended it with a 26-footer off a Shai Gilgeous-Alexander assist to cut Houston's lead to 11.
"Our defense has taken a couple of steps up," D'Antoni said. "We knew that was going to be the key. The guys just bought in. They locked in. You're going to have uneven nights offensively, but even with the uneven night offensively, we hung in there until we got the offense going. The second group that came in when James was resting did an unbelievably great job defensively. Then, they hit some shots with Danuel House, P.J., Eric and Jeff played a good game again."
- Rockets swarm defensively, bench silences Thunder, NBA.com, August 20, 2020.
本文仅代表作者本人观点,与本网立场无关。欢迎大家讨论学术问题,尊重他人,禁止人身攻击和发布一切违反国家现行法律法规的内容。
About the author: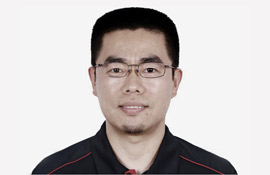 Zhang Xin is Trainer at chinadaily.com.cn. He has been with China Daily since 1988, when he graduated from Beijing Foreign Studies University. Write him at: zhangxin@chinadaily.com.cn, or raise a question for potential use in a future column.
(作者:张欣 编辑:丹妮)
中国日报网英语点津版权说明:凡注明来源为"中国日报网英语点津:XXX(署名)"的原创作品,除与中国日报网签署英语点津内容授权协议的网站外,其他任何网站或单位未经允许不得非法盗链、转载和使用,违者必究。如需使用,请与010-84883561联系;凡本网注明"来源:XXX(非英语点津)"的作品,均转载自其它媒体,目的在于传播更多信息,其他媒体如需转载,请与稿件来源方联系,如产生任何问题与本网无关;本网所发布的歌曲、电影片段,版权归原作者所有,仅供学习与研究,如果侵权,请提供版权证明,以便尽快删除。