Trump's seat-of-the-pants decision making? 凭直觉做决定
中国日报网 2020-09-04 11:01
分享到微信 Reader question:
Please explain "seat-of-the-pants" in "Trump's seat-of-the-pants decision making".

My comments:
Donald Trump, that is, President of the United States.
Trump isn't always prepared when it comes to decision making. In other words, when it's time to make a decision, he does the first thing that comes to mind.
That's what "Trump's seat-of-the-pants decision making" means.
Seat of the pants? That's an American aviation idiom dating back to 1938. An article at WritingExplained.org explains:
This term comes from aviation. When people first began flying aircraft, they did not have the same advanced navigation tools and abilities to communicate with people on the ground. Therefore, people were flying by the seat of their pants or flying without the ability to communicate or fully plan things out.
In a description of Douglas Corrigan's flight from the USA to Ireland in 1938, the phrase was first used in The Edwardsville Intelligencer:
"Douglas Corrigan was described as an aviator 'who flies by the seat of his pants' today by a mechanic who helped him rejuvenate the plane which airport men have now nicknamed the 'Spirit of $69.90.' The old flying expression of 'flies by the seat of his trousers' was explained by Larry Conner, means going aloft without instruments, radio or other such luxuries."
In other words, early fliers had little to rely on – other than the seat of their pants or trousers.
If you, for example, go on a long mountain climbing journey without careful planning ahead, you're flying or rather climbing by the seat of your pants. Soon, you'll find yourself desperate for some vendor to sell you a bottle of water, among other things – and such a vendor may not be found.
In our example, Trump is described as someone who flies by the seat of his pants when it comes to making a decision. It's true, too. I have come across a line in Trump's own book Think Like a Champion to back it up. In that book, Trump said: "I just put all my concentration into what I was doing, and as problems surfaced, I dealt with them. Think of how boring it would be just to sail into things and have everything be perfect."
Indeed, Trump's presidency is not anything perfect, to say the minimum least and he has problems galore.
All right, here are media examples of people who fly by the seat of their pants:

1. Now it seems so effortless--you drop a letter in a mailbox, someone picks it up and, days later, it arrives hundreds of miles away.
But 75 years ago, when air mail service began, there was nothing easy about it. And the air mail pilots of that era risked their lives with every flight.
"They were daredevils. That's the best way to put it," said Bob Outlaw of Chicago, a member of the American Air Mail Society, a group of history buffs, stamp collectors and aviators. "It borders on craziness."
Forty-three pilots and mechanics in the airmail service were killed between 1918 and 1927. There also were 6,500 forced landings due to weather and mechanical trouble in the service's first five years.
"We're really indebted to these pioneers leading the way," said Greg Frey, a spokesman for the U.S. Postal Service in Philadelphia. "When you look back to that period, that was uncharted territory. There were no rules. No regulation. No real guidelines. No real airports."
The U.S. Postal Service now ships more than 3.1 billion pieces of mail by air each year, a big change from the days when 200-pound sacks rode in one cockpit while the pilot worked in another.
Regularly scheduled airmail service was established May 15, 1918, connecting New York, Philadelphia and Washington. Army pilots flew the route until Aug. 10, 1918, when civilian pilots took over.
When "pathfinder" flights between New York and Chicago began on Sept. 5, 1918, fog, snow, ice and mountains did their worst to keep the aerial couriers from their appointed rounds.
"At the time they could only land in the day. You were limited by how far the plane could go and how much daylight you had," Outlaw said. "And weather was No. 1. You'll see a postmark from a specific day, but many times the letter didn't get out until three days later because of the weather."
The first pilot killed, Carl B. Smith, died Dec. 16, 1918, in an accident attributed to inexperience. The second, Frank McCusker, jumped from his plane at 200 feet after it caught fire May 25, 1919.
"They had to be daredevils, you understand," said Charlie Gates, a ground crew member at the Bellefonte field. In an interview before his death in 1985 at age 90, he told the Centre Daily Times newspaper: "They literally had to fly by the seat of their pants in those days. On a clear night they'd look down and follow the fence posts."
- Daredevils Flew by the Seat of Their Pants, Carried U.S. Mail 75 Years Ago, LaTimes.com, October 3, 1993.

2. If the British hadn't had a change of heart, Naomi Cahan Katz might have been born in Israel.
Instead, she made her entrance in Pennsylvania in 1925. Seven years earlier, her father had returned there from Palestine, to which he had run away to serve in the Zion Mule Corps – the first modern Jewish fighting force, led by Joseph Trumpeldor.
"The British were supposed to give each demobbed soldier 10 dunams [two and a half acres] of land near Netanya, but instead they decided the soldiers had to return to their port of embarkation, figuring that they probably wouldn't return," said Katz. Her father found his way to Philadelphia, got married and raised three children – all the while hoping to get back to Israel.
"We sort of laughed at my father's dream to come back," Katz recalled. Her parents did eventually make aliya, but not until 1968.
AN ACCIDENTAL ZIONIST
Naomi Cahan worked her way through art school at Temple University by posing as a model for the dean. She completed undergraduate and master's degrees in fine arts, special education and psychology while simultaneously starting a family and teaching.
She and Stan Katz met at a picnic and got married in 1946.
Sivia was born in 1948, Avi in 1949, Judy in 1951, David in 1954 and Shuli in 1963. Avi, Judy and Shuli live in Israel; Sivia is in Philadelphia and David in Massachusetts.
Stan, a municipal accountant, shared the housekeeping and child-rearing responsibilities and the kids were raised to be independent. Perhaps that's why Sivia ended up in Israel in 1969, encouraging her parents to make their first visit here a year later.
"We fell in love with the place," Katz recalls. "We were 47 already, so I guess it was a midlife crisis. We just decided this was where we wanted to be."
In August 1972, they landed in Israel with Shuli for good. Sivia, Judy and Avi were already in Israel and David stayed behind, attending the Massachusetts Institute of Technology on a full scholarship. After a short stay at the Mevaseret Zion absorption center, Stan accepted a job as the accountant for a factory being set up at Kibbutz Ayelet Hashahar.
They arrived just before the Yom Kippur War. Katz remembers miserable nights in the bomb shelter and watching planes explode in the air. Soldiers used to come to the kibbutz for some R&R after fighting in the Golan, and Katz remembers that one of them commented, "This is a beautiful kibbutz. Do you know how close you came to losing it?" Despite this unpleasant introduction to life in Israel, they were not discouraged and stayed at the kibbutz for a decade. Naomi taught English and then art before opening a mental health clinic in nearby Hatzor Haglilit.
Shuli finished the army, married the officer who commanded her unit and went on to university, while Judy moved to Kibbutz Gezer, where she and her husband have raised three children. The Katzes were ready to move on, and though the Cahans were living in Netanya, they felt pulled to Jerusalem and found an apartment in the Ramot Eshkol neighborhood.
WORKING WITH IMMIGRANTS
Stan worked at Save the Children's Jerusalem office and Naomi had no trouble finding a job as a school psychologist.
"The 1980s was a time when many Russian and Ethiopian immigrants were coming and many children needed diagnosis and placement," she explained.
At one point Katz worked with a young Ethiopian man who appeared to be mute and retarded. Through techniques of non-verbal communication that she had developed in Hatzor Haglilit, she managed to piece together his tragic story. As he and his family had made their way from Gondar to Sudan to get to Israel, his father and brothers were taken away by the police and never seen again. Bandits killed his mother and raped his sister, and he was left with just his grandfather, who died after they arrived in Israel. A relative told Katz that the young man had been kidnapped at age five and was found wandering naked with a high fever a week later.
Katz diagnosed his problem as post-traumatic stress syndrome and recommended rehabilitation and education rather than admission to a home for the mentally disabled.
Katz helped the American Jewish Joint Distribution Committee survey Israel's facilities for immigrant children, and she began traveling to the US, selling artwork by Russian and Ethiopian immigrants to raise money for them and for ASTA, an organization aiding Russian teachers living in Israel.
Encouraged by ASTA founder Rimma Eksler, Katz took groups to St. Petersburg, Russia, for cultural tours guided in English by an unemployed local architect. Between 1992 and 2005, her groups took in the sights and sounds at museums, galleries, concerts, opera and ballet. "I've always just done things by the seat of my pants," says Katz, who knows only a small amount of Russian.
- Veterans: By the seat of her pants, JPost.com, February 2, 2012.

3. Ten minutes versus four years.
Watching the first night of the Republican National Convention had me thinking about Donald Trump's presidency, a four-year journey by a man who New York Times journalist Maggie Haberman says "spent his career as a salesman concerned about surviving the next ten-minute increment of time in front of him."
Trump's tendency to fly by the seat of his pants has left even loyal Republicans exhausted. And it has created a dense political fog, making it hard for Americans to fully comprehend where we are going as a nation.
But after everything that has happened during Trump's first term, including his administration being unfairly bogged down by a fiercely disloyal opposition, I have been heartened to see Trump and the party focus sharply on the main reason to give the president another four years: that Joe Biden will raise taxes, stand aside for the rioters and open a Pandora's box of bad, liberal policy.
I know that may not be a popular view with a lot of Californians, and sure, some of the convention's speakers have been weird. Kimberly Guilfoyle — yikes. But most made points that no doubt elicited head nods across Middle America. The convention is turning into the opening salvo of a campaign that, in addition to defining Biden, needs to show people where Trump wants to take us.
Four years ago, pundits on the West and East coasts failed to understand how people in the heartland saw things. They are in danger of doing that again. Increasingly, I am convinced what voters want is simple: Make America Normal Again.
- Op-Ed: Here's why, as a Republican, I'm heartened by the convention so far, by Scott Jennings, Yahoo.com, August 26, 2020.
本文仅代表作者本人观点,与本网立场无关。欢迎大家讨论学术问题,尊重他人,禁止人身攻击和发布一切违反国家现行法律法规的内容。
About the author: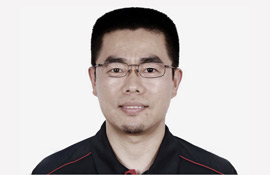 Zhang Xin is Trainer at chinadaily.com.cn. He has been with China Daily since 1988, when he graduated from Beijing Foreign Studies University. Write him at: zhangxin@chinadaily.com.cn, or raise a question for potential use in a future column.
(作者:张欣 编辑:丹妮)
中国日报网英语点津版权说明:凡注明来源为"中国日报网英语点津:XXX(署名)"的原创作品,除与中国日报网签署英语点津内容授权协议的网站外,其他任何网站或单位未经允许不得非法盗链、转载和使用,违者必究。如需使用,请与010-84883561联系;凡本网注明"来源:XXX(非英语点津)"的作品,均转载自其它媒体,目的在于传播更多信息,其他媒体如需转载,请与稿件来源方联系,如产生任何问题与本网无关;本网所发布的歌曲、电影片段,版权归原作者所有,仅供学习与研究,如果侵权,请提供版权证明,以便尽快删除。