Moving the needle? 加快进程
中国日报网 2020-09-15 11:15
分享到微信 Reader question:
Please explain "move the needle", as in this sentence: I'm not sure if we've done enough to move the needle.

My comments:
Here, the speaker wonders whether they've made any progress, any noticeable progress, that is, any considerable progress, progress that's enough to make a difference.
Apparently, they've been making small progresses but the speaker isn't sure whether what they've done is sufficient.
In other words, there's probably more work to be done.
That's what the speaker means by "move the needle". Question is, of course, what needle?
The needle in this phrase refers to the needle-like hand of a measurement device such as the speedometer in a car or truck. The needle of the speedometer indicates the current speed of the vehicle. If you accelerate the motor, the car goes faster and the needle moves forward accordingly. If the car slows down, the needle moves in the opposite direction.
If the car goes at the same speed or if the change of speed is small and negligible, the needle will appear stationary, still, not moving.
Hence and therefore, figuratively speaking, people use "moving the needle" to indicate significant progress or any noticeable difference.
In our example, even though they've doing something, the speaker wonders whether it's enough, whether it's enough to make a big difference.
All right, to drive the point home, here are media examples of "move the needle" or "move the needle forward":

1. Dogged perseverance is often considered the hallmark of any entrepreneur. But pursuing new projects come at a considerable long-term financial, emotional and physical cost. Here are a few questions to ask yourself to help evaluate whether your brilliant idea is still worth chasing, or if you're just chasing your tail.
Have I moved the needle forward?
Perhaps your venture had traction, but that stalled out long ago. Now is the time to ask yourself if you have made real progress, says Sharlyn Lauby, human resources consultant and founder of HR Bartender. If you've never created benchmarks for your business's development, try to do so retroactively. Progress is not only measured in profitability. Think about the proposals you've put together and the clients you've secured. The network you've built and the repeat customers you've developed are among the tangible signs your business is growing, despite your doubts.
Is it within my power to achieve my business goals?
Envision the benchmarks you'd aspire to if you continued. Could you reach them? This is not about the power of positive thinking, says Marcia Reynolds, author of Outsmart Your Brain and training director for the Healthcare Coaching Institute, but about resources, the marketplace and the overall economy. Starting a business can often take years and an idea that was viable and potentially profitable at its start might not be viable a year into development. Recessions, tightened credit and dominating competitors can change your company's prospects. It might be time to pivot.
Am I throwing good money after bad?
Escalation of commitment is very real, says Michael "Dr. Woody" Woodward, professional coach and founder of Human Capital Integrated. You might have believed that since you've put time and money into a project, you should continue until it is successful. Some entrepreneurs borrow extensively, mortgage their homes, and put their personal finances and credit in jeopardy. You should honestly evaluate the additional financial investment your company needs and whether that will further your business or just buy it more time. If you are far from your business goals and money won't fix your problems, you should stop investing money into the project and spend your time troubleshooting instead.
Am I still excited about this idea?
Entrepreneurs need to be energized by their work to sustain themselves in business and other aspects of their life, says Reynolds. When your personal life and your health begins to suffer, you might feel drained or depressed rather than fulfilled. Take stock of whether you have the passion you used to have for this project and what it might take to get excited again. It might take revaluating the problem you're solving and growing your business in a new direction.
- Is it Time to Give Up? How to Know for Sure, Entrepreneur.com, January 8, 2014.

2. It's no surprise that Amazon is one of the most sought after companies millennials want to work for after graduating. But, if you want to nab a job at the online retailer, you should be "relentlessly curious" and care about helping the retail giant's customers.
That's according to Miriam Park, director of Amazon's university recruiting, in an exclusive interview with CNBC Make It.
Amazon is arguably one of the most in-demand companies to work for. In fact, the online retailer ranks as one of the top 10 companies millennials are most excited to work for, according to a recent study by the survey development platform SurveyMonkey.
Jon Cohen, chief research officer at SurveyMonkey, tells CNBC Make It that young professionals are flocking to companies like Amazon because they give them what they want most: career growth, flexibility and a sense of purpose.
For any given job posting at Amazon, there are thousands of applicants vying for the position. "We are delighted by the volume of people that respond," says the head recruiter. With so many applicants looking to get hired, how can millennial job seekers stand out when applying to the company?
First, Park suggests applicants take a hard look at the company's main principle: Focus on the customer. "We would consider ourselves customer-centric," says Park. "We start working backwards from the customer."
Park says that the company culture is laser-focused on this rhetoric: What problem are we trying to solve for our customers? Knowing this, applicants should highlight where they have worked in a customer based role, focus on jobs that deal with the "customer profession" (even something as small as being a sales clerk) and highlight examples where they made things better for the customer by going "above and beyond."
This customer driven ideology has been a longtime mantra of Amazon's CEO Jeff Bezos. "What has worked at Amazon is focusing on the customer...putting the customer first, which is easy to say but difficult to do," Bezos tells CNN in a 2013 interview. "We work on things that we know customers like and that's not going to change."
Park's next piece of advice for young professionals is to be "relentlessly curious." She says the company always asks itself: "Can something be better?"
Curiosity is particularly important, says Park, because although Amazon is viewed as a massive marketplace, it's really just a "series of start-ups." The company continually explores new ideas and welcomes innovation from its employees, she says.
"Amazon is a super fun place because it's so dynamic," says Park. This means the company looks for "deeply curious" workers because "things are always changing and there's always something new to be involved in."
Finally, the company places a high value on employees who can "take ownership of and beyond your role," Park says. Younger applicants who are just joining the workforce should focus on where they've shown a challenge, on their resume and in interviews. "Make it very driven on the impact," says the recruiter.
Applicants should also point out areas in which "they've taken ownership of something that is not in your wheelhouse," she says. Why? Because the company wants people who "rise up to attack a challenge" and who can "show that you're doing something above and beyond your comfort zone."
This is especially important as the company grows and expands into new territories, such as its latest stint in food technology for home delivery.
She leaves prospective applicants with this final piece of advice: Focus on "how you have owned a role and moved the needle forward, demonstrated curiosity and where you have solved a problem."
- Top Amazon recruiter reveals how you can score a job at the retail giant, CNBC.com, August 15, 2017.

3. "I wasn't afraid of fighting," Ilhan Omar writes about her childhood in Somalia in her new memoir. "I felt like I was bigger and stronger than everyone else — even if I knew that wasn't really the case."
In This Is What America Looks Like: My Journey from Refugee to Congresswoman, Omar chronicles her childhood in a middle-class family compound in Mogadishu, followed by civil war, four years in a refugee camp, a journey to the United States and ultimately her election to Congress as a Democrat representing Minnesota's 5th district.
Since being elected as one of the first Muslim women to Congress in 2018, Omar has emerged as a progressive and polarizing figure. She has been the target of racist insults, but also drawn criticism for controversial statements of her own.
"I think often times you have to make a choice: whether you'll be a punching bag or you'll be somebody who's strong and stands up for themselves and for others," Omar tells NPR.
She talked with Weekend Edition about Joe Biden and the presidential race, what she wants in future coronavirus relief measures and an unlikely role model.
On the influence of progressives in the Democratic presidential nomination
We might not have moved the needle on the nomination, but I think we certainly have moved the needle on the national conversation on the particular policies we've advocated for. "Medicare for All" is much more popular than it was before this election cycle, and we're having an honest discussion about canceling student debt. We're talking about economic and social injustices in ways that we haven't before. Taxing the wealthy is not just something that you say and people go, "Oh, my God." It's something that people are now actually debating and thinking about ways to be able to do that.
And to see so many people now running for office with the policy positions that we ran on and continue to advocate for really is a testament on how much we've changed the narrative of what is electable and what is debatable in Congress.
- Ilhan Omar On Her Memoir And Moving The Needle Toward Progressive Policies, NPR.org, May 24, 2020.
本文仅代表作者本人观点,与本网立场无关。欢迎大家讨论学术问题,尊重他人,禁止人身攻击和发布一切违反国家现行法律法规的内容。
About the author: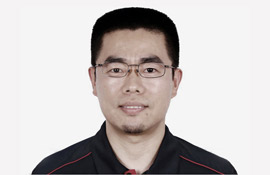 Zhang Xin is Trainer at chinadaily.com.cn. He has been with China Daily since 1988, when he graduated from Beijing Foreign Studies University. Write him at: zhangxin@chinadaily.com.cn, or raise a question for potential use in a future column.
(作者:张欣 编辑:丹妮)
中国日报网英语点津版权说明:凡注明来源为"中国日报网英语点津:XXX(署名)"的原创作品,除与中国日报网签署英语点津内容授权协议的网站外,其他任何网站或单位未经允许不得非法盗链、转载和使用,违者必究。如需使用,请与010-84883561联系;凡本网注明"来源:XXX(非英语点津)"的作品,均转载自其它媒体,目的在于传播更多信息,其他媒体如需转载,请与稿件来源方联系,如产生任何问题与本网无关;本网所发布的歌曲、电影片段,版权归原作者所有,仅供学习与研究,如果侵权,请提供版权证明,以便尽快删除。