Throwing the kitchen sink? 全力以赴
中国日报网 2020-10-27 11:04
分享到微信 Reader question:
Please explain this sentence, particularly "kitchen sink": The Trump Administration is not throwing the kitchen sink at getting the virus under control.

My comments:
In other words, the US Government led by Donald Trump is not doing everything in their power to stop the spread of coronavirus.
"Throwing the kitchen sink" is a metaphor and is not to be taken literally. In fact, throwing the kitchen sink is not actually throwing the kitchen sink, but everything in the kitchen sink. For one thing, the kitchen sink is connected to the whole plumbing system and probably bolted and fixed to the kitchen wall and floor any way. But you can throw everything inside the kitchen sink.
Obviously, that's something an angry housewife or husband, for that matter, would do. Just imagine a couple quarrelling in the kitchen and all of a sudden, the wife throws a piece of plate she's washing at her husband.
Or, vice versa, as present-day husbands are pretty capable of life in the kitchen in general and of dish washing in particular. Anyways, the angry wife or husband throws a plate at their spouse, then another plate, then a bowl, then a pair of chopsticks or in the American original, a knife and a fork.
Until the kitchen sink is empty.
They've thrown everything, everything except the kitchen sink. They would've thrown the kitchen sink itself at their spouse if they could.
As a matter of fact, another version of this saying was exactly "throwing everything but the kitchen sink" at someone.
At any rate, this vivid expression is popular and American in origin. And it means – you should've gotten a good feel of what it means by now – it means that someone is utilizing every tool within reach or doing everything in their power to make a point or achieve something.
In other words, they're giving it their all.
In our example, by not throwing the kitchen sink at coronavirus, the White House is NOT giving their all. For one thing, Trump and his administration are still not encouraging Americans to wear masks even if masks have been proven effective everywhere else in the world.
Without getting further into this, however, let's just be satisfied with the fact that we've learned another good expression, throwing the kitchen sink or everything but the kitchen sink at someone. And that means, again, that you're doing everything you can in order to beat an opponent or to achieve some difficult goal.
In other words, you're not dealing with them half-heartedly, as the Trump Administration has been doing with respect to containing coronavirus.
And here are media examples:

1. Three in a row is virtually impossible. Only Kerry (1978-1981 & 1984-86) in football and Kilkenny (2006-2009) in hurling have achieved this level of perpetual consistency in my lifetime.
In fact, many teams cemented their place in the history books category of 'great teams' by winning consecutive titles.
This was a challenge too great in the last 30 years for the mighty men of Down, Galway, Meath and Tyrone who were all dominant teams of their era, winning multiple All-Ireland crowns but were unable to win back-to-back titles.
The weight of expectation, a burden if they were honest, is so great it has the ability to turn steely muscled legs into trembling straw stalks and it makes intelligent footballers do the most stupid of things in the heat of battle.
Beating the Dubs is wholly improbable. They have become the very definition of Gaelic football. They are the poster boys of our time. They are disciplined, humble and entirely altruistic.
They are to be admired and adorned and the way they conduct themselves sets the benchmark for all amateur sportsmen far beyond the reaches of the GAA.
They are rightly being considered as one of the greatest teams of all time, if not the greatest. When you think of the past greats of our game, that is some accolade indeed.
Therein lies my dilemma – what happens when the virtually impossible outcome faces off against the wholly improbable conclusion?
In any examination, balance is required and Mayo provide this balance. This game is not all about Dublin despite what we media folk think.
Mayo have quality in abundance in areas which will test Dublin. As seasoned campaigners, they have been rigorously tested throughout this campaign, so much so that they have uncovered new players, a serious resolve and an impenetrable resilience. They will go toe-to-toe with Dublin. Any other way is futile.
During the Second World War when materials were needed for the war efforts, some say metal kitchen sinks were removed and converted into artillery and the phrase 'throw the kitchen sink at them' was born. It might be an exaggeration but it is relevant in this case because if Mayo are to win this battle, they need to give it everything. For them, it is their Second World War.
- John McEntee: Mayo must be ready to throw the kitchen sink at Dublin, by John McEntee, IrishNewsl.com, September 14, 2017.

2. American Danielle Collins threw the kitchen sink at former champion Garbine Muguruza to force her way into the fourth round of the French Open with a 7-5 2-6 6-4 victory on Saturday.
Collins, who has very little experience on clay, was 3-0 down in the decider but never backed down as she battled through to set up a meeting with Tunisian Ons Jabeur, the first Arab woman to reach the last 16 at Roland Garros.
"She (Muguruza) was playing some of her best tennis, coming up with incredible shots and there wasn't much I could do so I rolled with the punches and hung in there," said the 26-year-old Collins.
"Honestly I don't have a lot of experience playing on clay - I didn't play on clay courts for a couple of years - so it took a while to get acclimatized."
Muguruza, who lifted the Suzanne Lenglen Cup in 2016, seemed to be in control after losing the opening set, having missed seven of eight break opportunities, but she eventually crumbled under Collins' punches.
- Collins knocks out former champion Muguruza to reach last 16, KFGO.com, October 3, 2020.

3. Democratic presidential nominee Joe Biden warned campaign donors on Thursday that President Donald Trump is "going to throw everything but the kitchen sink at me" during the 19 days remaining before Election Day.
Biden told attendees that he expects additional "lies and distortion" to be directed at him by the Trump campaign.
Biden spoke a day after The New York Post ran a series of articles claiming that he had met with a Ukrainian energy executive at the behest of his son Hunter Biden who was a board member of the executive's company, Burisma. The supposed meeting allegedly came months before then-Vice President Biden pressured Ukraine government officials to fire a prosecutor who purportedly was investigating the company.
The claim that the prosecutor was conducting such a probe at the time has been debunked.
Biden did not mention the Post's report at Thursday's event but did refer to "misinformation" about him.
"I know these are anxious times," Biden told the fundraising attendees.
"I appreciate everything you're doing for the campaign," he said. "We have 19 days left, and you know, he's going to throw everything but the kitchen sink at me."
But, he added, "I think you've put me in a position to be able to respond in real time in a way that we can compete."
Biden and a leading Democratic fundraising site have significantly outraised a Republican site in the recently finished financial quarter, yet another sign of trouble for Trump, who is badly trailing Biden in national polls.
- Biden says Trump is 'going to throw everything but the kitchen sink at me,' after Hunter Biden stories spark Facebook, Twitter backlash, CNBC.com, October 15, 2020.
本文仅代表作者本人观点,与本网立场无关。欢迎大家讨论学术问题,尊重他人,禁止人身攻击和发布一切违反国家现行法律法规的内容。
About the author: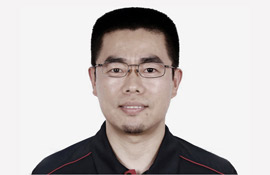 Zhang Xin is Trainer at chinadaily.com.cn. He has been with China Daily since 1988, when he graduated from Beijing Foreign Studies University. Write him at: zhangxin@chinadaily.com.cn, or raise a question for potential use in a future column.
(作者:张欣 编辑:丹妮)
中国日报网英语点津版权说明:凡注明来源为"中国日报网英语点津:XXX(署名)"的原创作品,除与中国日报网签署英语点津内容授权协议的网站外,其他任何网站或单位未经允许不得非法盗链、转载和使用,违者必究。如需使用,请与010-84883561联系;凡本网注明"来源:XXX(非英语点津)"的作品,均转载自其它媒体,目的在于传播更多信息,其他媒体如需转载,请与稿件来源方联系,如产生任何问题与本网无关;本网所发布的歌曲、电影片段,版权归原作者所有,仅供学习与研究,如果侵权,请提供版权证明,以便尽快删除。