Let's call balls and strikes 判断对错
中国日报网 2020-10-30 16:34
分享到微信 Reader question:
Please explain this sentence: Let's call balls and strikes.

My comments:
To paraphrase, let's be clear about what's wrong and what's right.
In other words, let's call a spade a spade. Be straight, be clear and be fair about it. let's make a clear judgment. Don't be ambiguous and pretend that we can't tell wrong from right.
Yeah, "balls and strikes" stand for what's wrong and what's right.
Balls and strikes?
Well, "balls and strikes" originates in the game of baseball, the American pastime. In the game of baseball, a good pitch is called a strike, bad pitches are called balls. And there's an umpire sitting behind the batter solely to determine if a pitch is good (strike) or bad (ball).
Since balls and strikes are basic, as it were, to the game of baseball, the ability of the umpire to be able to call balls and strikes, hence, is the beginning and end of the game.
Therefore, metaphorically speaking, "balls and strikes" represent, fundamentally, what is wrong, what is right.
All right?
All right, here are media examples of the American idiom "call balls and strikes":

1. Chief Justice John Roberts became the youngest person to lead the Supreme Court in more than 200 years when he became Supreme Court Chief Justice at the young age of 50. Now he's presiding over President Donald Trump's impeachment trial. Is Roberts a Democrat or a Republican? Here's a look at his political beliefs.
Chief Justice John Roberts was appointed to the Supreme Court by President George W. Bush after Chief Justice William H. Rehnquist died. He is often described as being politically conservative. His conservative ideas developed while serving during the Reagan years, The Atlantic reported. But he's never identified fully with the Federalist Society like Clarence Thomas, Samuel Alito, or others.
Personally, he seems to lean Republican, The New York Times reported in 2005. According to the New York Times, Roberts advised Gov. Jeb Bush during the controversial presidential vote recount in 2000 that took place in his state. Jeb ultimately recused himself, since the recount involved his own brother. Roberts has also contributed a bit to Republicans over the years. However, reports indicate that more of his money was donated to his law firm's PAC that supported both Democrats and Republicans.
Roberts was raised in the Catholic faith and is still Catholic. At 13, he asked an elite Catholic Boarding School to admit him, saying, "I've always wanted to stay ahead of the crowd. … I want to get the best job by getting the best education," The Atlantic reported.
Today, Roberts attends church with his family and they go to soccer games together, The Huffington Post reported in 2012. Friends told The New York Times that he would not let his faith affect his approach to the law.
He feels that the Court should not be used as a political tool. He once said that a judge should be like a baseball umpire calling "balls and strikes," not deciding who wins, The Atlantic reported.
- Chief Justice John Roberts' Politics: Is He Democrat or Republican? Heavy.com, January 29, 2020.

2. Fox News has announced it will host a live town hall with President Donald Trump—his first such televised town hall of Mr. Trump's 2020 re-election campaign.
The town hall, to be broadcast live from Scranton, Pennsylvania on Thursday, March 5 at 6:30 p.m. ET. The town hall will be moderated by Bret Baier and Martha MacCallum, two of the network's top journalists, and will focus on the campaign, the president's record, and news of the day.
"We are pleased to host incumbent President Donald Trump for his first town hall of the 2020 election cycle," said Fox News Media president and executive editor Jay Wallace in a statement released by the network. "As Americans continue deliberating their choice for president, Fox News Channel is proud to provide a platform for candidates across the political spectrum to inform the public on their stances."
The town hall will give Baier and MacCallum a chance to demonstrate the independence of the network's news division, often overshadowed by the opinion hosts in prime time whose shows lead many to see Fox as a conservative arm of the White House rather than a source of news and information.
Last October, in an interview with CBS This Morning, Baier described being "on the back end" of a few critical tweets from Trump, and how the president's displeasure with news coverage—separate from his favorite prime time hosts like Sean Hannity, Tucker Carlson and Laura Ingraham—have often made it hard to land an interview with the president. "Listen, we're just trying to call balls and strikes," Baier said at the time. "And if we can do that every day, be fair to him, but also cover the news fairly to all sides, that's what I'm trying to do."
- Fox News To Host President Trump For 2020 Election Town Hall, Forbes.com, February 28, 2020.

3. Fox News anchor Chris Wallace said many reporters are becoming "anti-Trump advocates" instead of calling "balls and strikes" as they cover President Donald Trump's administration.
Speaking to "MediaBuzz" anchor Howard Kurtz on Sunday, Wallace agreed with his colleague's assessment that "many journalists" long ago "decided they would toss out the old rule book of standards and fairness because they deemed Donald Trump to be such a threat to the country."
"I think it's even worse than that," Wallace responded, noting that he finds it "fairly depressing" when he is "complimented for being fair."
"It used to be that fairness was what kept you from getting fired," he said. "That was the minimum requirement for a reporter is that you're fair."
"Today, I think that it's gotten so polarized whether it's on cable news, whether it's in newspapers, that fairness is kind of unusual and that is a terribly sad reflection on our business," said Wallace.
While the Fox News anchor disagreed strongly with Trump's characterization of the media as "the enemy of the American people," he also noted that "some reporters" have not "become advocates."
"Some of the press briefings … it's more playing gotcha or just trying to get in arguments and advance their point of view," said Wallace. "I think too many reporters have fallen into the role of being advocates and, frankly, with this president, anti-Trump advocates, and we've got to be neutral. We've got to play it straight and call balls and strikes whether it's something the president does that's good or of bad, whether it's something that Joe Biden does that's good or bad. I don't think we can be taking a side in this argument."
- Chris Wallace: Many Reporters Becoming 'Anti-Trump Advocates' Instead Of Calling 'Balls And Strikes', DailyCaller.com, June 14, 2020.
本文仅代表作者本人观点,与本网立场无关。欢迎大家讨论学术问题,尊重他人,禁止人身攻击和发布一切违反国家现行法律法规的内容。
About the author: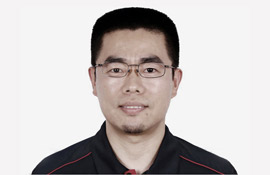 Zhang Xin is Trainer at chinadaily.com.cn. He has been with China Daily since 1988, when he graduated from Beijing Foreign Studies University. Write him at: zhangxin@chinadaily.com.cn, or raise a question for potential use in a future column.
(作者:张欣 编辑:丹妮)
中国日报网英语点津版权说明:凡注明来源为"中国日报网英语点津:XXX(署名)"的原创作品,除与中国日报网签署英语点津内容授权协议的网站外,其他任何网站或单位未经允许不得非法盗链、转载和使用,违者必究。如需使用,请与010-84883561联系;凡本网注明"来源:XXX(非英语点津)"的作品,均转载自其它媒体,目的在于传播更多信息,其他媒体如需转载,请与稿件来源方联系,如产生任何问题与本网无关;本网所发布的歌曲、电影片段,版权归原作者所有,仅供学习与研究,如果侵权,请提供版权证明,以便尽快删除。