A tossup? 悬而未决
中国日报网 2020-11-10 10:26
分享到微信 Reader question:
The current American election is also described as "a tossup", what does this mean?

My comments:
This means the race between President Donald Trump and Democratic Candidate Joe Biden is close.
Used to be, that is. Now, it's over. Joe Biden won.
Well, Trump has not conceded defeat. He's vowed to challenge the vote counts, as a sore loser like him would do. So to him and his ardent supporters, the race for the next presidency may still be considered a tossup, or toss-up.
In other words, it's still too close to call. It may go either way, either Trump's way or Biden's way, i.e. both Trump and Biden can win.
Anyways, that's what a tossup means.
A tossup, you see, refers to tossing up a coin in the air to see whether it will land on its front (called head), or the other way around, on its backside (called tail).
In other words, head or tail.
At the beginning of a soccer match on TV, for example, the referee is seen to gather the captains of the two playing teams near the center line. The referee produces a piece of coin from his pocket and asks the two captains to decide which team gets to take the first kick.
Team A captain tells the referee he wants head to, as it were, kick start the game whereas Team B will get the chance to take the first kick if the coin lands on its tail.
Then the referee tosses the coin up and everybody watches it flipping in the air before landing in the referee's palm. The ref opens his palm and shows, say, head. Team A gets the first kick.
So, let's play.
Obviously, before and during the tossup, before the coin lands, nobody knows how the coin will behave, whether landing on its head or its tail.
Hence the metaphorical meaning of a tossup – if a contest is described as a tossup, it means it's impossible to tell who's going to win. The contest can go either way.
In other words, the answer is not definite. It's anybody's guess. It's, like the coin being tossed up, up in the air.
All right, here are media examples of a tossup, meaning a close contest that may go either way:
1. President Donald Trump was back on the campaign trail after battling coronavirus. His first stop: battleground Florida.
"I'll kiss everyone in that audience. I'll kiss the guys and the beautiful women. Everyone. I'll just give you a big fat kiss," President Trump told the crowd Monday.
Just before the rally, the White House said the president has tested negative for the virus.
Despite CDC guidelines, supporters were not distant. Many were not wearing face coverings in Sanford, near Orlando.
...
CBS News' Battleground Tracker shows Democratic nominee Joe Biden clinching the 270 electoral votes needed and Florida is still a tossup.
The Associated Press reports the president's advisors have admitted privately there's little hope to winning without Florida.
- 'I'll Kiss Everyone In That Audience': President Trump Holds Florida Rally After Testing Negative For COVID, CBSLocal.com, October 12, 2020.
2. It's coming down to the upper Midwest — again.
Despite large leads in national polling before Election Day, Democratic nominee Joe Biden is still in a tight race with President Donald Trump on Wednesday morning, with a murky picture of who is winning and when Americans will know.
National polling averages all the way up to Tuesday morning, however, painted a clear picture: Biden was ahead — and ahead with a larger lead than what 2016 Democratic nominee Hillary Clinton had before Election Day.
So the polls are wrong, right? It's not that simple.
...
There were 35 Senate seats in the election but only about 14 were truly in play. The Cook Political Report rated 12 Republican-held seats as competitive, while just two Democratic-held seats were in that category.
Democrats won two seats held by Republicans: in Colorado and in Arizona. But Republicans held off liberal challengers in Iowa, Montana and South Carolina. And they flipped a Democratic seat in Alabama.
In Iowa, Democrats eyed Republican Sen. Joni Ernst's seat, but the incumbent ultimately held on, projections showed. According to FiveThirtyEight's forecast, the race was a toss-up, and RealClearPolitics' polling average gave her around a 1.5-point lead. An Emerson College poll Sunday had Democratic challenger Theresa Greenfield up 3 points while a Selzer & Co. poll Saturday pegged Ernst as a 4-point favorite.
- Polls showed Biden had a substantial lead. Why didn't Americans wake up to a winner? USAToday.com, November 4, 2020.
3. Investors woke up Wednesday with the country in purgatory. The next occupant of the White House was unknown, control of the Senate was a toss-up, and key policies around health care, the climate, tech regulation, and economic stimulus were blowing in the wind.
So, naturally, gold fell and stocks surged, led mainly by the technology sector.
Facebook (ticker: FB) ended the day up 8%; Amazon.com (AMZN) gained more than 6%. The tech-heavy Nasdaq Composite finished up 3.9%.
There was a bit more election clarity by the end of the week, but the market's initial response was a telling sign of how investors have rethought their portfolios in recent years: Tech stocks have become the ultimate haven.
Buying the market's hottest sector might feel like the furthest thing from safe. The Nasdaq-100 index, a proxy for large tech, trades at 29 times earnings estimates for 2021, versus 21 for the S&P 500. But valuation means less when interest rates are low and investors are otherwise starved for growth. The Nasdaq-100 is forecast to grow earnings 16% next year, while the S&P 500 will struggle to regain its 2019 peak.
- Gold? No Thanks. Investors' New Favorite Safe Haven Is Tech Stocks, Barrons.com, November 6, 2020.
本文仅代表作者本人观点,与本网立场无关。欢迎大家讨论学术问题,尊重他人,禁止人身攻击和发布一切违反国家现行法律法规的内容。
About the author: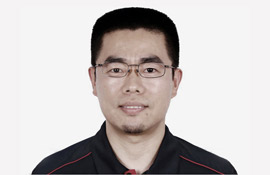 Zhang Xin is Trainer at chinadaily.com.cn. He has been with China Daily since 1988, when he graduated from Beijing Foreign Studies University. Write him at: zhangxin@chinadaily.com.cn, or raise a question for potential use in a future column.
(作者:张欣 编辑:丹妮)
中国日报网英语点津版权说明:凡注明来源为"中国日报网英语点津:XXX(署名)"的原创作品,除与中国日报网签署英语点津内容授权协议的网站外,其他任何网站或单位未经允许不得非法盗链、转载和使用,违者必究。如需使用,请与010-84883561联系;凡本网注明"来源:XXX(非英语点津)"的作品,均转载自其它媒体,目的在于传播更多信息,其他媒体如需转载,请与稿件来源方联系,如产生任何问题与本网无关;本网所发布的歌曲、电影片段,版权归原作者所有,仅供学习与研究,如果侵权,请提供版权证明,以便尽快删除。