习近平在上合组织成员国元首理事会第20次会议上的讲话(双语全文)
新华网 2020-11-11 09:05
分享到微信 国家主席习近平11月10日晚在北京以视频方式出席上海合作组织成员国元首理事会第二十次会议并发表题为《弘扬"上海精神" 深化团结协作 构建更加紧密的命运共同体》的重要讲话。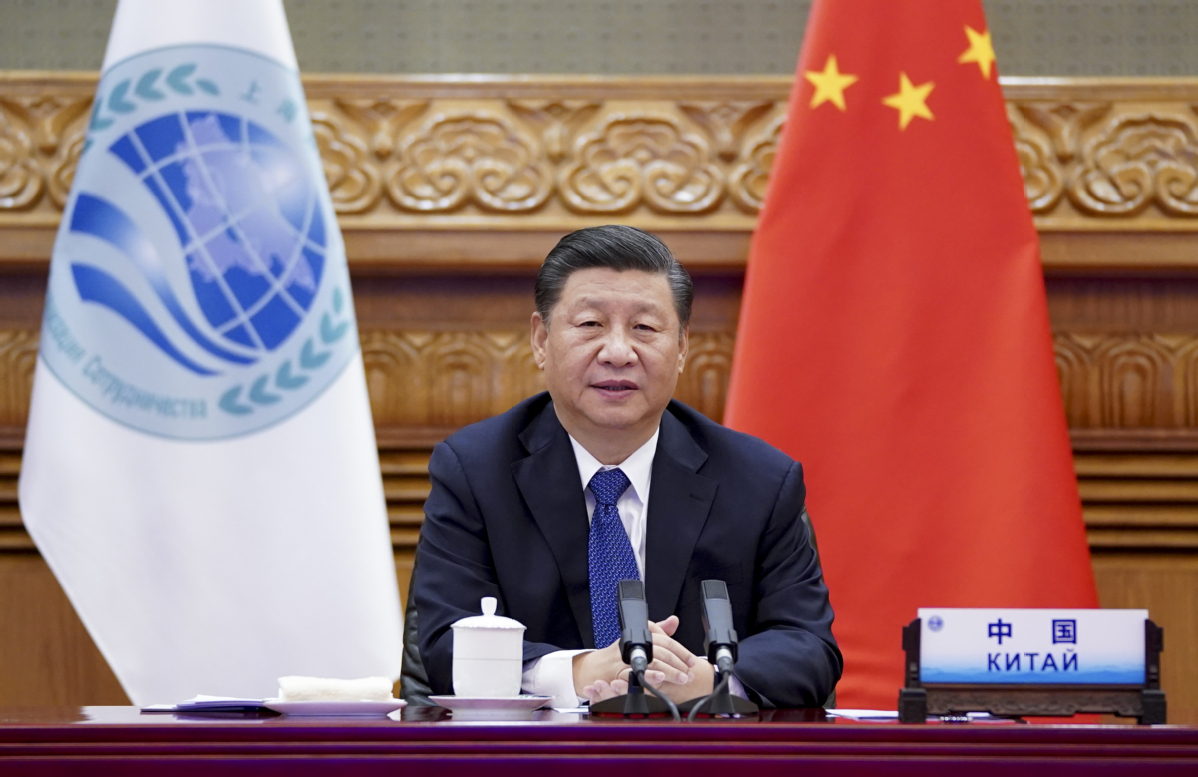 以下为讲话双语全文:

弘扬"上海精神" 深化团结协作
构建更加紧密的命运共同体
Carrying Forward the Shanghai Spirit and Deepening Solidarity and Collaboration
for a Stronger Community with a Shared Future
——在上海合作组织成员国元首理事会第二十次会议上的讲话
(2020年11月10日,北京)
中华人民共和国主席 习近平
Remarks by H.E. Xi Jinping
President of the People's Republic of China
At the 20th Meeting of the Council of Heads of State of
The Shanghai Cooperation Organization
Beijing, 10 November 2020
尊敬的普京总统,
尊敬的各位同事:
Your Excellency President Vladimir Putin,
Dear Colleagues,
感谢普京总统和俄方作为轮值主席国为本次会议所做的精心准备。俄方认真履行主席国职责,克服新冠肺炎疫情影响,推动上海合作组织保持良好发展势头。中方对此高度评价。
Let me begin by thanking President Putin and Russia for the thoughtful organization of this meeting. During its presidency of the Shanghai Cooperation Organization (SCO), Russia has earnestly performed its duties and advanced the SCO's sound development despite the impact of COVID-19. China highly commends Russia for its contribution.
上海合作组织成立以来,走过了不平凡的发展历程,经历了时间检验,成为欧亚地区和国际事务中重要的建设性力量。成员国遵循"上海精神",加强政治、经济、安全、人文等领域合作,树立了相互尊重、公平正义、合作共赢的新型国际关系典范。新冠肺炎疫情发生后,各方同舟共济、守望相助,为本组织稳定发展和国际抗疫合作注入了正能量。
Since its founding, the SCO has traveled an extraordinary journey. It has stood the test of time and become a major constructive force in the Eurasian region and global affairs. Committed to the Shanghai Spirit, SCO members have enhanced cooperation in the political, economic, security, people-to-people and cultural fields, setting an example for a new type of international relations that features mutual respect, equity, justice and win-win cooperation. In the face of COVID-19, we have backed each other up to tide over the difficulties together. Such solidarity has injected positive energy into both the SCO's steady development and international cooperation against the coronavirus.
各位同事!
Colleagues,
新冠肺炎疫情加速了国际格局调整,世界进入动荡变革期。国际社会正在经历多边和单边、开放和封闭、合作和对抗的重大考验。"世界怎么了,我们怎么办"成为时代之问。
The COVID-19 pandemic has accelerated shifts in the international landscape. The world is entering a period of turbulence and transformation. The international community now faces a major test with choices to be made between multilateralism and unilateralism, openness and seclusion, cooperation and confrontation. "What is going on with the world?" "What shall we do about it?" — These are the questions awaiting answers from the people of our time.
"察势者明,趋势者智。"人类生活在同一个地球村,各国利益休戚与共、命运紧密相连。各国人民对美好生活的向往更加强烈,和平、发展、合作、共赢的时代潮流不可阻挡。历史已经并将继续证明,睦邻友好必将超越以邻为壑,互利合作必将取代零和博弈,多边主义必将战胜单边主义。
Ancient Chinese teachings tell us that "men of insight see the trend, while men of wisdom ride it". Humanity lives in a global village where the interests and destinies of all countries are intertwined. People across the world increasingly yearn for a better life. The trend toward peace, development, cooperation and mutual benefit is unstoppable. History has proven and will continue to prove that good-neighborliness will prevail over a beggar-thy-neighbor approach, mutually beneficial cooperation will replace zero-sum game, and multilateralism will win over unilateralism.
当前形势下,上海合作组织要弘扬"上海精神",深化团结协作,为地区国家稳定和发展作出更大贡献,为推动构建人类命运共同体作出更多实践探索。
In the current circumstances, the SCO is required to carry forward the Shanghai Spirit and deepen solidarity and collaboration. Together, we will contribute more to the stability and development of countries in the region and take more steps toward building a community with a shared future for mankind.
第一,加强抗疫合作,构建卫生健康共同体。新冠肺炎疫情仍在持续蔓延。病毒不分国界,团结合作是抗击疫情最有力的武器,全力挽救生命是当务之急。
First, we need to step up anti-epidemic cooperation and build a community of health for us all. Right now, COVID-19 is still presenting an ongoing threat. To fight the virus that respects no borders, we must take up the most powerful weapon of solidarity and cooperation, and rise up to the most imperative task of saving people's lives.
我们要加强各国联防联控,支持彼此抗疫努力,维护地区和全球公共卫生安全。要支持世界卫生组织发挥关键领导作用,反对将疫情政治化、病毒标签化,共同抵制"政治病毒"。要用好本组织卫生领域合作机制,深化疫情监测、科研攻关、疾病防治等领域交流合作。中方倡议成员国疾控中心设立热线联系,及时通报跨境传染病信息。传统医学在抗击疫情中显示出独特价值和重要作用。我们要继续办好本组织传统医学论坛,深化交流互鉴。疫苗对人类战胜疫情至关重要。中方已经加入"全球新冠肺炎疫苗实施计划",愿积极考虑本组织国家疫苗需求,支持各国保护人民生命安全和身体健康。
We need to strengthen our joint response to COVID-19, support each other's containment efforts, and uphold regional and global public health security. We need to support the World Health Organization's crucial leadership role, oppose attempts to politicize the pandemic or mislabel the coronavirus, and jointly resist any "political virus". We need to put the SCO's health cooperation mechanisms into full use, and deepen exchanges and cooperation in epidemic monitoring, scientific research, and disease control and treatment. China proposes that hotline contacts be created between SCO members' centers for disease control (CDCs) for timely updates on cross-border transmission of communicable diseases. The unique value and important role of traditional medicine has been highlighted in the battle against COVID-19, and we need to continue to hold the SCO Forum on Traditional Medicine to deepen exchanges and mutual learning in this field. Vaccines play a vital role in defeating the virus. China has joined the COVAX facility, and will actively consider SCO countries' need for vaccines to help protect people's safety and health in our countries.
第二,维护安全和稳定,构建安全共同体。安全和稳定是国家发展的首要前提,关乎各国核心利益。我们要遵循共同、综合、合作、可持续的安全观,有效应对各类威胁和挑战,营造良好地区安全环境。
Second, we need to safeguard security and stability and build a community of security for us all. Security and stability are the number one precondition for a country's development, and thus concern the core interests of all countries. We need to act on the vision of common, comprehensive, cooperative and sustainable security, address all forms of threats and challenges effectively, and foster a sound security environment in our region.
我们要坚定支持有关国家依法平稳推进重大国内政治议程,坚定支持各国维护政治安全和社会稳定,坚决反对外部势力以任何借口干涉成员国内政。要深化团结互信,坚持通过对话和协商化解矛盾和分歧,巩固本组织发展政治基础。要严防"三股势力"借疫生乱,遏制毒品泛滥趋势,打击极端主义思想通过互联网传播,提升成员国执法安全合作水平。要重视维护生物安全、数据安全、外空安全,积极开展沟通和对话。中方发起"全球数据安全倡议",旨在共同构建和平、安全、开放、合作、有序的网络空间,欢迎各方参与。阿富汗局势事关地区安全和稳定,要用好"上海合作组织-阿富汗联络组"平台,帮助阿富汗实现和平重建。
We need to firmly support countries concerned in their law-based efforts to steadily advance major domestic political agenda, firmly support countries in safeguarding political security and social stability, and firmly oppose interference by external forces in the domestic affairs of SCO members under whatever pretexts. We need to deepen solidarity and mutual trust, and resolve disputes and differences through dialogue and consultation, in order to cement the political foundation for SCO development. It is important that we forestall terrorist, separatist and extremist attempts to exploit the pandemic for disruption, curb the proliferation of drugs, crack down on Internet-based propagation of extremist ideology, and deepen SCO members' law-enforcement cooperation. It is important that we uphold bio-security, data security and outer-space security, and engage in active communication and dialogue in this field. China has launched the Global Initiative on Data Security, which aims to galvanize efforts to shape a peaceful, secure, open, cooperative and orderly cyberspace. We welcome the participation of all parties in this Initiative. The situation in Afghanistan involves the security and stability in the wider region. We need to make good use of the SCO-Afghanistan Contact Group to help the country realize peace and reconstruction.
第三,深化务实合作,构建发展共同体。大家一起发展才是真发展,可持续发展才是好发展。我们要秉持创新、协调、绿色、开放、共享的发展理念,拓展务实合作空间,助力经济复苏、民生改善。
Third, we need to deepen practical cooperation and build a community of development for us all. True development is development for all and good development is sustainable. We need to be guided by the vision of innovative, coordinated, green, open and shared development and open up more opportunities for practical cooperation to facilitate economic recovery and betterment of people's lives.
我们要继续推动共建"一带一路"倡议同各国发展战略及欧亚经济联盟等区域合作倡议深入对接,加强互联互通,促进产业链、供应链、价值链深度融合,畅通区域经济循环。要通过人员往来"快捷通道"和货物运输"绿色通道",加快实现复工复产。要为各国企业营造开放、公平、非歧视的营商环境,扩大相互投资规模。要抓住新一轮科技革命和产业变革机遇,加强数字经济、电子商务、人工智能、智慧城市等领域合作。中方将于明年在重庆举行中国-上海合作组织数字经济产业论坛,为各方开展创新合作搭建平台。要坚持以人为本,共同实施更多民生工程。中方支持设立本组织减贫联合工作组,愿同各方分享减贫成功经验。
We need to forge greater synergy of the Belt and Road Initiative with national development strategies as well as region-wide cooperation initiatives such as the Eurasian Economic Union. We need to enhance connectivity and further integrate our industrial, supply and value chains for unimpeded economic circulation in the region. We need to facilitate reopening of economic activities through the "fast track" that steps up mobility of people and the "green lane" that quickens the flow of goods. We need to foster an open, fair and nondiscriminatory business environment for each other's companies, and expand mutual investment among us. We need to seize opportunities from the new round of technological revolution and industrial transformation to step up cooperation in digital economy, e-commerce, artificial intelligence and smart cities. Next year, China will host a China-SCO forum on the digital economy industry in Chongqing, which will provide a platform for innovation cooperation among parties. We need to put the people first, and implement more joint projects that deliver real benefits to them. China supports setting up an SCO joint working group on poverty reduction and stands ready to share our good experience with other parties.
第四,促进民心相通,构建人文共同体。文明没有优劣之分,只有特色之别。我们要促进文明互学互鉴,增进各国睦邻友好,夯实上海合作组织长远发展民意基础。
Fourth, we need to nourish people-to-people amity and build a community of cultural exchanges for us all. Each civilization is distinct and none is superior to others. We need to promote mutual learning between our civilizations and enhance good-neighborliness and friendship between our countries. This allows us to enhance public support for the SCO's long-term development.
我们要积极利用各种媒介,广泛宣传本组织发展成就,使本组织合作理念更加深入人心。要支持本组织教育、文化、旅游、体育、媒体、妇女等领域交流合作,形成全方位、深层次、多渠道合作架构。中方将于明年举办上海合作组织民间友好论坛,继续办好上海合作组织青年交流营活动,在未来3年为各方提供600名青年交流名额,培养相知相亲的青年一代。
We may use various forms of communication to make the SCO's achievements more widely known and win stronger public support for the SCO vision of cooperation. We may support the Organization's exchanges and cooperation in education, culture, sports, media and women's welfare, and institute an all-round, multi-channel structure of deeper cooperation. China will host an SCO non-governmental friendship forum next year, and will continue to hold SCO Youth Campus events, to which 600 young people will be invited in the coming three years, to deepen mutual understanding among the younger generation and bring them closer together.
我们要统筹推进常态化疫情防控和本组织各领域合作,创新工作方法,采用灵活方式开展合作,保持相关机制有效运转。秘书处和地区反恐怖机构要发挥好协调作用,成员国也要加大力度支持常设机构工作。
We may better coordinate the SCO's cooperation agenda with the necessity for a long-term fight against COVID-19. We may employ new working methods and flexible cooperation forms and keep the relevant mechanisms running effectively. The SCO Secretariat and the Regional Anti-Terrorist Structure need to play their coordinating role, and SCO members need to give stronger support to the work of the Permanent Bodies.
各位同事!
Colleagues,
75年前,我们的先辈赢得了世界反法西斯战争的胜利,建立了联合国,谱写了人类历史新篇章。我们要以史为鉴,以实际行动践行多边主义、完善全球治理、维护国际秩序。要秉持共商共建共享原则,倡导全球事务由各国一起商量着办,治理体系由大家携手建设,发展成果由各国人民共同分享。
Seventy-five years ago, our forefathers won the world anti-fascist war and founded the United Nations (UN), thus writing a new chapter in human history. Drawing lessons from the past, we need to act to champion multilateralism, improve global governance and uphold the international order. We need to follow the principle of extensive consultation, joint contribution and shared benefits, and build a world where global affairs are discussed by all, the governance system built by all, and development fruits shared by all.
上海合作组织要拓展伙伴关系网络,同观察员国、对话伙伴以及联合国等国际组织广泛开展合作,在国际和地区事务中发挥更加积极作用,致力于建设持久和平、普遍安全、共同繁荣、开放包容、清洁美丽的世界。
The SCO needs to expand its network of partnerships and conduct extensive cooperation with observers, dialogue partners, the UN and other international organizations. It should play a more active role in international and regional affairs, and stay committed to building an open, inclusive, clean and beautiful world that enjoys lasting peace, universal security and common prosperity.
各位同事!
Colleagues,
中国的发展离不开世界,世界的繁荣也需要中国。中国正在加快形成以国内大循环为主体、国内国际双循环相互促进的新发展格局,建设更高水平开放型经济新体制。中国将坚定不移奉行互利共赢的开放战略,从世界汲取发展动力,也让中国发展更好惠及世界。欢迎各方把握中国发展新机遇,积极深化对华合作。
China cannot be separated from the world in achieving development, and the world also needs China for prosperity. Now, China is speeding up efforts to foster a new development paradigm with domestic circulation as the mainstay and domestic and international circulations reinforcing each other. New mechanisms are being put in place to build an open economy of a higher standard. China will remain committed to a win-win strategy of opening-up. It will seek development impetus from the world and contribute more to the world with its own development. We welcome all parties to capitalize on China's development opportunity and make active endeavors to deepen cooperation with China.
中方祝贺拉赫蒙总统接任元首理事会主席,将积极支持塔方主席国工作。明年本组织将迎来成立20周年华诞。让我们高举"上海精神"旗帜,精诚合作、砥砺前行,推动本组织得到更大发展,构建更加紧密的命运共同体!
China congratulates President Emomali Rahmon on taking over the chairmanship of the SCO Council of Heads of State, and will give full support to Tajikistan during its presidency. Next year, we will celebrate the 20th anniversary of the SCO. Let us hold high the banner of the Shanghai Spirit, forge ahead with strong cooperation, strive for the better development of our Organization, and build an even closer community with a shared future for us all.
谢谢大家。
Thank you.
中国日报网英语点津版权说明:凡注明来源为"中国日报网英语点津:XXX(署名)"的原创作品,除与中国日报网签署英语点津内容授权协议的网站外,其他任何网站或单位未经允许不得非法盗链、转载和使用,违者必究。如需使用,请与010-84883561联系;凡本网注明"来源:XXX(非英语点津)"的作品,均转载自其它媒体,目的在于传播更多信息,其他媒体如需转载,请与稿件来源方联系,如产生任何问题与本网无关;本网所发布的歌曲、电影片段,版权归原作者所有,仅供学习与研究,如果侵权,请提供版权证明,以便尽快删除。