李克强在第23次中国-东盟领导人会议上的讲话(双语全文)
中国政府网 2020-11-13 09:24
分享到微信 国务院总理李克强11月12日下午在人民大会堂出席第23次中国-东盟(10+1)领导人会议并发表讲话。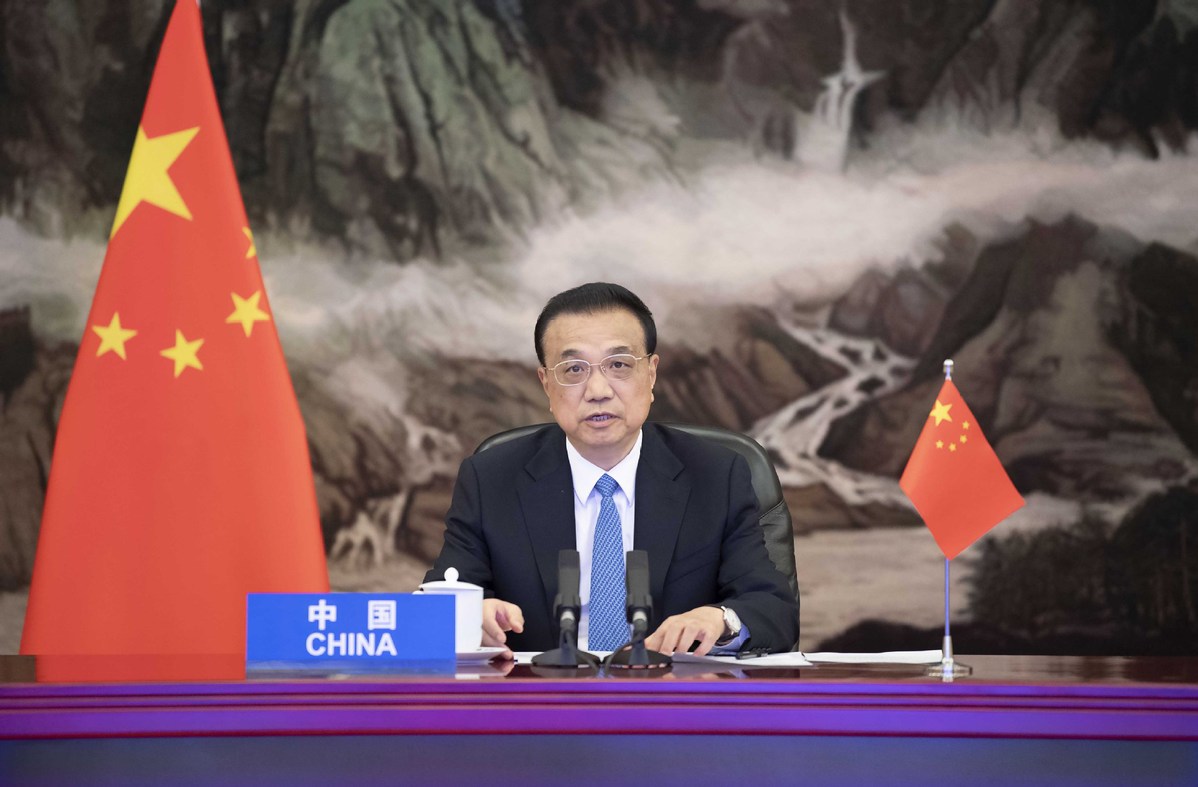 以下为讲话双语全文:
在第23次中国-东盟领导人会议上的讲话
(2020年11月12日,北京)
中华人民共和国国务院总理 李克强
Speech by H.E. Li Keqiang
Premier of the State Council of the People's Republic of China
At the 23rd China-ASEAN Summit
November 12, 2020
尊敬的阮春福总理,
各位同事:
Prime Minister Nguyen Xuan Phuc,
Colleagues,

很高兴再次同大家见面。感谢越南政府和阮春福总理为筹备会议所做的大量工作。我期待今天同各位同事就深化中国-东盟合作深入交换意见,共谋未来发展大计。
It is a great pleasure to meet you all again. I would like to thank the Vietnamese government and Prime Minister Nguyen Xuan Phuc for your hard work in putting this meeting together. I look forward to our in-depth discussion on China-ASEAN cooperation and common development into the future.

今年是一个特殊年份,新冠肺炎疫情给世界各国发展和交往带来严重影响。无论是抗击疫情,还是恢复经济,都要走开放合作之路。习近平主席在第三届中国国际进口博览会开幕式主旨演讲中指出,中国愿同各国一道,在开放中创造机遇,在合作中破解难题。
This has been an unusual year for the world as COVID-19 seriously affected the development and external interactions of all countries. Either in combating the coronavirus or recovering the economy, we must stay the course of openness and cooperation. In his keynote speech at the opening ceremony of the third China International Import Expo, President Xi Jinping reaffirmed that China will join hands with all other countries to create opportunities in opening-up and tackle difficult problems through cooperation.

疫情发生后,中国和东盟率先开展区域抗疫合作,我和各位同事多次通过线上方式会晤,围绕应对当前挑战进行了深入沟通探讨。在双方共同努力下,经贸合作克服疫情影响,实现稳定增长。今年前三季度,中国-东盟贸易总额达4818.1亿美元,同比增长5.0%,东盟成为中国第一大贸易伙伴;中国对东盟全行业直接投资达107.2亿美元,同比增长76.6%,充分展现了双方合作的坚实基础和发展潜力。
Since the start of COVID-19, China and ASEAN have taken the lead in conducting regional anti-epidemic cooperation. We have met online several times and discussed in-depth ways for tackling the immediate challenge. Thanks to our joint efforts, we have overcome the impact of the pandemic and resumed the growth of China-ASEAN economic cooperation and trade. In the first three quarters, China-ASEAN trade reached 481.81 billion US dollars, up by five percent year-on-year, making ASEAN China's largest trading partner. China's industry-wide foreign direct investment in ASEAN topped 10.72 billion US dollars, jumping 76.6 percent year-on-year. These figures speak volumes about the strong foundation and potential of our cooperation.

这些成绩的取得,进一步印证了中国-东盟关系历经近30年风雨已臻成熟稳定。在东盟对话伙伴中,中国创造了多项"第一":第一个加入《东南亚友好合作条约》,第一个同东盟建立战略伙伴关系,第一个同东盟商谈建立自贸区,第一个明确支持东盟在东亚区域合作中的中心地位。中国-东盟合作之所以能够保持良好势头,为地区稳定繁荣发挥重要作用,与我们的共同努力密不可分:
Such achievements are a further testament to the growing maturity and stability of China-ASEAN relations after three decades of development. Among ASEAN's dialogue partners, China has been number one on many fronts. China was the first to join the Treaty of Amity and Cooperation in Southeast Asia, the first to forge strategic partnership with ASEAN, the first to start FTA negotiations with ASEAN, and the first to give unequivocal support for ASEAN centrality in East Asian regional cooperation. China and ASEAN working in concert has been a key underlying factor behind the strong momentum of China-ASEAN cooperation and its important role in ensuring regional stability and prosperity.

一是坚持睦邻友好,走团结发展之路。中国和东盟是永世近邻和亲密伙伴,人民友谊深厚。无论是面对两次金融危机,以及非典、海啸等重大自然灾害,还是今年突如其来的疫情冲击,我们都能秉持命运共同体意识,守望相助、共克时艰。
First, we have pursued the path of solidarity and development by upholding good neighborliness and friendship. China and ASEAN are permanent neighbors and close partners, and our people enjoy a deep bond of friendship. In times of adversities, from the two financial crises, to major natural disasters such as tsunamis and SARS and to the sudden onslaught of COVID-19, we have always stood together and looked out for each other in the spirit of a community with a shared future.

二是坚持互利合作,走共同发展之路。中国-东盟合作是互惠互利、开放包容的。我们视彼此发展为重要机遇,坚持融合联动发展,对接发展规划,加强互联互通,倡导多边主义和自由贸易,不断做大共同利益蛋糕,既实现了自身发展,也为地区乃至全球经济稳定发展注入强劲动力。
Second, we have pursued the path of common development by promoting win-win cooperation. China-ASEAN cooperation is open, inclusive and delivers benefits to both sides. Seeing each other's development as crucial opportunities, we have promoted integrated and interconnected development by synergizing development plans and strengthening connectivity, and advocated multilateralism and free trade. These common endeavors have made the pie of shared interests bigger; they have not only facilitated our own development, but also injected a strong impetus into the stable economic development of the region and beyond.

三是坚持对话协商,走和平发展之路。和平稳定是发展繁荣的前提。邻里之间难免会有磕磕碰碰,只要妥善处理就不会干扰发展大局。我们一致主张相互尊重、求同存异,通过友好协商解决分歧和争议,营造了和平稳定的地区环境。
Third, we have pursued the path of peaceful development by adhering to dialogue and consultation. Peace and stability are the preconditions for development and prosperity. It is natural for neighbors to sometimes run into frictions. But, if handled properly, these frictions will not disrupt the course of development. We all believe that countries should respect each other, seek common ground while putting aside differences and settle differences and disputes through friendly consultations. Such shared commitments have fostered a regional environment of peace and stability.

四是坚持以人为本,走协调发展之路。我们始终将中国和东盟11国约20亿人民的根本利益置于首位,在抗疫中关爱生命、关爱民生、雪中送炭、相互帮扶,携手佑护各国人民生命安全和身体健康。我们推动接地气、惠民生的务实合作,切实保障和增进民生福祉。
Fourth, we have pursued the path of coordinated development by putting people first. For us, the fundamental interests of the two billion people of China and ASEAN countries are always the top-order priority. In the face of COVID-19, we have cared deeply about life and livelihood, extended a helping hand to those most in need and made joint efforts to protect the life, security and health of all our peoples. We have also facilitated practical cooperation to safeguard and enhance peoples' well-being in light of their real needs.

各位同事!
Colleagues,

当前,疫情仍在全球肆虐,世界经济复苏艰难曲折,保护主义、单边主义上升,全球治理体系和多边机制遭受冲击,国际地区经济社会发展面临严峻挑战。令人鼓舞的是,东亚地区疫情防控形势总体趋稳向好,各国正在疫情防控常态化背景下有序复工复产,经济社会发展稳定恢复,积极因素不断增多。前不久,中国共产党十九届五中全会审议通过《中共中央关于制定国民经济和社会发展第十四个五年规划和二〇三五年远景目标的建议》,指出中国将贯彻新发展理念,推动高质量发展,加快构建新发展格局。中国将在坚持扩大内需的同时,推进高水平对外开放,这将有利于中国和东盟两大市场更好对接,激发更多内生动力,助力区域经济复苏和可持续发展。东盟作为中国的紧密经贸合作伙伴,将首先受益。
As the pandemic continues to spread across the world, global recovery will be a difficult and tortuous process. Rising protectionism and unilateralism have put the global governance system and multilateral institutions in jeopardy. Economic and social development at the regional and international levels face serious challenges.It is encouraging to see that the pandemic situation has largely stabilized in East Asia and is turning for the better. Countries in our region are reopening economies in an orderly manner with normalized containment measures in place. More and more positive factors indicate a steady return to economic and social progress.Last month, the Communist Party of China (CPC) convened the Fifth Plenum of its 19th Central Committee and adopted the Recommendations of the CPC Central Committee on Formulating the 14th Five-Year Plan for Economic and Social Development and the Long-Range Goals for 2035. The Recommendations proposed that China embrace a new development philosophy for high-quality development and move expeditiously to forge a new development paradigm. As China strives to expand domestic demand, we will pursue opening-up at a higher level. This will enable us to better match the two huge markets of China and ASEAN, bring out greater dynamism from within our economies, and contribute to regional economic recovery and sustainable development. As China's close economic and trading partner, ASEAN will be the first to benefit from this development strategy.

中国始终视东盟为周边外交优先方向,坚定支持东盟共同体建设,坚定支持东盟加强在区域合作中的中心地位,坚定支持东盟在构建开放包容的地区架构中发挥更大作用。中方愿同东盟一道巩固睦邻友好,坚持多边主义和自由贸易,以落实《中国-东盟战略伙伴关系2030年愿景》为主线,以刚制定完成的《落实中国-东盟面向和平与繁荣的战略伙伴关系联合宣言的行动计划(2021-2025)》为重点,推动双方各领域合作取得更多务实成果,努力促进各自发展和地区经济整体复苏,共同维护地区乃至世界的和平稳定。为此,我愿提出几点建议:
China has always regarded ASEAN as a priority in our neighborhood diplomacy. We firmly support ASEAN's community-building, support ASEAN's efforts in strengthening its centrality in regional cooperation, and support ASEAN's greater role in building an open and inclusive regional architecture.We are ready to work with ASEAN to cement good-neighbourliness, uphold multilateralism and free trade, and push for more concrete outcomes in various areas of our cooperation by implementing the Strategic Partnership Vision 2030, and the recently finalized Plan of Action to Implement the Joint Declaration on China-ASEAN Strategic Partnership for Peace and Prosperity (2021-2025). These joint efforts will not only boost development on both sides, but also facilitate economic recovery within the region and safeguard regional and global peace and stability.To achieve this goal, I propose that China and ASEAN work together in the following areas:

一是携手战胜疫情,提升公共卫生合作。全球疫情呈长期化趋势,疫苗研发是彻底战胜疫情的关键。中方正积极同多个东盟国家探讨开展疫苗研发和生产合作,将在新冠疫苗研制完成并投入使用后,积极考虑东盟国家的需求,以实际行动促进疫苗的可及性和可负担性。中方愿继续通过东盟北京委员会等渠道举办"疫苗之友"活动,促进疫苗信息沟通与合作。中方愿同东盟早日启动中国-东盟公共卫生应急联络网络,一道实施好"中国-东盟公共卫生合作倡议",办好第三届中国-东盟卫生合作论坛,开展更多务实合作,包括继续实施健康丝绸之路人才培养计划,举办中国-东盟公共卫生高层行政管理人员培训班等项目,协助东盟国家加强能力建设。中方支持东盟设立抗疫基金和应急医疗物资储备库,愿牵头推动建立10+3应急医疗物资储备中心,对接各方资源,优化地区应急资源分配与使用。我们将继续支持世卫组织发挥作用,加强国际合作和联防联控,推动构建人类卫生健康共同体。
First, we need to defeat COVID-19 together and upgrade public health cooperation. As there appears to be no end in sight to the pandemic, vaccine R&D will be key to a complete victory against the virus. China is reaching out to several ASEAN countries on vaccine R&D and production cooperation, and will actively consider ASEAN countries' needs when our COVID vaccines are developed and deployed. This will be China's concrete action to promote vaccine accessibility and affordability.China is ready to hold more "Friends of Vaccines" activities in collaboration with the ASEAN Committee in Beijing or through other channels to promote information sharing and cooperation. We would like to launch the Liaison Mechanism for Public Health Emergencies with ASEAN at an early date, earnestly implement the China-ASEAN Cooperation Program on Public Health Management, and ensure the success of the third China-ASEAN Health Cooperation Forum. We will carry out more practical cooperation projects with ASEAN, including the China-ASEAN Human Resources Training Program of Health Silk Road, the China-ASEAN Training Program for Public Health Executives and other similar programs to help ASEAN countries build capacity. We support ASEAN in establishing the COVID-19 ASEAN Response Fund and the ASEAN Regional Reserve of Medical Supplies for Public Health Emergencies. China offers to lead efforts in setting up an APT reserve of essential medical supplies to pool resources from different quarters and optimize the distribution and utilization of emergency response supplies in our region. We will continue to support WHO in playing its role, enhance international cooperation and joint pandemic response, and work for a global community of health for all.

二是聚焦经贸合作,促进地区经济复苏。中方积极支持东盟制定和落实全面复苏框架,稳步推动经济重启。中方欢迎各方签署《区域全面经济伙伴关系协定》,这将是地区国家以实际行动维护多边贸易体制、建设开放型世界经济的重要一步,对深化区域经济一体化、稳定全球经济具有标志性意义。中方愿同东盟一道,办好中国-东盟自贸区全面建成10周年纪念活动,发表自贸区10周年实施报告。下一步,要进一步落实好《中国-东盟自贸协定》及升级《议定书》,提升区域贸易和投资自由化便利化水平。中方愿继续扩大进口东盟优质农产品,支持中国企业扩大对东盟投资,欢迎东盟国家积极参与第17届中国-东盟博览会,共享中国市场机遇。中方愿发挥双边"快捷通道"作用,共建区域"快捷通道"网络。双方应继续深化共建"一带一路"倡议同东盟发展规划对接,尽快召开中国-东盟互联互通合作委员会会议,商讨优先合作领域和项目,稳步推进中老铁路、中泰铁路、雅万高铁等大项目。中方已完成中国-东盟投资合作基金二期10亿美元启动规模的募资,将尽快正式设立并投入运营,支持东盟基础设施、能源资源等领域重大项目建设,为地区经贸往来提供支撑。
Second, we need to focus on economic cooperation and trade and boost regional economic recovery. China actively supports ASEAN in adopting and implementing the Comprehensive Recovery Framework and steadily reopening the economy. We welcome the signing of the Regional Comprehensive Economic Partnership (RCEP). It will be an important step for regional countries to uphold the multilateral trading system and build an open world economy, which is vital to deepening regional economic integration and stabilizing the global economy.China is ready to work with ASEAN to celebrate the 10th anniversary of the full establishment of the China-ASEAN FTA and release a report on its 10-year development. Going forward, we need to further implement our free trade agreement and the upgrading protocol, and promote trade and investment liberalization and facilitation in the region. China will import more high-quality agricultural products from ASEAN and encourage Chinese businesses to increase investment in ASEAN. We also welcome your active participation in the 17th China-ASEAN Expo to share in our market opportunities.China wishes to further leverage the bilateral "fast tracks" and build a regional "fast track" network. Our two sides need to further synergize the Belt and Road Initiative (BRI) with ASEAN's development plans, hold the meeting of the Connectivity Cooperation Committee at an early date to discuss priority cooperation areas and projects, and steadily advance the China-Laos Railway, the China-Thailand Railway, the Jakarta-Bundung Railway and other major projects. China has completed the first stage of fund-raising of the China-ASEAN Investment Cooperation Fund II, totaling one billion US dollars. The Fund will be officially established and put into operation as soon as possible to support ASEAN's major projects in such fields as infrastructure, energy and resources, and boost regional economic and trade exchanges.

三是打造数字经济亮点,培育合作新增长点。疫情进一步凸显数字经济重要性。东盟已制定《东盟2025数字发展规划》,中国正在编制"十四五"国家信息化规划。双方应以中国-东盟数字经济合作年为契机,对接数字发展战略,加强数字基础设施建设和数字化转型,在电子商务、智慧城市、大数据、5G等领域开展创新合作,促进联合研发、技术交流和人力资源建设。为此,中方欢迎会议发表《中国-东盟关于建立数字经济合作伙伴关系的倡议》,双方应着手研究制订下一步合作规划,将倡议落到实处。中方发起"全球数据安全倡议",双方可通过建立网络事务对话机制,开展网络安全、数字治理等领域经验交流和能力建设合作。双方应尽早发表《中国-东盟建设面向未来更加紧密的科技创新伙伴关系行动计划(2021-2025)》。中方希将中国-东盟科技部长会议机制化,愿于2021年举办第二届部长会议,就双方科技创新合作深入沟通交流。
Third, we need to create highlights in digital economy and foster new sources of growth for cooperation. The importance of digital economy has been further revealed in the context of COVID-19. ASEAN has adopted the ASEAN Digital Masterplan 2025, and China is formulating a national plan on IT application for the 14th Five-Year Plan period (2021-2025). On such basis, our two sides need to leverage the opportunities of the Year of Digital Economy Cooperation to synergize digital development strategies and boost infrastructure development and transformation in this field. We need to intensify cooperation on innovation in e-commerce, smart city, big data, 5G and other areas, and promote joint R&D, technological exchanges and human resources development. In this connection, China welcomes the release of the Initiative on Building China-ASEAN Partnership on Digital Economy. Now what is needed is to work out follow-up plans to put it into practice.China has put forward the Global Initiative on Data Security, and it would be useful for our two sides to establish a China-ASEAN Cyber Dialogue mechanism to share experience and enhance capacity building cooperation in areas such as cybersecurity and digital governance. We need to release the Plan of Action on a Closer Partnership of Science, Technology and Innovation for Future (2021-2025)as early as possible. China hopes to make the China-ASEAN Ministerial Meeting on Science and Technology Cooperation a regular one and stands ready to host its second meeting in 2021 for in-depth communication and exchanges on scientific and technological innovation.

四是推进可持续发展,增强抵御风险能力。实现经济社会可持续发展是我们的共同目标。中方欢迎将明年确定为"中国-东盟可持续发展合作年",愿同东盟加强生态环保、防灾减灾、气候变化、减贫等领域合作。中方将办好中国-东盟社会发展与减贫论坛,同东盟国家分享数字减贫等经验。中方期待尽早通过并实施《中国-东盟环境合作战略及行动计划(2021-2025)》,愿举办中国-东盟绿色与可持续发展高层论坛,欢迎东盟各国积极参与明年在昆明举办的《生物多样性公约》第15次缔约方大会。中方欢迎建立中国-东盟灾害管理部长级会议机制,期待尽早举办首次会议。中方愿同东盟推进构建蓝色经济伙伴关系,双方应尽快落实。中方愿用好中国-东盟海上合作基金等资源,支持在相关领域开展早期收获项目。澜湄合作和中国-东盟东部增长区合作是中国-东盟合作重要组成部分。中方愿推动上述合作同"陆海新通道"对接,助力东盟一体化建设和地区平衡协调发展。
Fourth, we need to promote sustainable development and strengthen preparedness for risks. Pursuing sustainable economic and social development is our shared objective. China welcomes the decision to make 2021 the China-ASEAN Year of Sustainable Development Cooperation and stands ready to step up cooperation on ecological conservation, environmental protection, disaster prevention and mitigation, climate change, and poverty reduction. China will ensure the success of the China-ASEAN Social Development and Poverty Reduction Forum as a platform for us to share experience on digitally enabled poverty reduction. We look forward to the early adoption and implementation of the China-ASEAN Environmental Cooperation Strategy and Action Plan (2021-2025), and stand ready to hold the China-ASEAN High-level Forum on Green and Sustainable Development. We also welcome your active participation in the 15th meeting of the Conference of the Parties to the Convention on Biological Diversity (COP15) to be held next year in Kunming. China welcomes the establishment of a China-ASEAN Ministers' Meeting on Disaster Management and expects the first meeting to be held as early as possible. China is ready to work with ASEAN to build a Partnership on Blue Economy. We look to work with you to put it into practice in an expeditious manner. China will make good use of the China-ASEAN Maritime Cooperation Fund and other resources to support early harvest projects in relevant fields. The Lancang-Mekong cooperation and China and BIMP-EAGA cooperation are important components of China-ASEAN cooperation. We will encourage greater synergy between these cooperation mechanisms and the New International Land-Sea Trade Corridor to help facilitate ASEAN integration and promote balanced and coordinated development of the region.

双方还应继续充实其他领域合作。补齐防务和非传统安全合作短板,中方愿继续举行防长会晤、防务智库和中青年军官友好交流活动,举办中国-东南亚国家海上联演,推进防务直通电话建设,愿明年在华举办第二届"安全促发展"中国-东盟执法安全合作部长级会议。双方应继续密切配合做好中方援助东盟的"原产地规则执行能力建设"和"东盟旅游数字化平台建设"两个项目立项和实施。中方明年将继续向中国-东盟合作基金增资1000万美元,支持中国-东盟菁英奖学金等更多人文交流品牌项目,为打造社会人文合作作为双方关系的第三大支柱提供动力。
Our two sides need to further enrich cooperation in other areas. To build up cooperation on defense and non-traditional security issues, China will continue to hold the China-ASEAN Defense Ministers' Meeting, the exchange programs for Chinese and ASEAN military think tanks and young and middle-aged officers, and the joint naval exercise of China and Southeast Asian countries. We will continue to work for a direct hot line between our defense departments and will convene the second "Security for Prosperity" China-ASEAN Ministerial Dialogue on Law Enforcement and Security Cooperation in China next year.Our two sides need to keep working closely for the approval and implementation of the Outreach Program on Revised Rules of Origin under CAFTA Upgrading Protocol and the program on building ASEAN Tourism Digital Platform, as part of Chinese assistance. Next year, China will contribute another 10 million US dollars to the China-ASEAN Cooperation Fund to support the China-ASEAN Young Leaders Scholarship and other signature projects on cultural exchanges. This will provide impetus to social and cultural cooperation, the third pillar of China-ASEAN relations.

各位同事!
Colleagues,

南海是地区国家的共同家园。当前南海局势总体稳定,这得益于中国与东盟国家坚持从大局出发,通过"双轨思路"积极管控分歧,努力深化合作,全面有效落实《南海各方行为宣言》,稳步推进"南海行为准则"磋商。
The South China Sea is the shared home for countries in the region. The situation there has on the whole been stable. This is attributable to the fact that China and ASEAN countries, bearing in mind the larger interests, have actively managed differences with the "dual-track" approach, deepened cooperation, fully and effectively implemented the DOC and steadily advanced the COC consultations.

18年来,《宣言》为各方加强对话、增进信任、推动合作提供了指引。作为《宣言》升级版,"准则"将更富实质内容、更有效力、更具可操作性,为南海的和平稳定进一步提供制度保障。中方致力于早日达成"准则"的态度始终如一,决心坚定不移。中方呼吁各方克服疫情干扰,积极创新思路,以灵活务实的方式加快磋商进度,向国际社会表明我们有智慧、有能力管控好南海局势、维护好南海的和平稳定。中方愿积极考虑在疫情条件允许后,尽早在华举办面对面磋商,推进"准则""二读"。维护南海和平稳定是地区国家的共同心愿,通过对话解决争端才是正道。
Over the past 18 years, the DOC has served as a guide for the parties to enhance dialogue, trust and cooperation. As an upgraded version of the DOC, the COC will be a more substantive, effective and operable document that provides further institutional safeguards for peace and stability in the South China Sea. China remains firmly committed and determined to conclude the COC consultations at an early date. We call on all parties to overcome the impact of COVID-19, think creatively, and accelerate the consultations in a flexible and pragmatic way. By so doing, we will demonstrate to the international community that we have the wisdom and capability to properly manage the situation in the South China Sea and safeguard its peace and stability. China will positively consider convening face-to-face consultations in China, as soon as the COVID-19 situation allows, to advance the second reading of the COC. Safeguarding peace and stability in the South China Sea is the shared aspiration of countries in the region, and dialogue is the right way forward to resolve disputes.

各位同事!
Colleagues,

明年是中国和东盟建立对话关系30周年,双方友好合作即将步入"而立之年",双方各自发展也处于承前启后的关键时期。中方愿以30周年为契机,将双方关系提升为"全面战略伙伴"。我们期待与东盟国家团结合作、迎难而上,为中国-东盟战略伙伴关系开辟更加光明的前景,为地区和平稳定和发展繁荣作出更大贡献。
Next year will mark the 30th anniversary of China-ASEAN dialogue relations. Our friendship and cooperation, which is fully established, will move toward greater maturity as we both enter an important period of development. Taking the 30th anniversary as an opportunity, we proposed elevating our relations to a comprehensive strategic partnership. China will stand in solidarity with ASEAN countries to address the difficulties head on. Together, we will usher in even brighter prospects for the China-ASEAN strategic partnership and contribute even more to peace, stability, development and prosperity of the region.

谢谢大家。
Thank you.
中国日报网英语点津版权说明:凡注明来源为"中国日报网英语点津:XXX(署名)"的原创作品,除与中国日报网签署英语点津内容授权协议的网站外,其他任何网站或单位未经允许不得非法盗链、转载和使用,违者必究。如需使用,请与010-84883561联系;凡本网注明"来源:XXX(非英语点津)"的作品,均转载自其它媒体,目的在于传播更多信息,其他媒体如需转载,请与稿件来源方联系,如产生任何问题与本网无关;本网所发布的歌曲、电影片段,版权归原作者所有,仅供学习与研究,如果侵权,请提供版权证明,以便尽快删除。