Pulling their hair out 焦虑
中国日报网 2020-12-04 13:29
分享到微信 Reader question:
Please explain this sentence: This is not a situation they're pulling their hair out over.

My comments:
Apparently something happened, but upon close inspection, it becomes apparent that the situation is not too bad. Therefore, people are not panicking.
They are not starting to pull their hair out, metaphorically speaking.
"Pull one's hair out" is the idiom in question here. When people are worried and anxious, especially babies and children, they pull at their hair. A lot of times, this happens involuntarily or unconsciously.
From this the metaphorical meaning of "pulling one's hair" emerges. If something happens and they start pulling their hair, pulling at their hair or, worst, pulling their hair out, we understand they're showing signs of exasperation. They think what's happening is out of control. They think the sky is falling, things like that.
Fortunately, in our above example, people involved soon realize what's happened is not a serious or damaging incident – hence not a situation to pull their hair out over.
In other words, the incident, whatever it is, is small, like, a storm in a tea cup. So they're not going to make a big deal out of it. They're not going to make a mountain out of it, making a mountain out of a molehill, as it were.
In other words, they're not extremely upset or worried about it. They're not going to lose too much sleep over it.
All right, here are media examples of situations where people are pulling at their hair or pulling their hair out:

1. As we head into the New Year it's time to shine the spotlight on some of the District's major bucket list considerations.
The protracted oceanfront development project is finally underway and the priority will be to ensure management stays on task and on schedule. That lucrative property was sold by the District to Newport Beach Development for $15 million, a promised $10 million park, other amenities and a public art contribution of $150,000. A lot of folks in town are still scratching their heads, if not pulling their hair out, over how the proponents wangled such a sweetheart deal.
Controversial developer Doug Day has submitted plans for two purpose-built rental housing towers downtown, reaching 12 and 17 storeys respectively. The elephant in the room for council is whether this community is ready to take the high-rise leap.

After years of intense deliberation and public consultation, the final draft of the Official Community Plan has been released. Instead of the fuzzy, feel-good rhetoric that beset sections of the previous OCP, the newest version presents a more realistic set of initiatives. The big test will be to transform that ambitious agenda into action.
- COLUMN: Squamish's bubble, SquamishChief.com, December 30, 2017.

2. 1. You obsess over things that don't even register in other people's heads.
OCD (obsessive-compulsive disorder) doesn't necessarily mean that you walk into a room and flip a light switch on and off multiple times. The "obsessive" part is what surfaces most often. You obsess over bad news. Some tiny part of an anecdote that comes up in conversation (that everyone else took as a passing detail) will stay with you for days after you hear it. Things you see on the news will keep you up long after the person lying beside you has drifted off to sleep. Your mind is constantly going over details that put you on edge, and you are often trying to will yourself to press pause on the relentless replays.
2. You are incredibly particular.
And when people meet you, they assume you're a huge perfectionist. You are incredibly aware of symmetry, alignment, and are generally very diligent about keeping things in a specific place. You are the type of person who pays attention to minute details that other people don't notice.
3. When you're around people, they often don't realize that you're trying incredibly hard to keep your mental illness out of the picture.
OCD is something that can be kept under wraps in that you can be flooded with obsessive panic while still sitting across from your friends, smiling and nodding at the story they're telling. Many people with OCD have small habits that only kick in when they're reacting to something that makes them feel anxious and panicked. While sitting across from you, they could be pulling at their hair, wringing their hands or even counting down from 10 just to keep themselves calm. And you'd never notice.
- 9 Things People Don't Realize You're Doing Because Of Your OCD, ThoughtCatalog.com, August 18, 2020.

3. Michelle Taylor of Springfield likes shopping in downtown Springfield so much that she had a birthday scavenger hunt for her daughter, Taetum, 13, earlier this fall.
"The business owners were absolutely amazing," Taylor said. "They let me leave little clues for (the girls) about which store they needed to go to next. The owners not only cooperated. They were excited.
"We had a fashion show at Springfield Vintage with the older clothes. We did Dumb Records because the theme we had was (the Netflix series) 'Stranger Things,' so the arcade in the background was perfect."
So Saturday found Taylor again downtown for Small Business Saturday on a picture perfect fall day.
"I don't want to see these stores go away," said Taylor, emerging from Reverie Apparel, 407 E. Adams St. "I want them to make it. You're not going to find the stuff you find down here with online shopping. You come in and see something you didn't even know you wanted. It's awesome."
Business owners were generally upbeat, despite COVID-19 mitigations limiting stores to 25% capacity. Lines could be seen outside with people waiting to get into some stores.
Some owners were hoping to match last year's sales from both Black Friday and Small Business Saturday.
To jumpstart businesses hit hard by the pandemic, Downtown Springfield's Old Capitol Holiday Walks kicked off two weeks earlier.
"People are recognizing that they need to support their neighbors who own businesses," said Kayla Graven, assistant director of Downtown Springfield, Inc., reached Saturday. "A lot of our store owners have done a good job about being flexible and pivoting to get the best sales for themselves."
That includes, Graven said, stores offering online shopping or private shopping hours.
Patrick Russell, the owner of Reverie, said sales for November were up from last November when the store opened.
"We're a little bit more established," said Russell, whose store offers shirts featuring the late U.S. Supreme Court justice Ruth Bader Ginsburg, Vice President-Elect Kamala Harris and "100 Proof Abraham Drinkin." "There's a lot more going on on Adams Street now. Despite the pandemic, it's doing OK."
Russell said he was looking for the last couple of weeks of November and December to carry the store through January and February and then kick back in in March.
"That's the goal, to bank enough so I'm not pulling my hair out for just surviving in January and February," Russell added.
- Some owners hoping to exceed expectations on Small Business Saturday, SJ-R.com, November 28, 2020.
本文仅代表作者本人观点,与本网立场无关。欢迎大家讨论学术问题,尊重他人,禁止人身攻击和发布一切违反国家现行法律法规的内容。
About the author: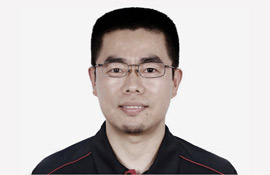 Zhang Xin is Trainer at chinadaily.com.cn. He has been with China Daily since 1988, when he graduated from Beijing Foreign Studies University. Write him at: zhangxin@chinadaily.com.cn, or raise a question for potential use in a future column.
(作者:张欣 编辑:丹妮)
中国日报网英语点津版权说明:凡注明来源为"中国日报网英语点津:XXX(署名)"的原创作品,除与中国日报网签署英语点津内容授权协议的网站外,其他任何网站或单位未经允许不得非法盗链、转载和使用,违者必究。如需使用,请与010-84883561联系;凡本网注明"来源:XXX(非英语点津)"的作品,均转载自其它媒体,目的在于传播更多信息,其他媒体如需转载,请与稿件来源方联系,如产生任何问题与本网无关;本网所发布的歌曲、电影片段,版权归原作者所有,仅供学习与研究,如果侵权,请提供版权证明,以便尽快删除。