A dog-eared phrase? 老旧的说法
中国日报网 2021-05-18 11:17
分享到微信 Reader question:
What is a dog-eared phrase, as in: It's a dog-eared phrase – perseverance pays.

My comments:
It means that this phrase, perseverance pays, is old, age-old.
You've probably heard people say it to you, that perseverance pays. When you want to quit running, for example, because you've been running for six days but have not seen the kind of progress you expected to see. And your coach or your parents or any of your friends may very well say: Don't quit. Perseverance pays.
In other words, they encourage you to keep at it. You'll see results in the long run, so to speak. If you quit at the first hurdle, to use another athletics expression, you'll never succeed at anything.
Oh, dog-eared.
A dog ear originally refers the corner of a page in a book curled up as a mark. One dog ears a page so that next time you open the book, you'll be able to locate the page you were reading easily.
A book can become dog-eared simply by overuse, of course. Old books in the library, for example, all have that dog-eared look, you know, kind of dirty and rough and curled up at the edges. Apparently a lot of people have read it.
Hence, if a phrase is overused, it becomes a dog-eared phrase, meaning that it's an old saying. Like old clothes, a dog-eared phrase is an expression that is time-tested, well-worn and possibly overused. It probably sounds tired and stale.
In other words, they don't sound fresh and new, not as fresh as a daisy (which is another dog-eared cliché) at any rate.
Well, stale or fresh, "perseverance pays" is something we're going to keep hearing because there's some truth to it.
To use another dog-eared saying, it's not going anywhere. It's here to stay.
Alright, here are media examples or dog-eared as adjective:

1. When she finds herself in one, she tries hard to climb out of it, "it" being that dog-eared feature of daily life called a rut. Of course, like many of us, she delights in some — these ruts are made for wallowing — and feels daunted by others that seem made for mountaineering.
But others are like Mama Bear's porridge — just right, in this case for escaping. And when Gwyn Coogan, a lecturer in the Department of Mathematics, ditches a rut and tries something new, surprising things have happened.
For instance, she didn't compete in track until her sophomore year in college. But she had such a gift that in her first season, she won the NCAA Division III outdoor championship in the women's 3,000-meter run. Then, as a junior, she won the indoor and outdoor Division III titles in the 3,000.
Next up was the Olympics. She made the U.S. team in the women's 10,000 meters and was one of three American runners in the event at the 1992 Olympics in Barcelona. And it all came from lacing up track shoes at the advanced age of 20 and doing something she'd never done before.
"I do like to try new things," says Coogan. "I was successful in track, but at Smith College I also tried playing the violin and getting published in the literary magazine, and I failed miserably in both."
Coogan is a person who somehow can utter the words "failed miserably" with a smile. She has a fresh-faced look with a luminous grin. If you chat with her for an hour, the only time she furrows her brow may be when she worries out loud about lapsing into a love of routine's ruts.
When she moved to Madison last year, she decided to try another something-new. "In Wisconsin I've been cooking for the first time with sausage," she says. "There's so much of it here."
One day she made pizza with what she thought passed for pepperoni. "My daughter's friend told me, "No, this is summer sausage," she says. "I didn't know the difference."
Coogan's husband, Mark, is a professional marathon runner who ran for the United States at the 1996 Olympics in Atlanta. They met when both of them were running for the Nike Boston running club. They have two girls: Katrina, 7, and Margaret, 2. Mark provides much of the childcare while Gwyn is on campus, and both of them like to run during the week, so their watches are certainly synchronized.
Gwyn Coogan has had her own success in the marathon. She won the 1998 Houston Marathon, and her best time in the 26.2-mile event is 2 hours, 32 minutes.
"I haven't tapped my full potential in the marathon," she says, but she's not sure how much she wants to run competitively now, having had foot surgery last fall. "It takes a lot of time and energy," she says.
So does mathematics, and Coogan loves to run through the world of numbers, with elliptic curves and l-series blowing through her hair. Like in track, she blossomed late in math.
"I was fine at math in high school," she says, "but in college, as the courses got harder, I worked harder. I began as a physics major, but found the math more compelling."
She earned her doctorate in math at the University of Colorado at Boulder in 1999, and last year she was invited by Ken Ono, professor of mathematics at UW–Madison and well-known number theorist, to work with him. Coogan also is teaching calculus and the history of math. "It was a gift to come here and work in the math community," she says.
At first glance, her passions of running and math look more like fraternal twins, given their differences. But she's learned some common lessons from the pair.
"I know that there will always be better runners and mathematicians than me," she says, "but that doesn't mean I throw my hands up. I have learned to get what I can out of each discipline and enjoy it."
- Mathematician's passions run from marathons to mountains, WISC.edu, September 11, 2001.

2. You've probably seen advice about why it's a great idea to maintain a rolling to-do list of projects – big and small – that you need to get done. Some efficiency experts recommend writing a to-do list each morning, in which you meticulously transfer incomplete to-dos from the old list to the new one every day. You might have noticed that this system doesn't work very well, and you probably just assumed that it's your own fault. But according to the Harvard Business Review, it's not you. In a nutshell, the entire system is flawed, and simply sets you up for failure.
Harvard Business Review cites several key problems with rolling to-do lists. Here are some of the most compelling:
The paradox of choice. Psychologist Barry Schwartz has written extensively about the paradox of choice -- when faced with too many options, people feel overwhelmed and respond poorly. A to-do list is a veritable smorgasbord of choices.
Heterogeneous complexity. Moreover, your to-do list invariably contains a mixture of big projects and small ones, hard ones and easy ones. Consequently, you choose the short and easy tasks almost without fail, since there's a much stronger payoff. The other tasks never get done.
Heterogeneous priority. Likewise, your to-do list is filled with tasks of varying priority. There's little doubt that you tend to do the highest priority tasks up front, and push off the rest until circumstances raise their priority as a consequence.
So what's the alternative?
Harvard Business Review recommends "living in your calendar." In other words, don't maintain a to-do list, but rather schedule these tasks right into your Outlook calendar, around your other commitments, while also accounting for the time you'll need to deal with brushfires and other unexpected priorities. This serves, in part, as a sort of commitment device, which is akin to positioning your army with its back to a river so there's no possibility of retreat from the enemy.
Melodramatic? Perhaps. But it's also likely to be more effective than that dog-eared to-do list you always carry around, but never complete.
- Why to-do lists set you up for failure, CBSNews.com, January 30, 2012.

3. LOVE conquers all, so goes the dog eared cliché of improbable romantic scenarios encountered in romantic novels.
Borrowing a typical chapter from a Mills and Boons novel is a former Zimbabwean tennis player Miss Zanele Ndlovu who has lived to see another day, following a crocodile attack, where she lost her right arm, while canoeing in Victoria Falls last week.
Yesterday she tied the knot to become Zanele Ndlovu-Fox.
Zanele tied the knot to the love of her life Mr Jamie Fox, at a beautifully organized, heart-warming ceremony at Mater Dei Hospital in Bulawayo where she has been recuperating after losing her right arm to the crocodile. She could not allow the setback of the attack to affect her plans to wed her husband.
Mrs Ndlovu-Fox' arm, according to reports was ripped off by a crocodile while canoeing with her husband in Victoria Falls.
The crocodile is said to have attacked their vessel, which is said to be an inflatable boat, before attacking her.
"They were canoeing in the upper Zambezi and that is where most of that activity takes place. The boats used in that activity are inflatable and the crocodile attacked their vessel, in the process deflating it before attacking her. During the attack the crocodile gripped her arm and ripped it off while her partner made frantic efforts to save her. They are lucky to be alive though," said a family member who requested anonymity.
- Woman who lost arm to crocodile weds in hospital, Bulawayo24.com, May 6, 2018.
本文仅代表作者本人观点,与本网立场无关。欢迎大家讨论学术问题,尊重他人,禁止人身攻击和发布一切违反国家现行法律法规的内容。
About the author: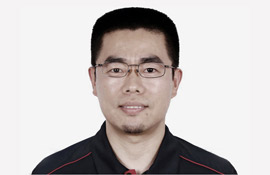 Zhang Xin is Trainer at chinadaily.com.cn. He has been with China Daily since 1988, when he graduated from Beijing Foreign Studies University. Write him at: zhangxin@chinadaily.com.cn, or raise a question for potential use in a future column.
(作者:张欣 编辑:丹妮)
中国日报网英语点津版权说明:凡注明来源为"中国日报网英语点津:XXX(署名)"的原创作品,除与中国日报网签署英语点津内容授权协议的网站外,其他任何网站或单位未经允许不得非法盗链、转载和使用,违者必究。如需使用,请与010-84883561联系;凡本网注明"来源:XXX(非英语点津)"的作品,均转载自其它媒体,目的在于传播更多信息,其他媒体如需转载,请与稿件来源方联系,如产生任何问题与本网无关;本网所发布的歌曲、电影片段,版权归原作者所有,仅供学习与研究,如果侵权,请提供版权证明,以便尽快删除。