Eat your lunch? 干掉你
中国日报网 2021-06-18 17:56
分享到微信 Reader question:
Please explain this headline: Amazon will eat your lunch, resellers warned.

My comments:
Paraphrase: Resellers be warned, Amazon will beat you all.
Amazon will defeat all resellers, beating them up, driving them out of business, eating their lunch, and all of it, too.
In competition against Amazon the behemoth, resellers will probably lose everything, their proverbial shirt included.
Something like that.
Resellers are people and companies that make money by buying cheap from producers and sell it to vendors at a higher price. Now that Amazon is around, things are different.
Amazon will buy from producers directly, eliminating many if not all resellers in the middle.
That's why resellers are warned that Amazon will eat their lunch.
Eat their lunch?
That's an American idiom which probably originates in the schoolyard. Bigger boys in school often bully younger, smaller fellow students and it's not difficult to visualize a big bully eating the lunch of a smaller boy, or at least portions of it, the better portions, the meaty and more delicious parts. And the small boy can't do anything about it.
Hence, by extension, metaphorically speaking, if you can't stop others from eating your lunch, you're a loser, losing a matchup, a competition, anything.
In other words, you're thoroughly outmatched and defeated.
All right?
All right, here are media examples where people let or don't let others eat their lunch:

1. As the founder and CEO of Bear Bull Traders and Peak Capital Trading, I've taught thousands of new traders how to trade the market and make the right decisions for their trading venture. These traders come from all walks of life and from countries all around the globe. I'm honored to bring such a diverse group of people together for the purpose of building better lives through trading.
During my time as a trading coach and mentor, I've seen it again and again – some just have a knack for trading, and some fail miserably … and fast. What makes the difference? Successful traders enter into the world of trading with a specific set of personality characteristics. As I've built my own businesses, I've discovered that these are the same characteristics that also drive successful entrepreneurs.
How will you fare trading from your home office? How will you fare operating a small business? Read along and see for yourself if you have these five characteristics common to both successful traders and entrepreneurs. (And if you don't, don't worry. They can all be learned.)
1) They like to solve puzzles
"Blessed are the curious, for they shall have adventures." – Lovelle Drachman
Good traders can't resist a mystery. They're driven by the deep-seated need to figure things out. If you took apart your toys as a kid to see how they worked, you might very well have a future in trading.
…
2) They enjoy analysis games like poker
Not knowing what your opponent is holding can be devastating, or exciting, depending on the way your mind works. If you're the kind of person who can't stand the uncertainty of not knowing everything there is to know about a given situation, trading isn't for you. Neither is entrepreneurship.
Being able to confidently take calculated risks is a huge part of becoming a successful trader or entrepreneur. You never know for sure what the market is going to do next — whether it be the international stock markets or your own local marketplace economy. Maybe down the street, someone will open a business just like yours. That's a risk you must be willing to take if you want to be an entrepreneur. Maybe tomorrow, the stock you bought today will crash. That's a risk you must be willing to take if you want to be a great trader.
…
3) They're (surprisingly) not overly competitive
Ever seen two idiots in a bar fight? Did either of them look like Patrick Swayze in Road House? Of course not. They looked like two morons who were so concerned about winning that they both lost.
The best traders aren't overly competitive. They don't let their egos lead them into dark alleys. The market is a powerful opponent. If you try to beat it, it will eat your lunch.
People think that trading is a battle against other traders and the market. Not true. Trading is a battle against your own ego and emotions. If you lose your cool, you start making mistakes. James Bond would have made a good trader. Those screaming pundits you see on news channels - probably not.
Both entrepreneurs and traders have to be able to keep a cool head under pressure so they don't make decisions — and mistakes — based on a temporary emotional state.
The most dangerous notion in trading is that "I'm gonna prove the market wrong." You are never, ever going to "beat the market." It is the ocean. You are the boat. A trend is your friend. Ride the right wave and you'll get where you're going.
- Do You Have Any of the 5 Traits Shared by Successful Traders and Entrepreneurs?, by Andrew Aziz
, November 13, 2020.
2. For NBC Sports lead golf analyst Paul Azinger, the biggest benefit to the relocation of this year's World Golf Championships-Mexico Championship is his car.
The former Sarasota Sailor, PGA Tour player and current Bradenton resident will get to drive his to the host course. Indeed, Mexico's loss was the sizeable gain of the The Concession Golf Club.
"I was thrilled," the 61-year-old Azinger said at a media preview event on Thursday at The Concession. "It's a long way from Mexico City to Bradenton, Florida, I can tell you. To get to stay here, I think (broadcast partner) Gary Koch and I are doing backflips in that regard.
"It's hard for me to want to tell the whole world to come here because it's already pretty crowded. The beaches are incredible. On air, I might point out all the negatives so it doesn't turn into a disaster."
...
The event is closed to the public, though The Concession will use about 300 volunteer workers. As for Azinger, he's curious to see how the world's best players handle the Jack Nicklaus-Tony Jacklin creation.
"I think everyone that's ever played The Concession, all the locals, all the folks from this area, cannot wait to see what kind of scores they're going to shoot here," he said. "We're all of the impression that it's virtually impossible to shoot a great score at this golf course.
"There have been some low ones, a few 65s and 4s and stuff and maybe a 63 somewhere along the line, but I believe there will be a big gap between the winners and the guys that really play poorly.
"It's the kind of a golf course that will eat your lunch."
- Azinger on The Concession: 'A golf course that will eat your lunch', Herald-Tribune.com, February 11, 2021.
3. Most large organizations have professional development budgets, be it to attend conferences, take an online course, or semi-regular internal workshops taught by external experts.
When I worked for Fleishman-Hillard, we had quarterly professional development including business development, writing skills, and more.
They always relied on internal experts for most things, but also occasionally brought in experts.
I remember taking Ann Wylie's writing workshops back in the day.
She still teaches them—and still gets rave reviews.
But when you work for a smaller organization, are the boss, or are a solopreneur, the professional development budgets are often zilch, zero, nada, none.
So you have to get creative in how you'll stay up-to-date on the latest trends and industry developments, improve your skills, and make sure you're always learning.
…
But what are the costs of NOT doing it?
Well, for one, your competition will eat your lunch over and over again.
And maybe that's OK with you (it's not for me, but I'm also highly competitive), but in business, the goal is always to stay ahead, maintain or grow market share, and continue to grow.
It's impossible for you to help an organization do that if you aren't growing.
- How to Invest In Your Professional Development Journey, by Gini Dietrich, May 18, 2021.
本文仅代表作者本人观点,与本网立场无关。欢迎大家讨论学术问题,尊重他人,禁止人身攻击和发布一切违反国家现行法律法规的内容。
About the author: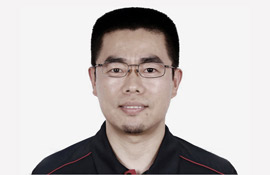 Zhang Xin is Trainer at chinadaily.com.cn. He has been with China Daily since 1988, when he graduated from Beijing Foreign Studies University. Write him at: zhangxin@chinadaily.com.cn, or raise a question for potential use in a future column.
(作者:张欣 编辑:丹妮)
中国日报网英语点津版权说明:凡注明来源为"中国日报网英语点津:XXX(署名)"的原创作品,除与中国日报网签署英语点津内容授权协议的网站外,其他任何网站或单位未经允许不得非法盗链、转载和使用,违者必究。如需使用,请与010-84883561联系;凡本网注明"来源:XXX(非英语点津)"的作品,均转载自其它媒体,目的在于传播更多信息,其他媒体如需转载,请与稿件来源方联系,如产生任何问题与本网无关;本网所发布的歌曲、电影片段,版权归原作者所有,仅供学习与研究,如果侵权,请提供版权证明,以便尽快删除。