Talk point? 话题
中国日报网 2021-06-29 12:31
分享到微信 Reader question:
Please explain "talking points", as in this sentence: "They reviewed their talking points memo carefully."

My comments:
Their talking points memo is a memorandum or written message listing all the major talking points.
Talking points?
Yeah, points of argument, issues to be talked about.
In other words, major points of discussion.
They reviewed their talking points carefully lest they miss anything important, lest they drift off and aimlessly talk about things off topic.
Off topic? That means things that are not relevant to what's being discussed.
So, they reviewed their talking points carefully so that they would be able to always speak to the point and stay on message.
On message?
The same as on topic, to stay focused on the central theme or message.
The important thing to remember about talking points is, of course, is to stick to them.
In other words, do not drift off and start talking about something irrelevant, like the weather, housing prices, sports, political gossip, climate change….
I am drifting off. I can see that. So let's stop right here and move swiftly on to media examples of "talking point":

1. After a New York Times op-ed called out Republicans for "pretending to be patriots," retired U.S. Marine Joey Jones pushed back on Thursday, taking issue with the argument put forth by economist Paul Krugman.
"The fact that the Republican Party is viewed as the most patriotic is not a talking point for the Republican Party. This is an observation of middle-of-the-road swing voters. ... This op-ed was probably written in an echo chamber of self-love and denial. It's very naive, it gets a lot of things wrong," Jones told "Fox & Friends."
In the column, titled "Republicans Only Pretend to Be Patriots," Krugman argued that Republicans' acceptance of President Trump's behavior is unpatriotic.
"After all, a true patriot is willing to make some sacrifice, to give up some personal or policy goal, in the national interest. Can anyone point to any prominent figure in the modern Republican Party who has done that?" he wrote.
Krugman wrote that "Republicans were never the patriots they pretended to be, but at this point they've pretty much crossed the line into being foreign agents" in defense of Trump.
- Joey Jones blasts Paul Krugman's New York Times column calling Republicans 'pretend' patriots, FoxNews.com, September 26, 2019.
2. Rep. Adam Kinzinger (R-IL) went on CNN on Tuesday to blast Donald Trump for the CPAC speech he gave this past weekend, claiming that he was "really bored" during it because it was like many of the others the former president had previously given.
"I think that that was the first time we had heard Donald Trump speak," Kinzinger stated. "It would be shocking, you know, all that stuff … but it was the same exact — I mean … he could have given that speech in September, and with the exception of having talked about impeachment, it would have been the same speech he gave this time. He had no new ideas."
"I mean, to me, it looked like somebody that just needed his monthly dose of adoration in front of a crowd. So, I really was bored," he added. "Honestly, I watched it because I knew he was going to call my name out, and I wanted to be able to know how to respond and what was said. But it was a hard speech to get through because I was just like, you know, looking at my phone a lot, as you can tell by the number of the tweets I had."
Kinzinger was one of the Republicans who Trump attacked by name in his speech, with Rep. Liz Cheney (R-WY) and Sen. Mitt Romney (R-UT) being mentioned as well. Kinzinger has been trying to fire back at Trump ever since, appearing on "Morning Joe" on Monday to respond as well.
"I think, you know, what you could see at that speech yesterday was recycling old talking points. You know, just stream of consciousness and I think it's obvious there is no vision from Donald Trump there's no desire to paint a vision. All he really desires is to stand in front of a crowd and be adored and he got that in ample amounts yesterday," Kinzinger said, according to The Hill.
"This president has done nothing but reflect people's darkness back to them, reflect their fears back to them," Kinzinger added. "It was sad, but I'm still hopeful that, you know, 45 percent of people at this Trump rally didn't want Donald Trump again, and I think there's a growing number of people out there that see he's a has-been."
- Kinzinger Rips Trump For CPAC Speech – Says Former President 'Just Needed His Monthly Dose Of Adoration', LifeZette.com, March 3, 2021.
3. Sir Mo Farah will not defend his 10,000 metres Olympic title in Tokyo after missing the qualifying time at the British Championships in Manchester.
Here, the PA news agency looks at the talking points after his failure to reach Tokyo.
Will he retire?
The 38-year-old insisted earlier this month he was not considering quitting after failing to qualify at the 10,000m trials in Birmingham. But this is a huge blow after he returned to the track with the goal of defending his 10,000m title. He is the most successful British track athlete in the modern era and now faces a massive decision on his future, with time against him.
Can he return to the marathon?
He could opt to return to the road, where he has had mixed success since moving to the marathon in 2017. Farah won the Chicago Marathon in a new European record in 2018 having come third at the London race earlier that year. He has previously said he was putting his marathon focus on hold but it remains to be seen what he decides.
Can Team GB fill his gap?
A fit Farah would have been a medal contender in Tokyo, even if he does not have the invincible aura around him any more. While a title defence would have been difficult, Team GB would have looked at him to aid their medal target. The light of one of the stars of 2012 and 2016 is fading and he will leave a big gap in the squad.
What will his legacy be?
Farah's double double – the defence of his 5,000m and 10,000m Olympic titles in 2016 – will stand the test of time. He has captured the imagination of the wider public, not just athletics fans, and traversed the line between athlete and celebrity, mainly thanks to his starring role at London 2012. Farah is one of the most recognised faces in sport and will go down as one of the British greats.
- After disappointment in Manchester, what next for Sir Mo Farah? BT.com, June 25, 2021.
本文仅代表作者本人观点,与本网立场无关。欢迎大家讨论学术问题,尊重他人,禁止人身攻击和发布一切违反国家现行法律法规的内容。
About the author: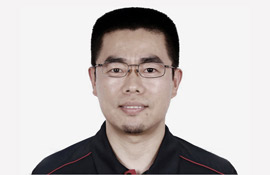 Zhang Xin is Trainer at chinadaily.com.cn. He has been with China Daily since 1988, when he graduated from Beijing Foreign Studies University. Write him at: zhangxin@chinadaily.com.cn, or raise a question for potential use in a future column.
(作者:张欣 编辑:丹妮)
中国日报网英语点津版权说明:凡注明来源为"中国日报网英语点津:XXX(署名)"的原创作品,除与中国日报网签署英语点津内容授权协议的网站外,其他任何网站或单位未经允许不得非法盗链、转载和使用,违者必究。如需使用,请与010-84883561联系;凡本网注明"来源:XXX(非英语点津)"的作品,均转载自其它媒体,目的在于传播更多信息,其他媒体如需转载,请与稿件来源方联系,如产生任何问题与本网无关;本网所发布的歌曲、电影片段,版权归原作者所有,仅供学习与研究,如果侵权,请提供版权证明,以便尽快删除。