Hold his own? 坚守阵地
中国日报网 2022-01-11 12:14
分享到微信 Reader question:
What does it mean exactly for a player to "hold his own" against an opponent?

My comments:
It means he can compete.
It means he won't be pushed around.
The question is, to hold his own what. To hold one's own means literally to hold one's own ground.
Let's use wrestling for example. If you face a much bigger and stronger opponent, they may be able to push you around easily, literally, in the physical sense. That's when you are unable stand or hold your ground.
And it makes sense, too because, naturally a bigger, stronger wrestler is able to push and shove a smaller one around.
But let's say the smaller opponent is better skilled, more agile and so forth. Then the smaller opponent can perhaps compete with the bigger wrestler, using his quickness and agility to neutralize the raw strength of the larger opponent.
It is in this way that the smaller opponent is said to be able to hold his own against an opponent, a seemingly stronger one.
Militarily, if you can hold your ground, then you won't lose ground. If you don't lose ground, you don't lose territory. So, metaphorically speaking, if you don't lose ground, you don't lose, period. You don't lose a game, a battle, popularity, anything.
So, do learn all the necessary skills to be able to hold your own against anyone, okay?
All right, here are recent media examples of "holding one's own" in various situations:

1. 'I am greatly satisfied," declared Gen. Mark Clark, the US 5th Army commander, emphasizing "that the Jewish people, who have suffered so terribly at the hands of the Nazis, should now be represented by this frontline fighting force." Speaking in March 1945 from his headquarters in Italy, he was referring to the new Jewish Brigade, whose vehicles, arms and uniforms bore the Star of David, and who had become a vital and operational military force under him.
Led by its initial commander, Brig. E.F. Benjamin, the soldiers of the Jewish Brigade fought alongside troops of other nations. "Tough, tanned and thirsting for revenge," one military correspondent put it, "these Jewish soldiers have something personal to fight for. Tortured in Nazi concentration camps, these individuals survived to fight back. Many had lost relatives, who were assumed to have been gassed and slaughtered."
Finally in that month of March 1945, side by side with British and American forces, they held their own against the Germans.
"The Brigade members have killed Nazis and suffered casualties as well. They have proven on the field of battle what the Jew can do," Clark powerfully concluded.
The American general saw his Jewish brethren as superb fighters, but he did not realize that this Jewish Brigade was the first "world-accepted" entity of the State of Israel, which was to be born in 1948.
Only by reading the regular daily newspapers and weekly English-language Jewish papers from the English countries, can one experience what a "Jewish army" meant. However, behind the scenes even greater strides were being taken to move the mandate out of British hands into those of the budding UN, born in San Francisco in May 1945.
In the latter part of that year, even with the war over, the numbers of the Holocaust victims being made known and the unimaginable sights of the survivors and the dead carcases in the former concentration camps, a poll of American citizens indicated that 55% were familiar with the discussion about permitting the Jews to settle in Palestine.
- The heroic story of the Jewish Brigade in WWII, JPost.com, April 14, 2021.

2. MIKE TYSON will fight Logan Paul in an exhibition bout next year, according to reports.
The former heavyweight world champion has been patiently waiting to re-enter the ring after taking on Roy Jones Jr in an exhibition fight last November.
Tyson, 55, has been rumoured to be facing former nemesis Evander Holyfield or Lennox Lewis.
But according to Youtuber Keemstar - real name Daniel Keem - Tyson will fight Paul next.
Keemstar tweeted: "Logan Paul vs Mike Tyson, Feb 2022, sources tell DramaAlert."
Tyson is eager to fight once again and has been training hard to prepare for his next opponent.
He was hopeful of fighting again in September but has been made to wait until next year.
In an exclusive interview with SunSport Tyson said: "I am going to have a return fight in February and we are pretty skeptical about the opponent, but it will be a really stimulating opponent."
And Tyson previously revealed he would be interested in fighting either Logan or Jake Paul in a money-spinning bout.
Logan Paul, 26, certainly has a history of attracting attention to his fights, selling out the Manchester Arena for his first fight with KSI.
The rematch also sold more PPVs than Anthony Joshua's first fight against Andy Ruiz Jr.
And he has proven he could be a match for Tyson in the ring, having held his own against Floyd Mayweather in June.
Unlike Mayweather, Tyson fought at heavyweight in his career and is more than two stone heavier than the Youtuber.
But Paul does have age on his side, and is 29 years younger than Iron Mike.
- Mike Tyson set to fight Logan Paul in second exhibition fight following Roy Jones Jr comeback despite 29-year age gap, The-Sun.com, October 23, 2021.

3. Even before the latest Marvel Cinematic Universe film Eternals began production, Marvel Studios did a major solid by comic books fans when they greenlit the picture.
Created by legendary comic book artist, writer, and editor Jack Kirby in the mid 70s, the Eternals didn't occupy the prime real estate in the spinner racks towards the front of comic book stores or sit in the forefront of pop culture's slotted comic space, it was for the die hards.
One of Kirby's finest creations hitting the big screen is a monumental victory in itself for both Marvel Studios and comic book fans. The MCU's freshest batch of heroes may not look like a carbon copy of Kirby's stellar Bronze Age creation, but his work is alive and well in the film.
Director Chloé Zhao, who makes her Marvel debut with Eternals and also penned the script, leaves her distinct fingerprints all over the innovative project. Throughout the two-hour and 37-minute film, Zhao incorporates beautifully scenic wide shots and doesn't get greedy with special effects — which in this film were arguably Marvel's most organic in appearance to date.
Also to Zhao's credit, with the lengthy run time we've come to expect from Marvel movies, the story wasn't rushed, which it could have been with the story's timeline spanning 7,000 (!!!) years.
Zhao, who won an Oscar for directing 2020's Nomadland, captured a stoic tone playing against the gravity of the rising and falling action that worked similar to what we've seen in recent DC Comics films, but plenty of Marvel heart popped in from time to time to remind us what we're watching.
As far as the ensemble cast goes, the acting was superb across the board. Salma Hayek naturally shined as the Eternal's leader "Ajak" and Angelina Jolie stunned as "Thena" in one of her most gritty and powerful roles, despite not being a lead. You'll read a lot about Kumail Nanjiani ("Kingo") stealing scenes in other reviews, which is fair, but the longtime stand up's comic relief was regularly predictable, although effective.
It was a meaty role for the Big Sick (2017) star, who after a strong and confident performance will no doubt be making some major career leaps in the near future. Richard Madden, best known for portraying "Robb Stark" in HBO's Game of Thrones, gave a praiseworthy and valiant performance but was constantly working against a character who too often could pass as a Superman doppelgänger.
The most memorable and commendable performance in Eternals belongs to Lia McHugh, who now at age 14, held her own with the star-studded cast in a sizable big budget motion picture as the tragically conflicted "Sprite". McHugh also stood out in 2019's dramatic horror mystery The Lodge.
- 'Eternals' Review: Chloé Zhao's Visual Wizardry Eclipses Deficient Plot, Forbes.com, October 27, 2021.
本文仅代表作者本人观点,与本网立场无关。欢迎大家讨论学术问题,尊重他人,禁止人身攻击和发布一切违反国家现行法律法规的内容。
About the author: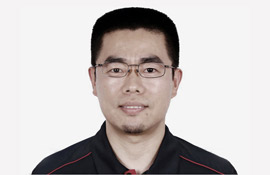 Zhang Xin is Trainer at chinadaily.com.cn. He has been with China Daily since 1988, when he graduated from Beijing Foreign Studies University. Write him at: zhangxin@chinadaily.com.cn, or raise a question for potential use in a future column.
(作者:张欣 编辑:丹妮)
中国日报网英语点津版权说明:凡注明来源为"中国日报网英语点津:XXX(署名)"的原创作品,除与中国日报网签署英语点津内容授权协议的网站外,其他任何网站或单位未经允许不得非法盗链、转载和使用,违者必究。如需使用,请与010-84883561联系;凡本网注明"来源:XXX(非英语点津)"的作品,均转载自其它媒体,目的在于传播更多信息,其他媒体如需转载,请与稿件来源方联系,如产生任何问题与本网无关;本网所发布的歌曲、电影片段,版权归原作者所有,仅供学习与研究,如果侵权,请提供版权证明,以便尽快删除。