Hard to wrap your head around? 难以理解
中国日报网 2022-02-18 13:18
分享到微信 Reader question:
Please explain "Hard to wrap your head around".

My comments:
If something is hard to wrap your head around, it's something that's difficult for you to comprehend, to understand, to grasp mentally.
Maybe it's something new or something complicated, or something foreign, or something confusing, or something challenging, or something that's just strange or odd, or unbelievable.
Or what have you.
The expression in question is, "wrap one's head around something". The phrase itself, which is American in origin, is kind of easy to explain. We can wrap our fingers around a phone, a piece of stick or a piece of rope. And we do that in order to take hold of them, in order to have a firm grasp.
And it is from this that we get the metaphorical extension, that we can figuratively wrap our head (or mind) around something, too, in order to mentally grasp it.
Again, in the physical sense, we wrap our fingers around the high bar before doing pull-ups. Without wrapping our fingers around the high bar and taking a firm hold, we cannot do the pull-up. Similarly, I think, one has to wrap our head or mind around something in order to understand it fully and firmly.
And that is that. I hope this makes sense because, the expression "wrap one's head around" itself is something that's hard for us foreign language learners to wrap our head around.
And all we can do is read a few media examples and familiarize ourselves with it. There's really no better way.
So now, a few recent media examples:

1. Workers building a new swimming pool for a Las Vegas couple got a bit of a shock when they dug up a set of bones that are believed to date back to the Ice Age and may have been buried there for 14,000 years.
Homeowner Matt Perkins told CNN that he and his husband found out about the discovery on Monday morning, when police came to investigate.
It only took the police a few minutes to figure out that there wasn't a crime scene in Perkins' back yard.
"They came in, dug up the bone, saw that it was fairly large and at that point told us, 'Too big to be human. Not our concern anymore,'" Perkins said.
That was a relief, Perkins said, but they were still curious what was down there.
They asked paleontologist Joshua Bonde, the research director at the Nevada Science Center, to come over and take a look.
Bonde told CNN that the center receives calls like this from time to time and usually they end up being nothing. But this time, it was the fossilized remains of a prehistoric horse.
The animal's right shoulder blade, bones from its right arm and some vertebrae have been exposed so far, he said. He said the bones were still connected in the way they would have been when the horse was alive, which is rare and suggests it was buried quickly before hungry scavengers could scatter its remains.
It was buried about 4 to 5 feet underground, Bonde said.
Perkins also found the horse's jawbone, a rib and some vertebrae in the pile of dirt excavated for the 6-foot-deep pool.
Bonde said the evidence suggests that the horse lived during the Ice Age sometime between 6,000 and 14,000 years ago.
...
Perkins said that he and his husband were surprised that this doesn't happen all the time, since there is so much construction in the area.
They'd even joked before all this happened that it if workers found a dinosaur, it might pay for the whole pool.
Instead, they've put construction on hold for a bit, so the researchers can study and preserve the fossil.
Perkins said most people want to find a fossil when they're kids. "I didn't really grow out of it," he said.
"To actually have one in our backyard, it's amazing. It's a surprise, (We) still kind of can't wrap our head around it happening," he said.
Perkins said that once the fossil is unearthed, they plan to loan it to the Nevada Science Center or someone else who can study it, preserve it and put it on display for others to enjoy.
- Ice Age fossil find turns Las Vegas couple's new pool into a dig site, CNN.com, May 1, 2021.

2. Growing up as identical twins, Brittany and Cynthia Daniel have always been attached at the hip.
"We are so intertwined," says Brittany, 45, who rose to fame alongside Cynthia on their hit '90s TV series, Sweet Valley High. "Everything that's hers is mine and everything that's mine is hers."
And so, after Brittany underwent a harrowing battle with stage IV non-Hodgkin's lymphoma and learned she might never be able to have children on her own, Cynthia didn't hesitate to donate her own eggs to her sister. Finally, on Oct. 24, 2021, Brittany and her husband Adam Touni welcomed their daughter Hope.
"I saw it as such a simple gift I could give to her,' says Cynthia. "I know Brittany would do it in a split second for me. And we've always shared everything, so why not this?"
After the four-season run of Sweet Valley High, the sisters' paths somewhat diverged. Brittany continued acting with notable appearances in movies like White Chicks and on the TV series The Game, while Cynthia started a family with her husband, Yellowstone actor Cole Hauser. Together they share Ryland, 17, Colt, 13, and Steely, 8.
"I always thought I'd be the first to get married and start a family," says Brittany. "But I was serious about my career, and I was having a good time."
All that changed when Brittany was diagnosed with cancer in 2011, after which she endured a grueling six months of chemotherapy with Cynthia by her side. "There were definitely moments where I thought, 'Am I going to lose my sister?'" recalls Cynthia. "She was so strong, but it was so hard to watch."
Following her arduous recovery, Brittany's next steps came into clear focus. "I remember thinking that I had a new lease on life," she says. "I was ready to find a partner and have a child."
But during a meeting with a fertility specialist, Brittany was told that likely due to the intense chemo, she had a diminished egg reserve and getting pregnant on her own would likely be impossible. She broached the idea of egg donation to Cynthia and her twin, after discussing it with Hauser, "didn't hesitate," she recalls. "Words cannot express how grateful I am to her."
Brittany met broker associate Touni six months later and they wed in 2017. But unfortunately, three in vitro fertilization (IVF) attempts using Cynthia's eggs were unsuccessful, and Brittany was devastated. "I thought I might have to wrap my head around not being a mom in this lifetime," she recalls. "I fought so hard to get there, and I was so scared it wasn't going to happen."
Instead, the couple turned to surrogacy, again using Cynthia's egg, and both parents were in the room when baby Hope was born.
"I just let out this primal cry," recalls Brittany of meeting her daughter. "The entire room was bawling because they just all knew what we had been through."
- Brittany Daniel Reveals She Had a Baby Using Her Twin Sister Cynthia's Donor Egg, People.com, January 05, 2022.

3. You don't have to rub it in.
They know.
"Welp….that forecast didn't age well," 7News's Jeremy Reiner tweeted Monday morning. "At least Saturday verified with record warmth…….Call it even?!"
"Nothing but Valentine's [love] for you trolls," NBC10 Boston's Pete Bouchard said. "Nope, didn't see this much snow coming Friday. Nope, I'm not happy about it. Sometimes Mother Nature sneaks one by you."
"Predicting the future is challenging, but also rewarding and at times like this storm… humbling," Sarah Wroblewski of WBZ weighed in. "It's always a learning process and an opportunity to push yourself forward after mistakes."
Yes, Boston meteorologists underestimated Sunday's snowfall.
Local meteorologist David Epstein said there were some hints on Saturday that the earlier forecasts had it wrong.
By Saturday, "the models were sort of onto the fact that there was going to be more snow," Epstein said Monday on his Weather Wisdom podcast, which he titled, "Why The Heck Did It Snow So Much?"
Epstein said "lift" occurred Sunday morning when the cold air arrived, which caused the initial snowfall.
"Lift is necessary in the atmosphere in order to create precipitation and clouds, so if you see a cloud, there's lift," he said on his podcast. "Our lift [Sunday] with that first round of snow in the morning came from a temperature difference, and those two temperatures as they met, warm air is lighter, it went up, it cooled, it condensed, it formed snowflakes, and we got that little bit of snow and then we had the lull."
...
Overall, Epstein admitted Sunday's snow was "certainly not well forecasted."
"This is the great thing about weather is that there's still surprises, it's still why you need people … looking at this stuff," he said. "I also think that Saturday was just so beautiful it was hard to wrap your head around the fact, 'Hey, we're going to see up to half a foot of snow in so many areas.'"
- Yes, Boston meteorologists underestimated Sunday's snowfall, Boston.com, February 14, 2022.
本文仅代表作者本人观点,与本网立场无关。欢迎大家讨论学术问题,尊重他人,禁止人身攻击和发布一切违反国家现行法律法规的内容。
About the author: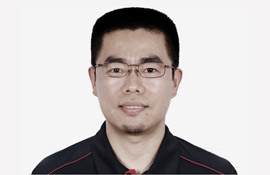 Zhang Xin is Trainer at chinadaily.com.cn. He has been with China Daily since 1988, when he graduated from Beijing Foreign Studies University. Write him at: zhangxin@chinadaily.com.cn, or raise a question for potential use in a future column.
(作者:张欣 编辑:丹妮)
中国日报网英语点津版权说明:凡注明来源为"中国日报网英语点津:XXX(署名)"的原创作品,除与中国日报网签署英语点津内容授权协议的网站外,其他任何网站或单位未经允许不得非法盗链、转载和使用,违者必究。如需使用,请与010-84883561联系;凡本网注明"来源:XXX(非英语点津)"的作品,均转载自其它媒体,目的在于传播更多信息,其他媒体如需转载,请与稿件来源方联系,如产生任何问题与本网无关;本网所发布的歌曲、电影片段,版权归原作者所有,仅供学习与研究,如果侵权,请提供版权证明,以便尽快删除。