In limbo? 混沌不明
中国日报网 2022-04-19 14:01
分享到微信 Reader question:
Please explain this sentence, particularly "in limbo": They had a bitter argument… their relationship has since been in limbo.

My comments:
They haven't figured out what to do. If they were a couple, they could return to their old relationship and remain husband and wife. Or they could divorce each other and go separate ways. But right now, confusion reigns. Nobody knows what happens next because, say, they have stopped talking to each other. They don't even know who says hello first just to break the ice.
More or less, this is what it means for their relationship to be in limbo.
Religious people, to wit, Christians have a more solid and firm understanding of what it means to be in limbo. This explanation, from The Phrase Finder (Phrases.uk.org):
People had been in limbo well before the 1950s, of course. Limbo was originally a place rather than a dance – the borders of Hell, no less. That limbo derived from the Latin 'limbus', meaning edge. Medieval Christian belief had it that only those who were baptized into the Christian Church could enter Heaven. Theologists, especially those of the Roman Catholic persuasion, were much exercised by the fate of those who, while not being sinners to be condemned to Hell, were unbaptized through no fault of their own. In particular, babies who died at birth or those who had died before the time of Christ, would have had no choice but to remain unbaptized. By the 14th century, the incongruity was avoided via the concept of Limbo, the abode of righteous souls who weren't destined for either Heaven or Hell. Two of the forms of Limbo were Limbo Infantum (Limbo of the Infants) and Limbo Patrum (Limbo of the Adults).
Thus, Limbo was on the border, not in Hell, but not in Heaven either….
In other words, not in heaven nor in hell, but somewhere in between.
Nearer to hell than to heaven though. Hence and therefore, metaphorically speaking, to be in limbo is to be stranded in some place, neglected and immobile, with no prospect of movement to a better place.
In other words, everything is uncertain and unpleasant.
All right, let's seek added assistance by reading a few media examples of people or situations "in limbo":

1. On the outside courts, spectators were seeking refuge and cool drinks on Thursday as temperatures spiked to over 90 degrees. Players exchanged shots and grunts in qualifying matches, hustling to make the most of their long journeys.
But however familiar the sun-drenched scene, this already has been an Australian Open like no other, even though the main event does not begin until Monday.
All story lines, all prologue, have been thoroughly overshadowed by Novak Djokovic's duel with the Australian government over whether he will be allowed to remain in the country and chase a 10th Australian Open singles title.
Thursday brought no resolution: only more speculation and the administration of the Australian Open draw, which despite a delay of more than an hour was ultimately conducted smoothly, with Djokovic placed in his now-familiar spot at the top of the bracket.
Although Alex Hawke, the Australian immigration minister, has the authority to revoke Djokovic's visa and order his deportation, Hawke has yet to say whether he will make that bold move. For now, Djokovic is scheduled to face Miomir Kecmanovic, a much younger Serbian compatriot, in the first round and could face Tommy Paul, a rising if unseeded American, in the second round.
"I've never seen anything like this," said Brad Stine, Paul's coach. "It's obviously not good in so many different ways for the Australian Open or for our sport."
...
But for now, Djokovic is in the Australian Open draw, and the men's tournament is in limbo.
"Limbo is the worst scenario for the tournament," said Paul McNamee, a former Australian Open tournament director.
- With Djokovic's Status in Limbo, So Is the Australian Open, SportLife.com, January 13, 2022.

2. Bakari Henderson was only 22 when he visited the Greek island of Zakynthos in 2017 to take photos promoting his new clothing line.
"Bakari loved to travel, he loved meeting people," CBS Mornings co-host Gayle King tells PEOPLE of the Texas native. "He didn't meet a stranger."
But on July 7, 2017, during a night out with friends in the village of Laganas, the recent college graduate's trip came to an abrupt end when an angry mob chased him out of a bar and beat him to death.
The altercation allegedly started after a waitress took a selfie with Bakari – the only Black man in the group. A Serbian man nearby then asked her why she would take a photo with a Black man and punched him, a local police spokesperson told The Washington Post at the time.
Bakari, whom loved ones previously told PEOPLE was "not a fighter," reportedly hit back, but he was quickly outnumbered and chased down the street before they surrounded him.
The entire deadly incident was caught on surveillance video.
"His life was taken away in 30 seconds – in 30 seconds!" says King, who has made it a personal mission to keep his story on people's minds over the past several years. "That just doesn't make any sense to me. This kid who had always done all the right things."
One month after Bakari's death, King sat down with his parents, Phil and Jill Henderson, in their first TV interview to learn more about the young man and the impact of his sudden killing.
In the time since their 2017 conversation, the men accused of beating Bakari went to trial in Greece and were found not guilty of murder. The prosecutor then ordered a retrial on the same charges – a reportedly rare decision in Greece that would not be allowed in the U.S. court system due to double jeopardy laws preventing people from being prosecuted twice for the same crime.
The new murder trial has been delayed for more than two years.
With the retrial scheduled to finally begin on Feb. 21, King is sitting down with Phil and Jill again to discuss their long road to justice, which they define as seeing their son's attackers convicted of murder.
"Their life is in limbo," King says of the Hendersons. "Because they don't have closure."
- Parents of Black American Killed by Mob in Greece Speak on Long Road to Justice in New Gayle King Interview, People.com, February 9, 2022.

3. An Italian appeals court has definitively annulled the pre-trial arrest warrant for the prime suspect in the Vatican's big fraud and embezzlement trial, signaling an end to extradition procedures in Britain for now, his legal team said Wednesday.
The decision by Rome's Tribunal of Review is a blow to Italian prosecutors but also to Vatican prosecutors, who had been trying to bring Gianluigi Torzi back to Italy to eventually stand trial in the Vatican for his role in the Holy See's costly London real estate deal.
The Vatican doesn't have an extradition treaty with Britain. But the city state's prosecutors provided evidence to their Italian counterparts who launched their own investigation into Torzi's finances and sought his arrest on an international warrant to stand trial in Italy on charges including tax evasion and money laundering.
The London-based Torzi denies wrongdoing in both the Italian and Vatican cases, which will nevertheless proceed in his absence.
The case in Italy was launched after Vatican prosecutors had already been investigating Torzi for his role in the Holy See's bungled 350 million-euro investment in a London residential property. Vatican prosecutors have accused Torzi of trying to extort the Vatican of 15 million euros to turn over full ownership of the property.
The Vatican tribunal indicted him in July, but his status in the trial has been in limbo because of the extradition proceedings between Italy and Britain and the legitimacy of the Italian arrest warrant that launched them.
Italy's highest court, the Court of Cassation, had annulled the warrant in October and sent the case back to the appeals court on the grounds that Italian prosecutors hadn't provided full documentation beneficial to Torzi's defense when the judge was deciding whether to issue the warrant. After evaluating that missing evidence, the Tribunal for Review definitively annulled the warrant, said a statement from Torzi's lawyers Marco Franco and Ambra Giovene.
"Finally, justice has been done concerning an arrest warrant that had no juridical or logical sense," the statement said.
- Italy court definitively annuls warrant for Vatican suspect, Associated Press, February 3, 2022.
本文仅代表作者本人观点,与本网立场无关。欢迎大家讨论学术问题,尊重他人,禁止人身攻击和发布一切违反国家现行法律法规的内容。
About the author: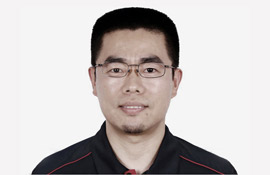 Zhang Xin is Trainer at chinadaily.com.cn. He has been with China Daily since 1988, when he graduated from Beijing Foreign Studies University. Write him at: zhangxin@chinadaily.com.cn, or raise a question for potential use in a future column.
(作者:张欣 编辑:丹妮)
中国日报网英语点津版权说明:凡注明来源为"中国日报网英语点津:XXX(署名)"的原创作品,除与中国日报网签署英语点津内容授权协议的网站外,其他任何网站或单位未经允许不得非法盗链、转载和使用,违者必究。如需使用,请与010-84883561联系;凡本网注明"来源:XXX(非英语点津)"的作品,均转载自其它媒体,目的在于传播更多信息,其他媒体如需转载,请与稿件来源方联系,如产生任何问题与本网无关;本网所发布的歌曲、电影片段,版权归原作者所有,仅供学习与研究,如果侵权,请提供版权证明,以便尽快删除。