All in all? 总而言之
中国日报网 2022-08-02 14:42
分享到微信 Reader question:
Please explain this sentence: So, all in all, no complaint.

My comments:
Someone is complaining about something. After he or she analyzes the situation thoroughly, however, they decide that they should be happy about it.
So, no complaint.
All in all?
This means after all things have been considered, after we have examine every aspect of the situation, both good and bad – we can make a fair judgment.
All in all means ALL things IN ALL their forms and complexities. We have to consider everything, both the positive and the negative. We have to weigh everything, the good, the bad as well as the big and the small.
In our example, the speaker apparently has weighed everything and reached this conclusion: On balance, no complaint.
Not that he or she really hasn't any complaint to make. They do. Maybe lots of it. But they have also had a lot of enjoyable moments. And when they consider all the good that's happened to them, they feel the whole thing or experience is worth it.
So, all in all, no complaint.
All in all, originally, by the way, refers to the Almighty God, i.e. the omnipresent and omnipotent Christian God. Phrases.uk.org explains:
"All in all', when first coined, was a reference to the omnipresent and all-pervasive nature of the Christian God, that is, 'all things in all places'. The phrase was used explicitly with that meaning in The Great Bible, 1539, in 1 Corinthians 15:28:
That God maye be all in all.
More recently, the usage of the term is usually with the meaning 'when all things have been considered'. This began life in the 19th century; for example, in this piece from The Edinburgh Advertiser, July, 1829:
We saw the second night of "Peter Wilkins," a piece, taking it all in all, we never saw got up better in or out of London.
Both ancient and modern versions of 'all in all' have been used in the past few years in popular songs. The 'God' meaning was used in Dennis Jernigan's 1991 song You are my all in all:
You are my strength when I am weak
You are the treasure that I seek
You are my all in all
Seeking You as a precious jewel
Lord, to give up I'd be a fool
You are my all in all
Pink Floyd also used the term, with its more usual contemporary meaning of 'all things having been taken into account', in Another Brick in the Wall Part 2, 1979:
We don't need no education
We don't need no thought control
No dark sarcasm in the classroom
Teachers leave them kids alone
Hey! Teachers! Leave them kids alone!
All in all it's just another brick in the wall.
All in all you're just another brick in the wall.
Okay and all right. No more ado. Let's read a few media examples of "all in all":

1. The last time we checked in on the legal comings and goings of Donald Trump, things were not looking so hot for the former president of the United States. In addition to being the defendant in no fewer than 29 lawsuits, per The Washington Post, he was the subject of numerous criminal investigations, including one in which attorneys had obtained access to his tax returns – documents that for some reason he spent the last four years fighting tooth and nail to keep secret. Now, two and half months after leaving the White House, have Trump's legal fortunes miraculously improved? In a word, no. In three words, hell fuck no. In 19 words, the 45th president of the United States should probably just resign himself to the prospect of going to prison.
On Wednesday The New York Times reported that the Manhattan District Attorney's office, which is investigating Trump for possible bank, tax, and insurance fraud, had subpoenaed the personal bank records of Allen Weisselberg, a significant escalation in its quest to flip the longtime Trump Organization chief financial officer. Weisselberg has kept Trump's books since the '80s and became CFO of the family business in 2000, once describing himself in a deposition as Trump's "eyes and ears…from an economic standpoint." Perhaps most crucially, Weisselberg has testified about Trump matters in the past, in exchange for personal protection; in 2018, he was granted federal immunity to provide information concerning the hush-money payments made to Stormy Daniels.
...
Finally, there's the defamation suit against Trump by former Apprentice contestant Summer Zervos, which New York's highest court on Tuesday said can move forward after Trump's lawyers tried to get it dismissed because he was the president. That argument is obviously no longer working out for them!
Per The Wall Street Journal:
Zerovs…claimed in the weeks before the 2016 election that Mr. Trump groped and kissed her without her consent in 2007. In 2017, she sued Mr. Trump for defamation after he denied her allegations and called her story a "hoax."
Tuesday's ruling means that Mr. Trump could be questioned under oath for the lawsuit. In 2018, Manhattan Supreme Court Justice Jennifer Schecter had ruled that a deposition of Mr. Trump and other evidence gathering could move forward. The deposition hasn't occurred because Mr. Trump appealed her ruling on presidential immunity to higher courts. Beth Wilkinson, a lawyer for Ms. Zervos, said in a statement, "Now a private citizen, the defendant has no further excuse to delay justice for Ms. Zervos, and we are eager to get back to the trial court and prove her claims."
All in all, not a great week for a guy who can't get any legitimate lawyers to return his calls!
- Donald Trump's Odds Of Staying Out Of Prison Are Rapidly Dwindling, VanityFair.com, March 31, 2021.

2. Mark Noble was full of emotion after his final home game in a West Ham United shirt ended in a memorable 2-2 draw with Premier League leaders Manchester City and a poignant farewell ceremony.
The Club captain was introduced to the crowd before kick-off, bringing tears to his eyes for not the first time in his 18-year career in Claret and Blue, before taking his seat in the dugout and watching a thrilling game highlighted by two first-half goals from Jarrod Bowen.
Title-chasing Manchester City fought back through a deflected Jack Grealish strike and Vladimír Coufal's unfortunate own-goal, leading David Moyes to send on his vastly experienced 35-year-old midfielder for a final appearance on native east London turf.
There was one final scare when Craig Dawson fouled Gabriel Jesus, but Łukasz Fabiański saved Riyad Mahrez's penalty superbly to ensure that Noble would bow out on a high.
Speaking after the game, the iconic No16 reflected on an unforgettable day at the end of an unforgettable career…
Reporter: Mark, what a way to sign off in your final home game for West Ham United…
Noble:"It's a fantastic day for me and my family and a great day for the fans because they are a very special team, so to go two goals up against them… we didn't have a lot of the ball, but we had two counter-attacks and scored two goals through two fantastic finishes from Jarrod.
"All in all, it was a perfect day and one I could enjoy with my family before going around the pitch to say 'Thank you' for the home support this year and then we look forward to next week."
- Noble: All in all, it was a perfect day, WHUFC.com, May 16, 2022.

3. Though Real Housewives alum Jen Shah flipped to a guilty plea deal in her federal fraud case of late, fellow reality stars Todd and Julie Chrisley decidedly did not go with that option to forego a trial. The couple pled not guilty to the 12 counts of bank fraud, tax evasion and more charges leveled against them, and sought to prove their innocence during the recent trial in June. However, the jury ultimately found them guilty of all charges, and now that she's had a few weeks to sit with that news, their daughter Savannah Chrisley opened up further about a new life philosophy she has developed following her parents' convictions.
The 24-year-old has long been a staple on her family's reality series, USA Network's Chrisley Knows Best, and her own spinoff with her brother Chase called Growing Up Chrisley. They all looked as happy as ever in the first trailer of the flagship show's Season 9, which is currently airing, but apparently looks can be deceiving. Technically, Todd and Julie Chrisley were first indicted back in 2019, then re-indicted at the beginning of 2022 after filming officially concluded for the latest season. Speaking on her mom and dad's Chrisley Confessions podcast (opens in new tab), the usually "sassy" TV personality admitted that they've basically needed to live in the moment as a result of the upset. She said: "There's been so much happening in life, I don't even know where to be begin. But you kind of have to just take it as it comes, and you have to take it day by day. So that's kind of where we're at."
So, all in all, the Chrisleys are coping as best they can. But part of that means struggling with the negative stories generated about them in the press, and the criticisms coming from the public. Savannah Chrisley noted on the podcast the imbalance between people becoming more sensitive even as public interactions have become entirely insensitive.
- Savannah Chrisley Has A New Philosophy On Life After Todd And Julie Chrisley's Tax Fraud Conviction, CinemaBlend.com, July 14, 2022.
本文仅代表作者本人观点,与本网立场无关。欢迎大家讨论学术问题,尊重他人,禁止人身攻击和发布一切违反国家现行法律法规的内容。
About the author: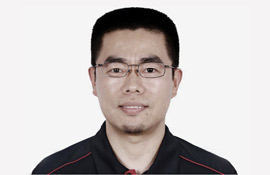 Zhang Xin is Trainer at chinadaily.com.cn. He has been with China Daily since 1988, when he graduated from Beijing Foreign Studies University. Write him at: zhangxin@chinadaily.com.cn, or raise a question for potential use in a future column.
(作者:张欣 编辑:丹妮)
中国日报网英语点津版权说明:凡注明来源为"中国日报网英语点津:XXX(署名)"的原创作品,除与中国日报网签署英语点津内容授权协议的网站外,其他任何网站或单位未经允许不得非法盗链、转载和使用,违者必究。如需使用,请与010-84883561联系;凡本网注明"来源:XXX(非英语点津)"的作品,均转载自其它媒体,目的在于传播更多信息,其他媒体如需转载,请与稿件来源方联系,如产生任何问题与本网无关;本网所发布的歌曲、电影片段,版权归原作者所有,仅供学习与研究,如果侵权,请提供版权证明,以便尽快删除。