As dialed in as anyone? 专心致志
中国日报网 2023-04-21 14:33
分享到微信 Reader question:
Please explain "dialed in", as in this sentence: The commentator said: "He runs the floor and is as dialed in as anyone."

My comments:
The player the commentator talks about is most focused, in other words.
He runs up and down the playing field (floor), playing as hard as any other player. And he's performing to the best of his ability.
That's, in sum, what dialed in basically means.
The phrase "dialed in", originally, may have come from the old telephone with a circular dial. The dial is numbered from 0, 1, 2, 3… to 9. In order to connect to the person on the other end, one has to dial their number containing 3, 4, 6 or 8 digits, as the case may be. You have to dial the numbers correctly, of course. And that requires a little care and focus. If you're absent-minded and keep dialing wrong numbers or dialing them in wrong sequences, you'll never be able to reach the other end.
On the other hand, if it's a number you have been dialing for awhile, you may be able to do it right without effort, i.e. automatically. Practice makes perfect, so to speak.
So, therefore, metaphorically speaking, if a player is dialed in, as is the case in our above example, he's focused, dedicated and (therefore) proficient and effective. He makes no silly mistakes.
All right, let's read a few media examples to get a better feel for "dialed in":

1. Lee Trevino might have been an engaging, welcome personality on the PGA TOUR to its passionate fanbase. But that wasn't the impression Trevino got from at least one of his fellow competitors.
"There was a guy I never got along with very well, a pro, who was OK but didn't seem to like me," Trevino recalled. "I don't know what his problem was, because I never bothered him."
So Imagine Trevino's surprise when the unnamed player approached him from two fairways over during a practice round prior to the 1971 Cleveland Open. A week earlier, Trevino made waves by winning his second major championship at the U.S. Open, beating the legendary Jack Nicklaus by four strokes in an 18-hole playoff.
What the player was about to say to Trevino was anyone's guess.
"He walked over two fairways to shake my hand and hug me," Trevino said, laughing. "He said, 'We finally got somebody that can beat him.'"
It didn't matter that Trevino had a darker skin complexion than most of his peers, or that his Hispanic last name – the surname Trevino traces its origins to Spain – always stood out on a leaderboard.
What mattered instead was the respect Trevino earned on the golf course. Beating the revered Nicklaus – in a major championship for the second time, no less – was a monumental achievement worthy of respect. Anything else was irrelevant.
"When he walked away, I got to thinking about what he said," Trevino said. "I thought, 'You know what? I'm finally one of the boys.' I got very comfortable being out there."
Trevino would go on to win 29 times in total on the PGA TOUR, including six major championships, to cement his status in the World Golf Hall of Fame in 1981. More importantly, Trevino, nicknamed "SuperMex," became an inspiration to point toward for other minorities looking for their own entry into golf.
That message endures today, as Trevino, now 81 years old, continues to be outspoken about growing the sport at the junior levels. He desperately wants youth programs such as the First Tee to find unlimited, free access to golf courses throughout the country.
"The only thing that I can do now is be vocal about it, which I've been," Trevino said. "They can be done right. It would be extremely successful if they had their own golf courses, whether it's nine holes or 18, and their own driving range when they can hit whenever they want to."
"I would have mowed it and had it out there to let these kids play on all day," he continued. "Cow pasture pool is what we called it. That's how I learned to play, in the middle of a field."
...
Lee Trevino is as dialed in as ever on the game of golf. And that's a good thing for all of us.
"My personality came from serving people," Trevino said. "Every job I ever had I was serving someone. That's what we were taught to do, and it's never changed. I love people."
- Trevino, 81, passionate as ever for golf, PGATour.com, October 8, 2020.

2. As dialed in as he has been at almost any point throughout his historically dominant career, Cardinals slugger Albert Pujols used a moment from Monday's second inning, made a slight tweak to it and ultimately turned it into the 693rd regular-season home run of his career.
Yep, Albert Pujols is that off-the-charts great once again for the Cardinals.
After ripping a 106.1 mph blast off the left-field wall for a single in the second inning, Pujols retreated to the dugout to find his trusty tablet to review the hit. Playfully, Pujols had an idea for the rest of his at-bats – hit the ball more toward the gap where the ivy-covered wall at Wrigley Field juts inward. He was able to do that in the seventh inning – on a pitch that was neck-high, nonetheless – making Pujols' 30th career home run at storied Wrigley Field even more impressive.
"I told [catcher] Yadi [Molina], 'I should have hit [the second-inning line drive] a little more to the right, and maybe it would have gotten out," Pujols said after providing the only run of the night in a 1-0 win over the Cubs that extended the Cardinals' winning streak to eight games. "That's the adjustment I made – I hit it a little more to the right – and it went out of the ballpark."
As if hitting the 693rd regular-season home run of his career wasn't significant enough, Pujols tied Barry Bonds for first all-time by homering off his 449th pitcher. Pujols turned Chicago's Drew Smyly into a footnote in history by driving a ball into the first row of the left-field bleachers. Smyly was in awe that Pujols could connect on a pitch that was neck-high and drive it out of the park even though it came off the end of the bat.
"But, he's The Machine for a reason," Smyly said of Pujols' famed nickname. "He's back."
- 'It's an honor to be his teammate': Ageless Pujols on incredible tear, MLB.com, August 23, 2022.

3. It was not a pretty game, but the Los Angeles Lakers were able to push through a rough night and defeat the Minnesota Timberwolves in Tuesday night's Play-In Tournament game to secure the seventh seed in the Western Conference. When it mattered most, it was LeBron James making the biggest plays and ensuring head coach Darvin Ham would make the playoffs in his first season.
LeBron led the Lakers with 30 points to go along with 10 rebounds, six assists and two blocks. But he was also a big part of the Lakers' 20 turnovers as he gave it away five times himself including in some key moments late in the game. But Ham still had nothing but praise for LeBron in leading the Lakers despite the mistakes.
"Just a champion," Ham said when asked about LeBron after the game. "He had some tough moments, some balls that got away from him… But make no mistake about it, I told him after the game, the entire team, this game was the definition of having the next-play mentality. We had a lot of loose possessions, we had a couple defensive breakdowns, they were able to hit some huge 3s to create a deficit and we just kept chipping away at it."
...
Now the Lakers' focus turns to the Memphis Grizzlies as LeBron will look to lead this team on a long playoff run.
If anyone was unsure how dialed in James is ahead of the playoffs, he made it clear that he knows exactly what is in store for the Lakers against the second-seed Grizzlies, breaking down their roster from top to bottom.
"A really good team. Very well coached. Very well-balanced," James said of the Grizzlies. "Obviously, the head of the snake in Ja Morant. Another All-Star in Jaren Jackson, who was up on Defensive Player of the Year. His ability to block shots, but offensively he's very dynamic as well. Tyus Jones off the bench has led the league in assist-to-turnover ratio like the last six years, so he complements them very well. Desmond Bane, I think in his third year, second or third year, but he plays like a veteran. His ability to shoot the ball from the three-point line. Also, his ability to attack in early transition. Dillon Brooks, an opportunity to go out there, you can't disrespect him because he makes shots and Xavier Tillman has been playing good basketball. Obviously, he's been well coached from his college days with Coach [Tom] Izzo to know and so on.
"They've got Luke Kennard who broke my scoring record in high school. He passed me in high school, and the reason why is he's a laser from the three-point line. His ability to shoot the ball is uncanny. And they've got so many other guys off the bench you just can't disrespect because they will make you pay.
"Obviously, I haven't thought about Memphis one minute," James joked.
- Lakers News: Darvin Ham Says LeBron James Played Like A 'Champion' In Play-In Tournament Victory, LakersNation.com, April 14, 2023.
本文仅代表作者本人观点,与本网立场无关。欢迎大家讨论学术问题,尊重他人,禁止人身攻击和发布一切违反国家现行法律法规的内容。
About the author: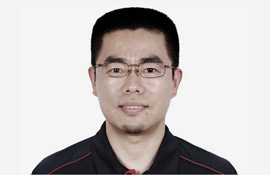 Zhang Xin is Trainer at chinadaily.com.cn. He has been with China Daily since 1988, when he graduated from Beijing Foreign Studies University. Write him at: zhangxin@chinadaily.com.cn, or raise a question for potential use in a future column.
(作者:张欣 编辑:丹妮)
中国日报网英语点津版权说明:凡注明来源为"中国日报网英语点津:XXX(署名)"的原创作品,除与中国日报网签署英语点津内容授权协议的网站外,其他任何网站或单位未经允许不得非法盗链、转载和使用,违者必究。如需使用,请与010-84883561联系;凡本网注明"来源:XXX(非英语点津)"的作品,均转载自其它媒体,目的在于传播更多信息,其他媒体如需转载,请与稿件来源方联系,如产生任何问题与本网无关;本网所发布的歌曲、电影片段,版权归原作者所有,仅供学习与研究,如果侵权,请提供版权证明,以便尽快删除。