All in? 押上全部
中国日报网 2023-04-25 17:12
分享到微信 Reader question:
Please explain "all in", as in this headline: Germany goes all in on energy transition with nuclear shutdowns.

My comments:
Germany is fully committed to newer and greener energy, that is.
In the news, Germany has closed its last nuclear reactors. From now on, the country will rely instead on renewable sources for power, such as solar and wind.
"All in" means they've put everything in. Originally, this is a gambling term referring to a gambler betting all his money on one good hand, the idea being, all or nothing as the gambler is convinced of his chances of winning. A risky move, to be sure, but gambling being what it is, we understand that chance taking is what gamblers do.
Do or die, as it were.
Win big or fail miserably, as the case may be – often the latter, actually.
In our example, Germany has gone all in on renewable energy. By shutting down its last reactors, it tells the world that it's fully committed to the cause. There's no turning back.
That's the message.
All right?
All right, let's read a few recent media examples of people who are "all in" on this and that:

1. The Buccaneers sit six days away from their first game of the 2022 regular season. With the fumes of quarterback Tom Brady's 11-day training-camp hiatus still lingering, it's inevitable that questions about Brady's status will emerge, from time to time.
On Monday, coach Todd Bowles was asked whether Brady continues to be "all-in" for the season.
"He's been all-in since we got him," Bowles said, ignoring the nearly two weeks when Brady was literally all-out.
"He's all-in now," Bowles immediately added, perhaps remembering the still-unexplained (other than to say "I've got a lot of shit going on") absence. "I don't follow the off-the-field stuff. I listen to XM The Groove and Soul Town. My off-the-field activities are honestly not even football-related."
By mentioning that he doesn't follow "the off-the-field stuff," Bowles acknowledged the existence of it, whatever it may be. The New York Post, owned by the same family that owns Brady's eventual broadcasting employer, has been pushing the link between his absence and marital discord. That's the only real "off-the-field stuff" that has secured any type of actual traction, as it relates to potential explanations for Brady's unprecedented departure from camp.
- Is Tom Brady still "all-in"? Todd Bowles: "He's been all in since we got him", NBCSports.com, September 5, 2022.

2. California Gov. Gavin Newsom is dismissing speculation that he may challenge President Biden for the Democratic nomination in 2024 – reportedly telling POTUS himself that he is "all in" on Biden's re-election.
In an interview with Politico, Newsom sought to tamp down speculation that he may run for the Democratic nomination after what the outlet said was "considerable" irritation from the White House at rumors he was plotting a run to oust Biden.
"I've told everyone in the White House, from the chief of staff to the first lady," he said, saying his message is "I'm all in, count me in" on Biden's re-election bid.
Talk of a potential Newsom 2024 bid had fired up in recent months amid growing concern from Democrats about Biden's health, age and low approval ratings. Fears about how Biden would fare in a 2024 fight against former President Donald Trump, or Florida Gov. Ron DeSantis, had led some Democrats to begin looking for a potential replacement, and Newsom's name had been floated as a possible option.
That concern has likely dissipated somewhat after a stronger-than-expected performance by Democrats in the November midterms, where Democratic fears of a Republican "red wave" did not come to fruition. Democrats have kept hold of the Senate, and while they lost control of the House, Republicans will only gain a slim majority. As a result, Biden's position appears stronger than it did in the summer.
- Newsom won't challenge Biden in 2024, says he is 'all in' on president's re-election, FoxNews.com, November 26, 2022.

3. In a recent appearance on CNN, Representative Byron Donalds (R-FL) reaffirmed his support for Donald Trump in the 2024 Election, saying he is "all in" on it.
Rep. Donalds spoke of the need for the Republican nominee to "hit the ground running on day one." By this, he meant that the nominee must send a strong message to the world that "American leadership is back."
"My view on the presidential primaries amongst Republicans is that our nominee has got to hit the ground running on day one and be able to say to the world, 'American leadership is back, we're not going to have countries and their sovereignties be taken advantage of. We want to actually have global security and global trade, and frankly global harmony," said Donalds.
He recalls the warning by former Democratic presidential nominee Hillary Clinton that Donald Trump would start World War III, which Donalds dismissed because "the world got a lot safer." Instead, he argued, "If anyone's got us on the precipice, it's Joe Biden.
"I remember Hillary Clinton once said in a debate in 2016 that if Donald Trump became President of the United States, we will be on the precipice of World War III. Well, that never happened. As a matter of fact, the world got a lot safer. If anyone's got us on the precipice, it's Joe Biden," Donalds continued.
- Donalds is 'All in' on Trump in 2024, FloridianPress.com, April 21, 2023.
本文仅代表作者本人观点,与本网立场无关。欢迎大家讨论学术问题,尊重他人,禁止人身攻击和发布一切违反国家现行法律法规的内容。
About the author: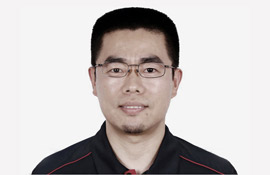 Zhang Xin is Trainer at chinadaily.com.cn. He has been with China Daily since 1988, when he graduated from Beijing Foreign Studies University. Write him at: zhangxin@chinadaily.com.cn, or raise a question for potential use in a future column.
(作者:张欣 编辑:丹妮)
中国日报网英语点津版权说明:凡注明来源为"中国日报网英语点津:XXX(署名)"的原创作品,除与中国日报网签署英语点津内容授权协议的网站外,其他任何网站或单位未经允许不得非法盗链、转载和使用,违者必究。如需使用,请与010-84883561联系;凡本网注明"来源:XXX(非英语点津)"的作品,均转载自其它媒体,目的在于传播更多信息,其他媒体如需转载,请与稿件来源方联系,如产生任何问题与本网无关;本网所发布的歌曲、电影片段,版权归原作者所有,仅供学习与研究,如果侵权,请提供版权证明,以便尽快删除。