Kitchen sink? 一应俱全
中国日报网 2023-07-18 15:04
分享到微信 Reader question:
Please explain "kitchen sink" in this sentence: This film has everything, including the kitchen sink.

My comments:
This film has all the elements that captivates an audience.
For example, it has love and betrayal. It is a rags-to-riches story. It makes you laugh and it makes you cry. It has the car chase, even if it's not an action movie.
Things like that.
That's what "everything, including the kitchen sink" implies.
This is a variation from the expression "everything but the kitchen sink", meaning, well, practically everything.
This is an expression dating back to World War II, where soldiers threw everything at the enemy, including the kitchen sink.
Obviously, throwing the kitchen sink was not going to be very effective, but we get the picture. Soldiers were using every weapon or tool available to fight the enemy, giving their all. Idioms Online explains, in full:
The expression everything but the kitchen sink has been used so often that the term kitchen sink itself has become a related idiom, used as an adjective. For example, when a cell phone has everything but the kitchen sink, it has almost every feature possible, even if some of those features are completely unneeded or impractical. The company that makes this phone, then, has used a kitchen sink approach to its design, meaning that they have "thrown in every feature possible." When such a company encounters a problem they might "throw the kitchen sink" at it, meaning they utilize all their resources to solve the problem. However it is used, the idiom tends to be hyperbolic and slightly humorous.
Also possible is the more hyperbolic variation "everything including the kitchen sink."
According to Eric Partridge in Dictionary of Forces' Slang, this expression was first used in a military context, describing a violent bombardment where everything is fired at the enemy "except the kitchen sink" or "including the kitchen sink." It has been used since the early 1900's, but only became widespread in the mid-1900's.
Typically, of all the items in a kitchen, the sink would be the hardest to remove, as it is attached by plumbing and other means, so that "everything but the kitchen sink" is a humorous way of describing everything remotely possible. When the expression includes the kitchen sink, it uses exaggeration to intensify the meaning.
So, in short, if you give everything but the kitchen sink or everything including the kitchen sink, you're giving your all. You're giving everything you've got, good or bad. You're trying everything in order to solve a problem, even though some of the things you try may not be so helpful.
All right, here are media examples of "kitchen sink" in its various forms:

1. ELON MUSK, FOLLOWING his failed effort to back out of, or ostensibly get a better price on, his deal to buy Twitter unofficially commenced his reign by… entering Twitter headquarters with a sink?
The bit was, we guess, tied to the accompanying caption, "Entering Twitter HQ – let that sink in!" Maybe something like "getting rid of everything but the kitchen sink" would've been a better – albeit just as obvious – idiom to utilize for a guy who plans to do god knows what with everyone's favorite/least favorite social media platform.
But, hey, what do we know? We're not the brain geniuses who agreed to pay $44 billion for a website right before a heavy market downturn that was particularly brutal for the tech sector.
Entering Twitter HQ – let that sink in! pic.twitter.com/D68z4K2wq7
— Elon Musk (@elonmusk) October 26, 2022
Musk's acquisition of Twitter is expected to close on Friday, Oct. 28, capping off a surreal (or maybe quotidian, by Musk's standards) several months of extremely online dealmaking. The deal was first struck back in April. After only a few weeks – and that aforementioned downturn in the market – Musk said he was putting the deal on hold, citing complaints about the number of spam accounts on Twitter.
Musk proceeded to ramp up his complaints, alleging that Twitter not only was underreporting the number of bots and spam accounts, but wasn't letting him properly evaluate the situation. He officially filed to back out of the deal in July, which prompted Twitter to sue. After a few months of court filings, Musk came around at the beginning of October with a trial date looming in Delaware's Court of Chancery.
Amidst all the Twitter shenanigans, Musk has kept himself busy with an array of other activities. Those include speaking at a MAGA donor event, denying reports that he had an affair with his friend's wife, and dealing with reports that he secretly had twins with one of his company's executives last year. Additionally, seven women sued Musk's company Tesla over its alleged culture of sexual harassment.
- Elon Musk's Weird Bit About Finally Buying Twitter Involved a Sink, RollingStone.com, October 26, 2022.

2. The U.S. Air Force wants its next-generation aerial refueling tanker, dubbed KC-Z, to be flying and reach initial operational capability by 2040.
According to a request for information the Air Force posted online Jan. 31, the service plans to start conducting an analysis of alternatives for the next-generation air refueling system, or NGAS, in October, and wants to hear what the defense industry might have in mind for it. Industry has until March 2 to submit its responses.
The KC-Z would be the third and final stage of the Air Force's decades-long tanker recapitalization effort.
The Air Force is now bringing on its fleet of KC-46 Pegasus tankers, which marked the first phase of the modernization, and the service is trying to figure out the right path forward for its next stage, dubbed KC-Y.
Among the options are holding a competition for KC-Y or forgoing a competition and buying more modified KC-46s. The Air Force is expected to shed more light on what it has planned as part of the 2024 budget cycle.
In addition to anticipating the KC-Z would reach IOC by 2040, the Air Force said in the RFI the tanker would need to be able to operate in contested combat scenarios.
Describing how these tankers would operate in combat, the Air Force also told industry to spell out how their aircraft would handle threats – including cyber threats – that might come in that decade, and reduce risk both for itself and the aircraft it would refuel in combat.
...
John Venable, a senior defense fellow at the Heritage Foundation, said the Air Force's RFI shows "they want everything and the kitchen sink" to be considered for the next-generation tanker.
"The Air Force is asking for the moon for the next tanker, and they would settle for something that would allow them to get a little bit closer to the threat, with a much more fuel-efficient wing body," Venable said. "And so this blended wing concept would be a very good thought process."
- 'Everything and the kitchen sink:' USAF plots new refueling tanker, DefenseNews.com, February 6, 2023.

3. The deal to raise the debt ceiling for two years to the tune of $4 trillion while minimally cutting spending passed the House, thanks to the Democratic Party support. More Democrats voted for the compromise than Republicans did, which we all saw coming, given the vocal opposition from the party's conservative wing. Even more damning were the allegations that the $4 trillion increase wasn't a Democratic Party pitch but Speaker Kevin McCarthy's (R-CA) proposal. Yet, even on the Republican side of the aisle, you had staunch conservatives disagreeing.
Rep. Thomas Massie (R-KY), one of the most prominent spending hawks, voiced his approval of the legislation, whereas Rep. Chip Roy (R-TX) vehemently opposed it. Massie's stamp of approval was key as it assured passage through the House Rules Committee, which enabled the process of bringing this bill up for a floor vote.
As Spencer wrote, at 314-117, the deal passed. House Minority Leader Hakeem Jeffries (D-NY) voiced his support for the bill. Still, the fact it was passed without majority Republican Party support guarantees a motion to vacate could be considered by House conservatives. If successful, it could take the gavel away from Mr. McCarthy.
One person who was oddly quiet about the debt deal was Donald Trump. Both conservative and liberal outlets have noticed how the former president has been rather hush-hush about this fiscal showdown on the Hill (via Forbes):
While former President Donald Trump has yet to say where he stands on the deal, he previously said Republicans should refuse to lift the debt ceiling and allow the country to default unless Democrats agreed to "massive" spending cuts. "Republicans should not make a deal on the debt ceiling unless they get everything they want (Including the 'kitchen sink')," Trump wrote on Truth Social. "That's the way the Democrats have always dealt with us. Do not fold!!!"
- Donald Trump Finally Shares How He Feels About the Debt Ceiling Deal, Townhall.com, May 31, 2023.
本文仅代表作者本人观点,与本网立场无关。欢迎大家讨论学术问题,尊重他人,禁止人身攻击和发布一切违反国家现行法律法规的内容。
About the author: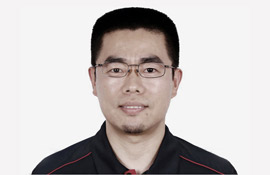 Zhang Xin is Trainer at chinadaily.com.cn. He has been with China Daily since 1988, when he graduated from Beijing Foreign Studies University. Write him at: zhangxin@chinadaily.com.cn, or raise a question for potential use in a future column.
(作者:张欣 编辑:丹妮)
中国日报网英语点津版权说明:凡注明来源为"中国日报网英语点津:XXX(署名)"的原创作品,除与中国日报网签署英语点津内容授权协议的网站外,其他任何网站或单位未经允许不得非法盗链、转载和使用,违者必究。如需使用,请与010-84883561联系;凡本网注明"来源:XXX(非英语点津)"的作品,均转载自其它媒体,目的在于传播更多信息,其他媒体如需转载,请与稿件来源方联系,如产生任何问题与本网无关;本网所发布的歌曲、电影片段,版权归原作者所有,仅供学习与研究,如果侵权,请提供版权证明,以便尽快删除。