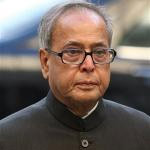 India's economy grew by 7.9 percent in the three months through September - its fastest pace since last year's global financial crisis. India, along with several other Asian economies, is recovering from the global slowdown.
Officials say the latest numbers show that the Indian economy is beating forecasts to grow at a faster-than-expected rate. The growth in the July to September quarter is the highest since April, last year.
Finance Minister Pranab Mukherjee says the recovery has been helped by government stimulus spending and a surge in manufacturing.
"One point is quite clear [is] that the initiatives taken by the government by providing stimulus and helping the generation of demand domestically has paid dividend," he noted. "And, corporate sector is also responding. The industrial growth is also taking place. Negative growth of exports has come down. And, I do hope things will be okay."
The good news cheered stock markets. The benchmark Sensex index was up by about one-and-a-half percent, Monday, after the government released the new data.
But, as the economy picks up, the focus is now on how the government will handle inflation, which has been rising in recent months. Food prices have climbed by more than 12 percent, recently, adversely affecting millions of poor people in the country.
Most policy makers expect the government to raise interest rates in the coming months.
However, a top policy adviser to the government, Montek Singh Ahluwalia, says the government is unlikely to tighten monetary policy in the near future.
"At the moment, the main concern on the inflationary front, I think, is food prices and you know food prices are not going to be affected by introducing a monetary squeeze," he said.
Although the global slowdown put the brakes on India's economy, it weathered the financial crisis better than Western countries. And, like other several other Asian economies, India now appears to be recovering quickly. Economists say Asia is leading the world out of recession, as countries like China, Singapore, and South Korea begin to post good growth in recent months.
Global wages drop despite economic recovery
US Treasury Secretary says economy still "tough"
Most economists see recovery beginning
(来源:VOA 编辑:陈丹妮)