The Tale of Two Dragons 双龙记
The Tale of Two Dragons "双龙记"
英语学习点: Vocabulary on Symbols 有关标记的词汇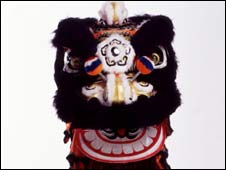 Dragons are for China a symbol of prosperity but in the West they've had a bad press for centuries.
They've been depicted as roaring, flesh-eating, fire-spitting animals so it's no surprise that they've been broadly perceived as villains.
The Greek heroes Hercules and Perseus are supposed to have slain dragons. The Egyptians wrote of the dragon Apophis, seen as an enemy of the sun god Re. The Babylonians described a monster called Tiamat as the embodiment of chaos.
Throughout history references to these creatures have been used to convey fear. In Britain, the Anglo-Saxon Chronicle of 793 says that ''fiery dragons were seen flying in the air'' during an attack from Viking invaders over Northumbria.
St George, the patron saint of England, popularly identified with the country's ideals of honour and bravery, is always shown slaying a dragon. According to the myth, the animal was on the verge of eating a local woman.
But there's hope for this much-maligned creature. A red dragon is shorthand for all things Welsh. It even features on its main emblem, the flag of Wales.
Recently, a dragon came to epitomise a child's innocence. The lyrics of the 1963 song Puff, the Magic Dragon describe a creature who befriends a little boy. The boy grows up and loses interest in imaginary adventures, leaving the sensitive Puff feeling alone and depressed. Maybe the Chinese Year of the Dragon will improve the reputation of dragons everywhere.
Glossary 词汇表 (收听发音, 请单击英语单词)