Take me to your Leader! 寻找外星人
Take me to your Leader! 寻找外星人
英语学习点: Vocabulary on alien worlds 有关外星世界的词汇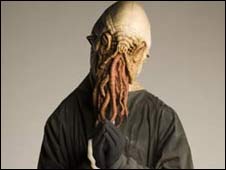 For decades we've been sending signals into space and listening out for out of this world broadcasts. But what's the plan if signs of intelligent alien life are detected?
Those likely to be at the receiving end of a cosmic signal are the scientists at the Seti Institute in California. And its principal astronomer, Seth Shostak, says that if we do get an unusual deep space message confirmed by other telescopes around the world "the protocol would be simply to announce it".
The possibility of extraterrestrial life has always fascinated mankind. Last year, two petitions with more than 17,000 signatures were sent to the US government enquiring if ET had ever been in touch. The White House replied that there was "no evidence that any life exists outside our planet".
But many in different parts of the world are not convinced. They insist that we are not alone in the Universe and go as far as believing that alien abduction is not the stuff of science fiction. According to a report released by the British government in 1995, two boys told the police that a figure with a lemon-shaped head showed up in a spaceship in Staffordshire and told them to follow it. They said they ran away.
The police recorded that the boys appeared "distressed" after gazing at the alleged UFO (unidentified flying object). Some attributed their account to a vivid imagination rather than a prank or a real experience.
Meanwhile scientists continue to be on the look out for Earth-like planets in other solar systems that could support life. We might just find little green men or even end up playing aliens ourselves by colonising other worlds.
Glossary 词汇表 (收听发音, 请单击英语单词)