The world's priciest watch 价值三千万元的手表
Vocabulary: luxury 英语学习点: 与奢侈品有关的词汇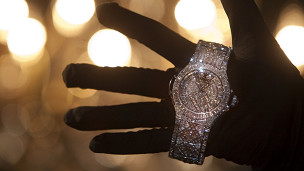 How much money would you be happy to spend on a nice watch? Ten dollars? One hundred? One hundred thousand?!
Well, if you're feeling very rich, there is now a watch worth five million US dollars (32 million yuan) on the market.
Swiss watchmaker Hublot has unveiled what is believed to be the world's most expensive timepiece.
The white gold watch is encrusted with 1,282 dazzling diamonds, and took 17 people 14 months to make. The precious stones cover the entire face, as well as the band.
Jean-Claude Biver, president of Hublot, said it would be hard to make a more expensive watch "because the surface of the watch is limited."
Despite the price tag it seems Hublot will have no trouble selling the high-end creation. Mr Biver revealed that several people had expressed interest in acquiring it.
Analysts say Swiss watchmakers have done well this year, driven by demand in Asia.
Though many retail sectors have been suffering in the economic downturn, luxury brands are thriving – and there are plenty of items for you to spend your money on.
If watches aren't your thing, you could go for a solid gold iPhone, a deluxe "Diamond-Edition" Blackberry or a plain old diamond-encrusted platinum handbag – all are on the market for six-figure sums.