Vibrating tattoos 会震动的纹身图案
英语学习点: 手机 Vocabulary: mobile phones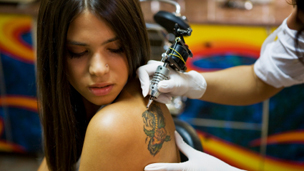 Imagine having a tattoo that vibrates every time you receive an SMS or another mobile phone alert.
It might sound like something out of a sci-fi film, but Nokia think the idea has a nice ring to it.
The Finnish company has filed a patent for the idea of tattooing, stamping or spraying ferromagnetic material on skin, which would be connected to a mobile phone.
The patent application suggests the tattoo could vibrate for any kind of alert, from a top-up to an answer phone message: "Examples of... applications may be low battery indication, received message, received call, calendar alert, change of profile, e.g. based on timing, change of time zone, or any other."
The word coverage in the world of mobile phones could come to mean more that the geographical area in which you can use your mobile: what part of your body would the tattoo cover? Options suggested so far are a person's arm, abdominal area, finger or fingernail.
Getting a tattoo would no longer be an aesthetic choice as the tattoos may even be invisible. People might also get charged up about the possibility of using the tattoo as an identity check and as a password to use devices such as laptops.
But is it right to let technology invade not only our lives but also our bodies? Or do we need a wake-up call? For those who like to relax and switch off, the idea may need to be put on hold.