England footballers crash out 欧锦赛英格兰被淘汰
Vocabulary: defeat and loss 有关失败的词语


Oh no, not again! England's football team have crashed out of the Euro 2012 football tournament after losing another penalty shootout.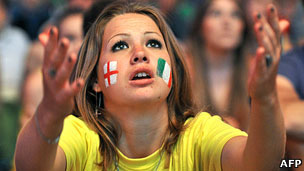 The 'Three Lions', as England are known, were almost pipped at the post by a strong Italian team who came close to scoring before the final whistle. But the match hung in the balance at nil-nil after extra time.
England fans – frustrated at failing on penalties in six previous tournaments – were hopeful this would be their winning night.
The psychological pressure on the players was massive. After two successful penalties, the omens looked good. However, England players Ashley Young and Ashley Cole misplaced their spot-kicks and fans were left with their hearts in their mouths.
The skilful Italians soon thwarted any hope of English victory. The Italian striker Alessandro Diamanti put the final nail in the coffin by coolly slotting in the winner past England goalkeeper Joe Hart.
As Italian fans and players celebrated, English dreams were left shattered and deflated. England captain, Steven Gerrard, said his players were heartbroken at their departure from the tournament. The agonising jinx of losing a match on penalties continues to haunt the England team.
The players must now return home with their tails between their legs. But there is some consolation: the young team only lost by a narrow margin and the setback will last just two years before England mount their next challenge at the 2014 World Cup in Brazil.
But if faced with another penalty shootout, can England finally overcome the odds and triumph?