Dancing for your supper 求饭碗需跳舞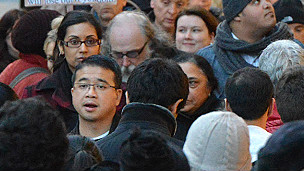 Vocabulary: Job interviews 词汇: 就职面试
How do you feel about job interviews? I'm never ready for them no matter how I prepare. In my attempts to impress my prospective employers I end up talking too much and losing my train of thought.
Sometimes they ask difficult questions like: "Where do you see yourself in five years?" These days everything happens so fast that I can hardly think where I'll be even two years from now!
But I can count myself lucky. One man in Cardiff had to dance during his interview for a job as a shop assistant at an electronics superstore. He felt embarrassed, complained, and the story ended up in the newspapers. The company apologised and invited him to do a new interview. He declined.
Experts say that companies receive too many CVs nowadays and that their interview panels have too many candidates to talk to. So some are trying unorthodox ways to see who stands out.
Some interviewers might unsettle you by criticising your CV. Simon Mitchell, of leadership consultants DDI, says: "The interviewer will put you under pressure to see how you react. Once you see that it is what they are driving at, try to keep calm."
So: control your nerves, research the company you want to work for, think about specific examples of things you've achieved in previous organisations and be prepared to say something intelligent when confronted with the question: "What is your biggest fault?"
My friend Jamal came up with a great answer which he said worked for him: "I tend to be a workaholic."
My grandmother has some advice too. She says: "Tell them you are too giving and offer them some sweets from your bag. This will ensure you leave a lasting impression. They will think you're sweet and you'll get the job!"
What about you: would you follow Jamal's advice or my grandmother's?