Food for the digital age 数码时代食物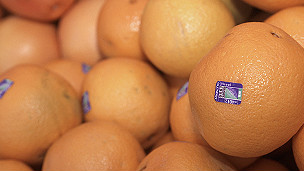 Vocabulary: Food 词汇: 食品
Do you shop for groceries online and have them delivered to your door? Well, this might be just the start of a digital revolution in food.
How about tattooed fruit, ice cubes which send text messages, and wine from the bottom of the ocean?
All these things are on the horizon, according to global innovation research firm Stylus.
They say stickers and wasteful packaging on fruit could be replaced by edible tattoos. These would be applied "directly to the skin of the fruit without actually damaging skin cells," according to Stylus's senior vice-president of content, Tessa Mansfield.
Our kitchens are changing rapidly too, and some companies are cooking up a menu of technological advances. For instance, there's a smart knife which can analyse the freshness of food and any bacteria present as it is being used.
Innovative ways to monitor what we consume are always being developed. Mandy Saven, Stylus's head of food, beverage and hospitality, says new digital ice cubes send a text message to a friend if you drink too much alcohol.
Indeed, some companies are helping consumers stay healthy and make environmentally-friendly choices. Dutch firm Bilder and De Clercq sells food organised by recipe, which helps customers avoiding waste by buying too much.
This makes the retailer more than just a supplier of food – it becomes "a kind of food consultant to a shopper", says Tessa Mansfield.
For the discerning drinker, the future holds another new experience. How would you like to try 'ocean-aged wine'? This is wine which has been sunk to the bottom of the ocean to help it mature before you savour it.
I find all these innovations exciting. What about you? Are you happy to step across the new frontier of food?